Face it, one of the biggest problems we ladies usually have when it comes to travelling is deciding what to pack! What handbag should we bring, would it match our clothes? Is it practical? Does it match our shoes?? Gosh, questions questions!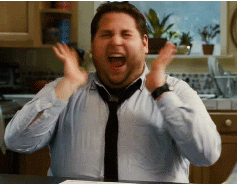 Credit: Giphy
Crossbody bags would probably be one the THE best type of bags to carry out when traveling! Not only are they fashionable and practical, but there are different types of designs suitable for everybody out there! So let's make sure our valuables are safe, and that we're free to use both our hands during our adventures with some of these beauts! 😍
1. Fossil Harper Small Saddle Crossbody
Credit: @fossil on Instagram
I'm personally a fan of smaller crossbody bags because they're light(er), sufficient enough to keep my essentials and cute enough to not be in my way of things. Fossil bags in general are best for the rough and tough traveller as they're hardy and practical – bonus that some are actually quite chic to carry around too!
Credit: @fossil on Instagram
The Fossil Harper Small Saddle Crossbody is stylish and not too big yet not too small to bring around during your travels! Best part is you don't have to worry about it suddenly ripping or spoiling during your trip. Oh and did we mention they come in multiple colours- both solid and colour blocked?
Silhouette: Small Crossbody
Exterior Material: Leather/LeatherTrim
Interior Details: 1 Zipper Pocket and 1 Slide Pocket
Measurements: 9.5″L x 3.25″W x 7″H
Price: USD$173
Where to buy: Fossil
2. Furla Metropolis
Credit: @furla on Instagram
Practical and chic, the Furla Metropolis is a staple in every fashionista's bag collection! Suitable for shopping trips and days out doing touristy things without having to worry about looking fashionable or not- because the bag itself IS fashionable and functional too! ❤️
Credit: @furla on Instagram
Choose from the classic range of colours or don beautiful printed ones with the new SS17 range! It's roomy enough to store your passport and wallet, comfortable with the leather strap, and can be worn both crossbody or shoulder if you feel like switching up a notch!
Material: Textured Leather
Dimensions/cm: 22(w) x 16(h) x 5.5(d)
Lining: 78% Viscose 22% Nylon
Price: Approx $478 (Depending on design)
Where to buy: Furla
3. Kate Spade Make It Mine Byrdie
Credit: @katespadeny on Instagram
Another one for the travelling fashionista out there! The classic Kate Spade Byrdie comes in a myriad of colours but is practical enough to bring out for your travels! One of the reasons this style is perfect for travel is because it's easy to open and that it comes in a classic shape that's adorable and classy on its own!
Credit: @katespadeny on Instagram
Best part about the Byrdie? You can customise the flap with any of the available flaps in stores! So all you need is one solid coloured bag which allows you to interchange its flaps anytime you want. Perfect for those who are easily bored with carrying just one style of bag when you're out travelling yet don't want to pack too many purses in your luggage! 😎
Material: Crosshatched leather with matching trim
Lining: Poly Twill
Size: 8"height/8.9"width/3.2"dimension
Price: $328.00
Where to buy: Kate Spade
4. Travelon Anti Theft Bags

Credit: @travelonbags on Instagram
Here's a bag brand that specialises in Anti-theft bags perfect for those who worry about their bags being slashed or picked at while they travel to the – say, slightly more dangerous areas in the world? 😱
Credit: @travelonbags on Instagram
Then again, if you'd prefer being extra safe wherever you are even, Travelon's bags may be perfect for you! They're practical and are made with slash resistant body panels, have straps and compartments that lock themselves tight and come in a range of designs for you to choose from! Check out all the features on their website for more info! A must have to protect yourself and your belongings at all times!
Where to buy: Travelon Bags
5. Longchamp Le Pliage Cuir
Credit: @longchamp on Instagram
The Longchamp Le Pliage Cuir is a popular bag that most people have seen or at least heard of in the bag market today. And there's no surprise to that as this bag is a practical choice for day to day use and even for travelling thanks to its roomy space, sturdy leather material and functional design!
Credit: @longchamp on Instagram
Its also a safe option thanks to its fully zipped opening which doesn't allow for any random hands to swipe away your belongings while you're busy taking pictures or looking at maps! Not only that, the Le Pliage Cuir is a classic and the most coveted bag style in the entire Longchamp bag line- so you're bound to find a colour/design you'd love to carry everywhere with you when you travel!
Material: Leather
Dimensions: 32x28x17
More info here
Price: USD$565
Where to buy: Longchamp 
6. Coach Page Crossbody
Credit: @coach on Instagram
If you're looking for something more eye catching and fashioanable- look no further than the Coach Page Crossbody! This is a stunner that'll look great in all your photographs- yet is simple enough in its inner compartment for you to stuff all your essentials in without worrying about them falling out!
Credit: @coach on Instagram
Choose between wearing it over your shoulder or crossbody style depending on your mood! Just looking at this bag makes us happy already! 😆
Material: Glovetanned leather
Dimensions: 30cm(L) x 16cm (H) x 7cm (W)
Features: Turnlock closure, fabric lining
Price: USD$624
Where to buy: Coach
There you have it! Some of the best crossbody bags suitable for all you travellers out there! So whether you're into practicality, looking fashionable or even into anti theft designs, we hope you're able to find a crossbody bag that suits you during your travels so you can along worry-free wherever you go!
Tags: inspiration, lifestyle, travel bags,