With sights, sounds and street food on every corner, Penang is the best choice to spend the festive weekend. Speaking of which, Chinese New Year is coming up and we're here for it! ?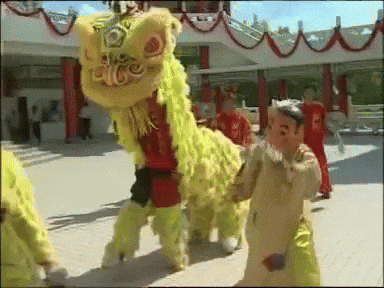 Credit:
Giphy
If you're braving the traffic jam for an immersive cultural experience in Penang, here are the events and happenings that await you.
1. Ride the hot air balloon
Credit:
Penang Hot Air Balloon Fiesta
You can't fly to the moon like a Frank Sinatra song and that's okay! The Penang Hot Air Balloon Fiesta lets you appreciate the scenic view of Georgetown as high as 60 feet in the air ?. Gather your family and friends, and enjoy the hot air balloon experience at Padang Polo in Georgetown.
Credit:
Penang Hot Air Balloon Fiesta
The fiesta may run the whole day, but there are only two specific timings available for a tethered balloon ride. You can ride it in the morning (7AM – 10.30AM) or evening (6PM – 9PM). While you wait for your turn, check out the Fun Zone where you can play the hamster orb, bull ride, reverse bungee and trampoline!
Date
: 9 & 10 February 2019
Time
: 7AM – 9PM (Event timing), 7AM – 10.30AM & 6PM – 9PM (Balloon timing)
Venue
: Padang Polo, 10450 George Town, Penang.
Website
:
www.penanghotairballoonfiesta.com
2. Catch a wushu performance at Penang Hill
Credit:
@ewchuah
on Instagram One of the best times to visit Penang Hill is during the festive season! Great for families, ride the funicular railway train to the peak and admire the panoramic view of the island ⛰. Penang Hill is also famous for their owl museum, little village, love lock as well as the dinosaur and aviary garden. So check them out!
Credit:
@farhanaidayu
on Instagram This Chinese New Year, Penang Hill is also organising something special. On 7 Feb, there will be a traditional lion dance, dragon and phoenix dance as well as twin auspicious lions' performance. On 8 Feb, you can catch the Wushu demonstration and Chinese orchestra showcase in the evening.
#HHWT Tips
: If you're interested to go to the peak of Penang Hill, book your funicular train ticket
online
to avoid long queues! Do note that the CNY events will be held at the Lower Station, not at the peak.
Date
: 7 – 8 February 2019
Time
: 9.30AM – 10.30AM (7 Feb), 5.30PM – 6PM (8 Feb)
Venue
: Lower Station (Dataran), Penang Hill, Air Itam, Penang
Website
:
www.penanghill.gov.my
3. Eat your way through Penang's halal eateries
Credit:
@zanaryaaaa
on Instagram After all the festivities, head over to Penang's famous halal eateries to savour authentic street food. Have breakfast at Roti Canai Transfer Road, lunch at Hameed Pata Special Mee Sotong and enjoy supper at Nasi Kandar Beratur – and don't stop there! Follow our guide to more
halal eateries to try in Penang
?.
Credit:
@wheelers_coffee
on Instagram If you prefer café-hopping instead, there are many halal hipster cafes that are perfect for hangouts. You can enjoy yummy scones at Ferringhi Coffee Garden, margherita pizza at Wheeler's Coffee, and herbal lemuni rice at Jawi House Café Gallery. The variety is endless! You never know what you're going to find in
these halal cafes in Penang
.
4. Catch the lion dance at Penang's grand celebration
Credit:
Leonard Kong
on Flickr The streets of Georgetown will be alive and bustling during Chinese New Year, so don't hole up in your hotel room! Widely celebrated by Penangites, the annual Penang CNY Celebration promises an evening of cultural dances, traditional art, exhibitions and workshops for you and your family ?.
Credit:
@joonwei91
on Instagram The Chinese New Year celebration may be held in various heritage precincts in Georgetown but go to Lebuh Armenian (Armenian Street) and Lebuh Pantai (Beach Street) where the heart of the party is. Bring your camera to capture some cool evening shots!
Date
: 9 February 2019
Time
: 4PM – 11PM
Venue
: The Heritage Precinct of Georgetown (Lebuh Armenian, Lebuh Pantai, and other various locations), Georgetown, Penang.
5. Watch the Kek Lok Si light up the sky
Credit:
Hams Nocete
on Flickr Recognised as one of the largest temple complexes in Southeast Asia, you can admire the Kek Lok Si temple at its finest during the annual Display of Lights! ?
Credit:
Marufish
on Flickr In celebration of Chinese New Year, this century-old temple will brighten up the Air Itam skies with 10,000 colourful lights and lanterns. It's a sight to behold, so swing by Air Itam's most popular attraction when you're in town.
Date
: 4 – 19 February 2019
Time
: 7PM – 12AM
Venue
: Kek Lok Si Temple, Air Itam, Penang It looks like you have plenty to do when you're in Penang! Besides the lion dance performances and cultural shows, you can also ride the hot air balloon ride, watch the amazing light displays and enjoy the wushu demonstration. Wherever your itinerary takes you, we hope you'll have the best Chinese New Year in Penang! ?