2017 welcomed some really bright spots in the multi-diverse island of Singapore! The buzz that surrounds a newly halal-certified chain or an intriguing, new conception of a restaurant is infectious. Seen as a way of keeping up with the times, the Halal community takes it upon themselves to uncover new exciting finds for the rest of us on social media.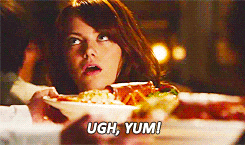 Credit: giphy
We've rounded up a (non-exhaustive) list of Singaporean eateries that received their gleaming halal certificate in 2017, much to the joy of Muslims everywhere ? Check them out and start planning your next gastronomic adventure! [inlinewidget id=37490]
1. Fat Papas
Located within the very much hyped about artistic scene of Arab Street, Fat Papas has made its home conveniently in the area! Fat Papas is a franchise of an already successful, albeit non-halal burger joint: Fat Boy's. It serves up huge burgers and other Western fares reminiscent of an old school American diner.
Credit: @f
atpapas on Instagram
Spoilt for choice as you will be, many patrons recommend going with their classics! Their specialty burgers are well-thought out and experimented upon deliciously. It is also worth noting that the source of meat is an imported brand of chilled Australian chuck tender. If you are especially feeling crafty and decide to have… let's say bananas AND pineapple (hey, we're not judging) on your burger, then there is the option of a 'Build Your Own Burger.' Who knows, they might even name one of the wacky inventions after you ?
Credit: @f
atpapas on Instagram
Another tip is to ask about their 
Secret Menu
. For adventurous fans who want to know what Sheikh Haikel thinks about before going to bed, here's your chance to find out!
Outlets:
1. 17 Bali Lane, Singapore 189853
Operating hours:
 12noon- 11pm daily 2. 465 Joo Chiat Rd, Singapore 427677
Operating hours:
 5pm-12am (Mon- Thu), 12pm-12am (Fri-Sun)
[ P.S. Looking for halal eateries near Singapore's best attractions? Check out our ultimate guide here! ] 
2. Wok Hey!
The name screams at you to take notice! Seemingly the only place in the world to get your fix of fried rice in an air-conditioned environment, the bosses at 'Wok Hey!' begrudgingly identified a need for the 'on-the-go' and 'don't-want-to-get-sweaty' average Joe (& Jill). Basically an up-kept version of a hawker stall, a glass-viewing screen stands in between ensuring you still witness the satisfying mixing of ingredients without smelling like the "breathe of the wok" on the way back to the office!
Credit: 
@tracypeng88 on Instagram
Zi Char
 is the concept for this takeaway kiosk in bustling Bugis Junction. 4 different carb based options are there to be picked from: egg fried rice, Shanghai-style fried rice, ramen and udon. Then, to the customising section where you can add certain ingredients at a (not-so) premium ranging from braised beef to a sous-vide egg: fancy!
Credit: 
@wokheysg on Instagram
Patrons have poured in with visually appealing reviews, praising the concept and its memorable 'dabao' container!
Address: 
200 Victoria Street Bugis Junction B1 Singapore 188021
Operating hours:
 Daily; 11:30AM - 9:20PM
3. Fish & Chicks
A wordplay on Britain's favourite munch: Fish & Chicks has been around for almost a year and it's been on quite the journey since its inception in 2016. Tucked in the corner of a kopitiam in AMK, 3 other outlets have opened since: testament to its meteoric rise in Singapore's food scene! Famed for its Salted Egg incorporation into its menu items, the uniquely Singaporean 'Chippy Shop' is one for the bucket-list.
Credit: @entertwined on Instagram
It's easy to forget that they also specialise in chicken as per the second half of its name, but the plaudits have so far been for their battered Fish & Chips! Have it any way you want, with their in-house Salted Egg and Chilli Crab sauce providing that extra savoury touch. Its smart location within a food court would also mean that it's perfectly paired with your favourite Teh Peng.
Credit: 
Fish & Chicks
 on Facebook
When it first opened, snaking lines and waiting times of up to 2 hours were being mentioned. Hearing this line came out of a kopitiam located in the heartlands (AMK) made it all the more impressive. The Halal community had to wait a year to join in the hype (since its official certification is in June of 2017), but it's finally here and ready to take on a bigger portion of the Singapore population demand!
Outlets:
1. 531 Ang Mo Kio Ave 10 (Halal-certified) 2. Cathay Cineleisure Orchard (Halal-certified) 3. 88 Tanglin Halt Rd (pending Halal certification) 4. 204 Bedok North St 1 (pending Halal certification)
Opening hours:
 11.00am to 9.30pm
4. Flame Cafe
Pagodas are rarely associated with secular Singapore, but it has been the talk of the town recently following the emergence of Flame Cafe's showstopper! A 4-tier Pagoda structured steamboat doesn't sound practical (and it probably isn't) but you can't argue with the aesthetic for your Instagram. Bonus points: Cheese fondue on level 3 ?
Credit: 
@cafeflame on Instagram
Prices range between $20 - $40 per pax depending on which package you opt for. The most expensive entitles the consumer to premium seafood choices, which includes oysters, lobsters and crabs. The seafood is claimed to come fresh, and features fish caught from Tioman, North of Johor: 3-hour drive away from crystal clear waters, a hallmark of great-quality seafood. Ala-carte options are also available!
Credit: @
jessicachym
 on Instagram
The premise is set, so come in a group of 4 or more to redeem whole lobster thermidor, on top of the premium buffet option priced at $40/pax. Perfect for a supposed 'team' meal, because nothing says "I care for you" more than spooning a piece of lobster meat onto your plate! ❤️
Address:
 The Flame Cafe, Level 01 Centro Bianco Building, Singapore 534818
Opening hours:
 Monday – Thursday, 9 AM – 11 PM, Friday – Saturday, 9 AM – 2AM, Sunday, 11 AM – 11 PM
 5. Dim Sum Place
Adding variety to the type of Halal cuisine available in Singapore, this establishment serves up Cantonese-style Dim Sum with a local twist! Having gotten their Halal certification as recent as in June of 2017, the place is already seeing a steady stream of Muslim patrons from all corners of the Island.
It has also received approval from consumers that are ethnically Cantonese, judging it to be authentic and respectful of traditional recipes. Some customer reviews online have also mentioned it to be on par or even better than the other Dim Sum establishments around! The menu is overwhelming, with over 100 items to choose from. A headache for anyone wanting to try Cantonese cuisine for the first time but nevertheless, a good problem to have!
Credit: 
hangoutwithdani
 on Instagram
Our diverse, experienced friends have kindly weighed in with their opinions: must try entrees include their Peking Duck and Vermicelli Roll with Rendang. Other noteworthy mentions include their Molten Salted Egg Custard Buns: a great example of a staple item found in most Dim Sum menus, and their deliciously succulent Beef Brisket noodles!
Credit: @juicyfingers on Instagram
Address:
 791 North Bridge Rd, Singapore 198759
Operating hours:
 11am to 2.30pm, 5.30pm to 11pm daily
[ P.S. Check out 6 tasty eats you have to try at SG's biggest halal food & shopping fair! ] 
6. Hararu Izakaya
The word 'Izakaya' loosely translates into 'Gastropub', meaning that it is a place where you would be served alcoholic beverages along with small, inexpensive snacks or dishes to accompany it. 'Hararu' however transcribes 'Halal'; and while the name is indeed paradoxical and in theory: should never go together, it does!
Credit: 
@hararu.izakaya on Instagram
The first of its kind and proudly marketed as such, Japan's latest export to the Halal community in Singapore is finally one that doesn't just specialise in sushi. Not that we're ungrateful, but some of us have been crying out for an Izakaya-like experience since that penultimate trip to Japan at 19! Hararu Izakaya serves up authentic Japanese classics like the Kushiyaki skewers, and the extensively raved about grilled Unagi Kabayaki on their Charcoal Grill menu.
Credit: 
@hararu.izakaya on Instagram
The establishment also serves up full meals with set lunches on offer for $10 nett. It also tries to keep up with the traditional 'Izakaya' concept by having a 'bar' seating area where you can then choose to have dealcoholised wine, if you're feeling particularly 
atas
: 3 'green ones' for half a glass!
#HHWT Tip:
Order items from the ala-carte menu and get 10% off
when you sign up on our website (it's FREE!)
Address:
 16 Bussorah Street, Singapore 199437
Opening hours:
 12pm to 3pm and 5pm to 11pm (Sun-Thurs), 12pm to 3pm and 5pm to 12am (Fri & Sat)
7. Mukshidonna
A popular restaurant chain established in South Korea, Mukshidonna has since expanded globally, and made a home in Singapore's far east. Self explanatory in its name; 'Muk-Shi-Don-Na' actually transcribes 'eat-rest-pay-leave' in that order. Non-gimmicky in its approach; it serves to provide wholesome and great tasting authentic South Korean food to anyone and everyone under the sun!
Credit: @shayraznl on Instagram
Known for its signature menu item: the 
Budae Jjigae 
(Army Stew), might actually give you an idea on where to grab dinner with a few BMT 
budaes
! The kimchi-flavoured broth is a staple back home, and is to Koreans — as to how Chicken Rice is to Singaporeans. The 
tteobokki 
(Korean Rice Cake) is also not to be slept on: think Korean ketupat!
Credit: @fellldown on Instagram
Address:
 Market Square @ Downtown East 1 Pasir Ris Close, E!Avenue #02-324 Singapore 519599
Opening hours:
 Daily, 11:30 am – 10:00pm
8. Chef Wan's Kitchen
Chef Wan is a name familiar to most Malay-Singaporeans born in the 90s. The celebrity professional Chef hosted countless cooking related television programmes for broadcasting networks across Singapore and Malaysia. Awardee to the
 Best Celebrity Television Chef
 of the Gourmand World Cookbook Awards, he beats other internationally renowned and well-respected Chefs to come first in the world!
Credit: 
@chefwanskitchen on Instagram
The food is not just good, but great! A given, when commanding the title of '
Datuk
' for his individual excellence in the culinary Arts. Located in the iconic Esplanade, mirroring the billion dollar skyline of Marina Bay Sands, the restaurant makes for a classy setting. Considering all that, the entrees do not come cheap but is reasonable enough for what you are paying for.
Credit: 
@chefwanskitchen on Instagram
Oxtail Soup should be top on your list! Chosen by the Sultan of Brunei as his favourite; the broth goes through several hours of carefully-watched simmering over a low heat, and is an excellent introduction to the explosive palette of Chef Wan himself. Recently voted the 
Best Food in the World
 by CNN, Beef Rendang is also on offer in the establishment.
Credit: 
@chefwanskitchen on Instagram
Serving up saucy and complex flavours influenced by Malaysia's state of Selangor, in which he pays homage to in the title, the brainchild of Chef Wan is a dish that truly encapsulates the flavour profile of a man steeped in experience following his culinary education in France and the USA.
Address:
 8 Raffles Avenue, #02-14, Esplanade Mall, S039802
Operating hours:
 Daily, 12pm – 2.30pm, 5.30pm – 10.30pm
9. The Halia
Regarded by some as one of the best restaurants in Singapore, The Halia is an institution that has been around for 16 years since its inception in 2001. It was built simultaneously along the ginger garden, and its architecture is conceptualised to coexist with the nature surrounding it.
Credit: @rixyap on Instagram
As some of you might already know, 'halia' directly translates into 'ginger'; the garden, showcasing up to 250 different kinds of ginger flora, provides a perfect backdrop to a glorious weekend brunch, worthy of a travelogue feature! Announcing its Halal Certification in June 2017, the otherwise jaded establishment opened its doors to a new profile of consumers, breathing new life into the area!
Credit: 
@thehalia on Instagram
It's no surprise to note that they do specialise in ginger-incorporated entrees, name-dropping the Lemongrass and Ginger Prawn Salad on its website. Repeated plaudits have also gone for the establishment's Chilli Crab Spaghettini, currently commanding the highest star power among the menu's other well-thought out dishes!
Address:
 1 Cluny Road, Ginger Garden (enter via Tyersall Avenue), Singapore Botanic Gardens Singapore 259569
Operating hours:
 Monday to Friday, 9am – 10pm and Weekends, 10am – 10pm
[ P.S. Dine with a view at these 9 picture-perfect halal restaurants in SG! ] 
10. Swissbake
Swissbake owns a chain of cafes, dispersed heavily within the geological location of Singapore's one and only Central Business District. No points for guessing the profile of customers it aims to attract then. Serving up pastries and entrees influenced by Central Europe, Switzerland comes to mind, while German staples in sauerkraut and sausages also appear on the menu.
Credit: 
Swissbake on Facebook
Definitely one to come in for a quick bite, the cafe does get crowded during lunch hour understandably! Baked fresh every single day, the bakery proudly claims a policy to only serve premium quality European bread and confectionery products at an affordable cost. You might recall seeing Swissbake in its other forms: retail outlets and bread corners in other parts of the Island. That's because customer proximity is big on its identity as a franchise.
Credit: 
Swissbake on Facebook
We foresee it growing into one of the most memorable bakeries in the country, even more so after attaining its Halal certificate, where European bread could be found in Singaporean homes as often as you would a Pandan cake!
Credit: 
Swissbake on Facebook
Click here
 for the full list of outlets!
11. Kraftwich
Following closely from the previous entry, Kraftwich is a familiar name to most who already know of Swissbake's existence. Though a conceptually different eatery, Kraftwich is indeed the brainchild of the same people responsible for Swissbake. In its conception, the team felt that there was a great demand for a fully customisable sandwich. And so, while it didn't necessarily fit in with the already established brand, Kraftwich was taking up its place in the heart of the CBD!
Credit: 
@nkikichua on Instagram
Signature triangular, pizza slice-shaped bread forms the base, while an array of seemingly healthy options await you at the next station. These are grouped into two, those being: hot variety ingredients and cold. Fritatas and even a baked barramundi could be counted in the former, while the usual suspects of smoked salmon, smoked duck and tuna fall in the latter.
Credit: 
@nahmj on Instagram
Completely running away from its predecessor's theme of traditional European pastries and confectionery items, desserts of bread & butter pudding are on offer! The pudding itself is sure to warm up your soul after the ravages in the office, while the sweet dollop of ice-cream at the top takes you to a special place.
Address:
 One Raffles Place, One Raffles Place Tower 1 #B1-04/05, Singapore 048616
Operating hours:
 Mon-Fri; 7.30am-8pm, Sat-Sun; 9am-3.30pm
12. Omoomodon
We've all been accustomed to hearing the term fusion cuisine, and more often than not: it does involve combining contrasting tastes from the East and West. Not a bad thing at all, but it is hardly new and exciting with fast food establishments commonly now adopting the practice! Ungrateful as it may sound, it comes expected (seasonal) and may trigger a feeling of disillusionment among modern day consumers.
Credit: 
@pinkypiggu on Instagram
Japan and South Korea: two countries though distinctly their own, makes the argument "why haven't we seen this cultural cuisine mash-up yet?" Many similarities can be found between these two types of cuisine, less as you would stark differences. So surely, these geographical neighbours can do more good than harm! As obvious as it sounds, the arrival of 'Omoomodon': a Japanese-South Korean fusion themed restaurant is tellingly overdue!
Credit: 
@rutheatsalot on Instagram
The first of its kind, the concept is an interesting one with heavy use of carb bases in the form of rice or noodle dons. Crafted menu items can be selected from the menu but we suggest the option of 'build your own don' to get the best of both worlds, literally! You can go as crazy as you like with this one.
Address:
 1 Vista Exchange Green, #02-14/15, Singapore 138617
Opening hours:
 11.00am to 9.30pm, daily
13. Kumoya
One of Japan's adored Sanrio characters makes an appearance in a delicatessen cafe in Jalan Klapa. Popping up in the form of a little white rabbit, Miffy is as cute as it gets! The mascot is fully incorporated into the decor, with bright shades of yellow and orange specifically chosen to colour the walls: seen as an homage to the late creator. Miffy was thought of by a Dutch artist and so, the orange theme does well to aptly represent the Netherlands.
Credit: @kumoya_singapore on Instagram
It is a cafe after all. And while the 'kawaii-ness' of it all can sometimes overwhelm you, don't let it distract you from the fact that it does serve up some great tasting food! Entrees are inspired by French-Japanese cuisine with its celebrity exclusively appearing on each plate to make for an Instagram worthy feature! Primarily a dessert shop, Kumoya has since conjured up a new savoury menu for the people involuntarily chosen as tribute.
Credit: 
@kumoya_singapore on Instagram
Address:
 8 Jln Klapa, Singapore 199320
Opening hours:
 12 pm – 9 pm (Tues, Weds, Thurs, Sun), 12 pm – 10.30 pm (Fri, Sat), Closed Mondays
[ P.S. Stuck in SG for the holidays? Here's 10 must-visit events in Nov-Dec you need to go to! ] 
14. Chic-a-boo
It's cooked (debatably) fast, sold fast and definitely eaten fast! Chic-a-boo has come to define the fast food scene and all of its synonyms. A brand of the nationally-loved 'Astons', Chic-a-boo humbly started out in a coffeeshop of Ang Mo Kio as a sort of an experimental market test. An A+ score card later, and the rest became history.
Credit: 
@agnesbvoyage
 on Instagram
Fried chicken at its best is crunchy on the outside and juicy on the inside! Chic-a-boo gets it right, and more by having a distinctly unique spice blend that is quintessentially Asian. Sides are to rave about, with the chain offering sweet potato fries as an alternative to traditional french fries. Cornbread comes with the meal and the set is complete with a drink.
Credit: @realityescape on Instagram
The most noticeable thing about Chic-a-boo's protein is that they are massive! Its chicken burgers, another popular menu item, is gargantuan. I really do not mean to exaggerate but these burgers can come up to the size of a human head. As such, the value for such a set is really underrated. At $8 per set, you could really afford to eat just that one meal for the rest of the day (or 2).
Outlets:
 Check out the full list 
here
. [inlinewidget id=37490] The Halal community has always been pro-active in discovering hidden gems and garnering exposure for these well-deserved establishments! From a reader's perspective, a unifying passion for food has been a joy to relate to and speak about with some of you. The Halal food scene has grown exponentially in options over the last few years, and we can't foresee it to slow down anytime soon! So till 2018 then, for another round-up of 14 or more outstanding selections!