Everyone wishes to visit the happiest place in the world at least once in your life.. DISNEYLAND❤️ What's not to love about this magical place?  You can meet your favourite Disney character, hop on thrilling rides that'll get your adrenaline pumping and witness the spectacular fireworks display at night✨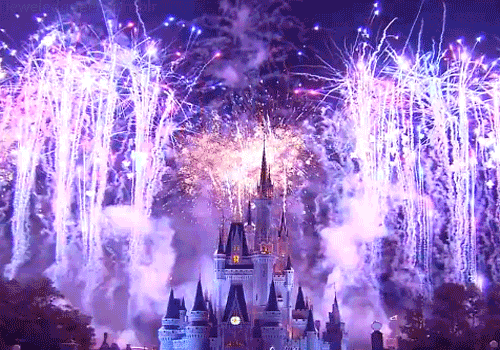 Credit: giphy
From how to beat the crazy queues to the yummiest halal food available, here's 18 tips that'll guarantee a trip you'll never forget! P.S. Make the most of your time in Hong Kong by booking all your attraction tickets, walking tours, transportation passes and more in advance on
Klook
, a travel booking platform! Enjoy amazing discounts on different services and attractions PLUS you'll get instant e-confirmation of your purchases ?
1. Skip the queues with paperless e-tickets!
Disneyland may be a delightful place but shuffling through crowds to buy your ticket? Not so much ? 
Book your admission tickets on Klook
to avoid the endlessly long queues at the ticketing counters so you can spend even more time on your favourite rides and attractions!
Not only do you get instant confirmation of your purchase, you simply have to 
scan the barcode on your mobile e-ticket
 to enter the park! Completely hassle-free and crowd-free so you can make the most of your magical adventure?
#HHWT Tip:
 If you'd like to keep the physical ticket, just exchange the e-ticket at the AutoMagic Tickets machine!
You can choose from either a 1 or 2-day ticket and the
tickets on Klook are also open dated
, so if your trip itinerary isn't finalized yet, you can visit Hong Kong Disneyland whenever you like? P.S. If you're visiting with younger kids, a 2-day ticket would be perfect so you can take your time exploring the park without tiring out the kids! [inlinewidget id=33302]
2. Check the opening times in advance and arrive early
Just a note, by early, we don't mean 10 minutes before? Expect to see people queuing up even an hour before the park opens!
We'd also recommend that you check the opening times in advance as the last time we went there, the park opened 15 minutes before the official opening time. Your best bet would be to check 
the official website
 before making your way down to the park.
It's easy to get to Disneyland using Hong Kong's MTR system and the train conveniently stops right at the park station.
#HHWT Tip:
 If you're staying in Hong Kong for several days and using public transportation to get around, we recommend getting a MTR pass! 
Book your MTR travel pass on Klook
 and get 3 days' worth of unlimited access to the MTR system The pass is also inclusive of a single or return ride on the Airport Express, which is the best way to get to the city! Remember to check in at the Airport Express station to drop off your luggage (90mins up to one full day before your scheduled flight) so that you'll be free to roam around without your luggage.
#HHWT Tip:
Alternatively, there are luggage valet services at Hong Kong Disneyland itself so you can also opt to drop off your bags there!
3. Snag yourself a Fastpass and beat the queue
Everyone loves going to Disneyland so it's only natural that every single ride will have a dreadfully long queue and even longer waiting times, especially during peak periods? So, get yourself a Fastpass and cut down on your waiting time! *The Fastpass is a system that allows you to reduce the waiting time at certain attractions by giving you a specific time to enter the attraction. To get your Fastpass, go to the Fastpass ticketing machines near the entrance of the attraction and scan your admission ticket under the reader. You'll have to return to the attraction during the time period stated on the Fastpass ticket.
You can only get the Fastpass for the following attractions:
Iron Man Experience
The Many Adventures of Winnie the Pooh
Hyperspace Mountain
We'd recommend getting the Fastpass for these attractions in that exact order. Reason being, the Iron Man Experience is the latest ride to be launched so the queue tends to be longer, and the Winnie The Pooh attraction is super popular amongst families with young children. Do note that the Fastpass is subjected to availability, so grab yours early to avoid disappointment!
4. Buy merchandise before 1pm to enjoy 10% off
No Disneyland trip is complete without splurging on the most adorable character merchandise? And if you purchase merchandise before 1pm, you'll enjoy 10% off! All the more reason to buy that huge Winnie The Pooh Tsum Tsum plush toy you've had your eye on, right??
Hong Kong Disneyland has loads of small shops selling merchandise (Pooh Corner and Andy's Toy Box, to name a few) but the Emporium definitely has the widest variety of goods! From limited-edition memorabilia, keychains, themed apparel to even a personalized Mickey Mouse ears hat, you'll need an extra luggage just for your bag of spoils ?
5. Munch on yummy halal-certified food
Feeling hungry after a day of fun, fellow Muslim travellers? What's especially great about Hong Kong Disneyland is that it's the 
only
 one in the world with halal-certified food ? [caption id="attachment_24031" align="alignnone" width="900"]
The spread we had at the Explorer's Club Restaurant![/caption] Fuel up at either the Tahitian Terrace Restaurant or Explorer's Club Restaurant, which offers a wide range of cuisines from Korean, Japanese to even Indonesian food?
6. Enjoy great discounts on meals with Klook's meal coupon!
Aside from enjoying the delicious spread, you can also save up on your meal with Klook's 
Hong Kong Disneyland meal coupon
! This coupon can be used at both halal-certified eateries located in the park.
Like any paperless transaction made on Klook, you simply have to
show your e-voucher upon ordering and when paying to claim this offer
.
7. Fulfill your prayers at the designated prayer room
You don't have to worry about finding a suitable place to pray while in Hong Kong Disneyland! Located right next to Explorer's Club Restaurant, the park has a designated prayer room just for its Muslim visitors.
The prayer room is also equipped with excellent wudhu facilities?
Do note that prayer mats and garment are not provided, so remember to bring your own!
8. Get a pocket WiFi and download the FREE Hong Kong Disneyland app
Wondering what's the waiting time for an attraction that's on the other side of the park? Download the FREE Hong Kong Disneyland app to find out! Aside from the keep tracking of the waiting times for various attractions, you can also find out which attractions/places are closed for that day, parade timings, virtual map of the park and more.
In the event of bad weather, the app will also update you on alternative weather arrangements. The handy app is available for both 
iOS
 and 
Android
, so download it now!
Though the virtual park map shows you the different spots where you can get free WiFi, it can be pretty spotty in some places.
Get yourself a pocket WiFi
and stay connected throughout your trip! If you book on
Klook
, you can arrange for an easy pick up at the Hong Kong Airport.
9. Collect FREE Disney stickers from the cast members
Build the ultimate character-themed sticker collection by collecting stickers from cast members! Almost every cast member in the park, from those in the stores to custodial staff, carry these highly sought-after stickers. All you have to do is ask?
There are different stickers available in various parts of the park (eg. Star Wars stickers in Tomorrowland, Beauty and the Beast stickers in Fantasyland), so you'll have to walk around and talk to various cast members if you want a variety! P.S. Mikhail was talking to a cast member at the Hyperspace Mountain and when the cast member found out that he's a Star Wars fan, he received a special Jedi pack ?
It's purely out of sheer luck that he was given these stickers so we wouldn't get our hopes up that this is a regular occurrence ? [inlinewidget id=24613]
10. Bring home customised merchandise
At Hong Kong Disneyland, you can even customise your own merchandise! Head on over to the personalisation center at Centre Street Boutique, which provides services like calligraphy, engraving, bouquets and embroidery.
Get yourself embroidered Mickey Ears with your name beautifully stitched at the back (or in Suzana's case, a personalized Duffy ear hat)? Other designs include graduation and couple-themed hats.
You can also make your way down to the Emporium and personalise your phone case by having your name engraved on the case.
11. Have a dose of childhood nostalgia at the Festival Of The Lion King
If you're an 80s or 90s kid, the Lion King needs no further introduction! The story of everyone's favourite cartoon lion is condensed into just 30 minutes, similar to that of a short musical. Watch your favourite characters Simba, Timon and Pumbaa come to life on massive floats, accompanied by acrobatic performances, fire dancers and bright strobe lights.
Sing along to iconic songs straight out of your childhood like The Circle of Life and Hakuna Matata as the musical extravaganza re-tells the story of the Lion King himself.
12. Skip meet and greets and head straight for the attractions
While you're tempted to say hi to your favourite Disney friends the moment you pass through the entrance doors, you'll have dozens of opportunities to do that throughout the day. Make a beeline for the rides and be the first in line. Don't worry, you'll catch a glimpse of Mickey and Minnie during the floating parade later ?
The line to snap a photo with Mickey at Main Street (near the park's entrance) may be the longest, so how about taking one with the rest of Mickey's pals? Goofy, Pluto, Donald and Daisy are eagerly waiting to say hi, if Mickey and Minnie are busy entertaining other guests ?
Credit: Hong Kong Disneyland on Facebook 
Or, choose to head down to Sleeping Beauty Castle in Fantasyland to meet the gorgeous princesses - Belle, Snow White, Rapunzel, Cinderella and Aurora! You won't be yawning your way through this meet ☺️Also, pay your droid friend, BB-8 a visit at the Command Post in Tomorrowland!
Credit: jasperjosue on Instagram
Before you make your way to see these princesses or BB-8,
start planning your trip in advance by purchasing tickets on Klook
! If one day's not enough to greet all these loveable characters, you can choose to take the 2 Day Ticket so the fun doesn't stop at sunset ?
 13. Start your explorations from the furthest end
Plan your routes well and head straight to the areas furthest from Main Street. While fellow fans may be starstruck, waiting for a photo with Mickey or animatedly queueing for the first ride they see, you'll have an edge in avoiding the crowd.
Greet Woody who's waiting for you in Toy Story Land, at the far northwest end of the park. With your cowboy partner around, you know you'll be roped in for an adventure of a lifetime!
14. Forgo the shows for shorter queuing time
The snake-line queues for the hottest rides are shorter during popular showtimes. Are you willing to do without seeing the parade shows? Even the wait for the Big Grizzly Mountain Runaway Mine Cars down at the Grizzly Gulch is a far cry from the usual throngs of crowds.
Credit: kaki_judy_lau on Instagram
During this crucial time, when flocks of tourists are on Main Street sometime around 3.30pm, pick the ride you're dying to go on and dash straight for it. The Big Grizzly Mountain Runaway Mine Cars will never fail to set your heart pumping, for one ?
Credit: coheteboy on Instagram
Book your tickets on Klook to skip the ticketing lines and spend time for what really matters - having the time of your life!
15. Don't only rely on PhotoPass Picture spots for beautiful shots!
Instead of searching for PhotoPass Picture locations, snap wanderlust shots at alternative spots ? Capture your own memories aboard the Hong Kong Disneyland Railroad train! Jump on the locomotive either at Fantasyland or Main Street, sit back and enjoy the bird's eye view of your childhood palace. It'll truly be a magical experience you don't want to miss ?
Credit: hongs1031 on Instagram
Or, ride on a log raft to pay your tree-swinging pal, Tarzan a visit at Tarzan's Treehouse in Adventureland. His home is one of the best places to get a panoramic view! The 19-metre tall trees will give you full access of places like Tomorrowland and Grizzly Gulch. Taking a good photo is after all, no monkey business ?
Credit: maz_yanti on Instagram
16. Stay the night at Disneyland Hotels
What better way to end your day than a cosy stay meant for a true Disney fan like yourself ? That way, you're guaranteed to have sweet dreams in the happiest place on Earth. Lie in the custom-designed suites and catch up with Mickey, Minnie and Pluto over breakfast the next day at the Enchanted Garden - with no queues at all!
Credit: m_nao_1 on Instagram
#HHWT Tip: 
Halal-certified food is available upon request at the Disney's Hollywood Hotel (Chef Mickey and Studio Lounge) and Hong Kong Disneyland Hotel (Walt's Cafe and room service). Guests to either of the three hotels are entitled to at least one Priority Admissions Pass for
 park attractions, based on the type of hotel room booked. Those in the Sea View room at Disney Explorers Lodge hotel will receive priority passes to 3 attractions, while those in the Kingdom Club Room of Hong Kong Disneyland Hotel receive passes to 4 attractions! 
If you're staying the night in Disney Explorers Lodge (Sea View room), or Hong Kong Disneyland Hotel, get your seat reserved for the Lion King musical fiesta. *Passes to attractions include the 
Big Grizzly Mountain Runaway Mine Cars, Hyperspace Mountain, Iron Man Experience, It's A Small World and Mystic Manor attractions for all room types. Guests staying in the Sea View or above room type can choose from the 
Slinky Dog Spin, The Many Adventures of Winnie the Pooh and Toy Soldier Parachute Drop attractions for the priority passes. 
Credit: Hong Kong Disneyland on Facebook 
Tuck into a yummy meal before heading back to the hotel. Save up on your food with Klook's 
Hong Kong Disneyland meal coupon
 at halal-certified eateries located in the park. Remember to redeem your lollies or popcorn as part of the meal coupon!
17. Celebrate festive occasions with your Disney family
Go trick-or-treating during Halloween or hunt for chocolate bunnies during Easter ?  The holiday decor will set you in the mood for a merry celebration, whether or not you're celebrating! Bask in the lively atmosphere and have a little fun as you witness how Christmas, Easter and even Halloween are celebrated in a place full of magical wonders waiting to happen.
Credit: Hong Kong Disneyland on Facebook 
If only we have a basket big enough to put one of these eggs in! While you may have to battle the crowds during these periods, the elaborate decor will put you in such a joyous mood, it's impossible to leave feeling unhappy.
18. Pack some essentials that'll come in handy
It may seem obvious, but when your adrenaline's rushing and excitement kicks in, you're bound to forget a thing or two. Luckily, we're here to remind you ? Slide in that sunscreen into your bag after you're done applying, and don't forget the bug spray! If you're travelling during summer, a portable fan is what you need to combat a humid day. Even Mickey is ready for showers of rain, so drop that small umbrella into your clutch, regardless the sunny or rainy weather ☀️
Credit: Hong Kong Disneyland on Facebook 
You may wish to snag one of the adorable Disney fans for sale, but isn't it better to save those dollars and cents for something you want more? Bring home your childhood confidante with you as you leave Disneyland ❤️
Credit: Pitchakorn Anupapongamorn on Facebook 
With these 18 tips in your arsenal, you'll definitely be in for an unforgettable trip to Hong Kong Disneyland ? If you have tips of your own that we didn't cover, do share with us in the comments below! Most importantly, at the end of the day, let out the inner child in you and be the happiest kid around, regardless of your age ?
Credit: Hong Kong Disneyland on Facebook 
P.S. Your journey in Hong Kong will certainly be a breeze when you book your attraction tickets, tourist transportation passes and more in advance on
Klook
! Not only will you enjoy the best deals on different attractions and services,
the prices you see are all you have to pay
! Absolutely no sneaky, hidden costs here? Plus, you'll get $5 off your first booking with our promo code TRAVELHHWT!
[All uncredited photos in this article were taken with the Sony a7R II camera!]
This article was brought to you by Klook.