[Updated: 29 July 2019]
If you view my Pinterest boards, you'll find one board labelled as 'Travelust: New Zealand' that hosts endless pictures of lapis lazuli lakes, breath-taking mountains, and diamond stars scattered on velvet night skies. New Zealand's natural beauty makes you want to leave your suffocating cubicle in the middle of grey city and fly all the way to cleanse your lungs in pure, natural air. Zone out from your meetings and let us take you on an imaginary ride to the places you should visit in the land of Kiwis. ??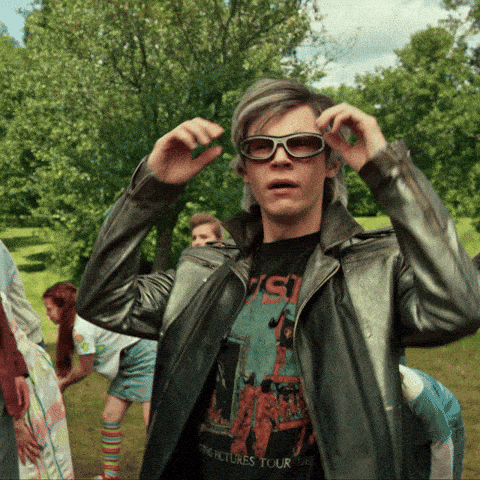 GIF Credit[Need more reasons to drop everything and head to New Zealand? Here are 10!]
1. Hobbiton
I'm not an avid follower of The Lord of the Rings franchise (*ducks from objects thrown by fans*) but the movie set is one of the most charming places to visit in New Zealand. Located on the North Island, the place known as The Shire was formerly a Waikato farmland that was rebuilt into a permanent movie set.
Credit: @elhaddock on Instagram
Here's where you can take photos with the tiny hobbit-sized houses - look out for the one with a red door, which is the only house you can actually enter!
Price:
Tours of the Hobbiton Movie Set
begins from NZ$84 for an adult (17 years and older) and NZ$42 for youth (9 - 16 years) while children up to 8 years old get in free with an adult! (Do note that adult and youth prices will be changed to NZ$89 and NZ$44 from 1 April 2020 onwards)
[Excited to visit Hobbiton? Check out our 8D7N Muslim-friendly itinerary where we visited the Shire and more!]
2. Bay of Islands
Just like the name, the Bay of Islands comprises of more than 140 islands along the Northern coastline and hosts a variety of activities for visitors to indulge themselves in.
Credit: @osezlaventure on Instagram
From appreciating the bloody history of the lands at Ruapekapeka Pa and Roberton Island to paving your way across the archaeological walking trails at Urupukapuka Island to scuba diving in the clear turquoise waters of Waewaetorea, the Bay of Islands has got it all.
Credit: @tommytwig on Instagram
3. Lake Wakatipu
Credit: @thewanderingchass on Instagram
Imagine a scenery painted with all shades of blue and you've got Lake Wakatipu (hey, that rhymed!).
Credit: Tourism New Zealand
Naturally taking the shape of a lightning bolt, Lake Wakatipu is the third-largest lake and the longest lake in New Zealand situated in the South Island. Drive along the lake or take a morning walk to experience a tranquil panorama that will tug at your heartstrings even after you move on. For those who want to experience being on the lake, they have speedboat and steamboat services for tourists.
[Awestruck by New Zealand's natural beauty and wonders? Here are 14 more breathtaking nature spots in this gorgeous country!]
4. Lake Tekapo
On a sunny day, warmth radiates from this lake that is famous for its milky turquoise shade. There are many large rocks and pebbles surrounding the lake. Watch your step if you're planning a great lakeside shot! During the chillier seasons, gaze over the turquoise blue lake while you dip in the hot pools of
Tekapo Springs.
[For some ideas on including Lake Tekapo into your trip, check out our 8D7N Muslim-friendly itinerary to South Island that does all the planning for you!]
Credit: @darbygray on Instagram
Price:
For NZ$27 (Adult), you can soak yourself for the entire day. Add another NZ$20 and you can skate on the ice rink in the winter or go down the waterslide in the summer. Or you can opt to glide down
Roundhill Ski Area
which is bestowed with one of the best views of Mount Cook, Lake Tekapo, and the Mackenzie Basin. Your first time trying skiing or snowboarding? Worry not! The Roundhill Ski Area beginner slope is an ideal place to break the ice.
Credit: @roundhillnz on Instagram
Price:
For NZ$53 (Adult, ski equipment rental only), you can hire complete ski equipment for the whole day. That means a lot of hours tumbling in the snow! If you crave for the perfect vantage point to take in the breathtaking sights of Lake Tekapo, hop on the
Air Safari
and for 50 minutes, fly over Mount Cook, Westland National Park, and the highest peaks in Oceania.
Credit: @joe7372 on Instagram
Price:
The Grand Traverse Air Safari starts from NZ$395 for an adult and NZ$295 for a child.
5. Aoraki Mackenzie Dark Sky Reserve
Following the ride from Lake Tekapo, you will arrive at
Aoraki Mackenzie
. Due to the high quality of its starry night, over 4300m of Aoraki Mackenzie land is acknowledged as a certified International Dark-Sky Association (IDA) International Dark Sky Reserve.
Credit: @photograph_outside_the_box on Instagram
Home to a rare view, you can see the Milky Way all year round!
Check out our 8D7N Muslim-friendly itinerary to South Island where we got a chance to see the stars
!
Credit: @eirckn on Instagram
Price:
Depends on the tours that you opt for.
6. Lake Pukaki
Credit: @jennytsai10 on Instagram
A neighbour of Lake Tekapo that runs along the Northen Edge of the Mackenzie,
Lake Pukaki
is no less stunning with a unique colour derived from glacial flour.
Credit: @dre.jung on Instagram
If you're on a personal drive, have a stop at the Information Centre and Mount Cook Alpine Salmon for their positively-acclaimed salmon dishes. You can even purchase fresh salmon and smoked salmon from the Centre. P.S.
Here are 10 halal food stops in New Zealand's South Island (near major attractions) you can't miss
!
7. Koekohe Beach near Moeraki
The main reason people come by and visit the
Koekohe Beach
on the Otago Coast is for the spherical
Moeraki Boulders
located along the shores.
Credit: @beaches.of.the.world on Instagram
These boulders are more than 40 million years old and carry a thrilling mythical story behind their creations.
Credit: @mala.dina on Instagram
8. Milford Sound
Credit: @sebi_around_the_world on Instagram
Dubbed as the 'eighth world wonder' by author Rudyard Kipling,
Milford Sound
is a natural wonder that is almost untainted by humans. The lake stretches 16km in length and houses two waterfalls – the
Stirling Falls
and the
Lady Bowen Falls
.
Credit: Bernard Spragg on Flickr
The lake is accompanied by
Mitre Peak
, an iconic mountain by the shores of Milford Sound which is the most photographed mountain in the country.
Credit: @anetvon on Instagram
You can witness the cool beauty of Milford Sound and the formations surrounding it in three ways: either by coach, cruise, flight, or all of them. The cruise is highly recommended as they take you as close as possible to the waterfalls (sometimes even under them) and if you're lucky, you might even encounter a group of seals!
#HHWT Tip:
Opt to be dropped off at the Milford Discovery Centre and Underwater Observatory at Harrison Cove. You can dive more than 500 meters deep and view the underwater creatures without actually getting wet and cold.
Prices & Time:
There are different types of cruise and price varies depending on the type that you choose.
The drop off at Milford Discovery Centre takes about 35 to 60 minutes. The entry fee is additional to the cruise fee, which is NZ$15 for both adult and child.
9. Glowworm Caves
Credit: @annaliza.toledo on Instagram
Usually, we get squeamish at the mention of bugs, much less, worms. The glowworm (
arachnocampa luminosa
), however, is a sensitive creature that naturally emanates lights on the ceiling of the
Waitomo Caves
.
Visitors make their way down the
Waitomo River
in complete silence as they are guided under these magical creatures.
#HHWT Tip:
Different tour groups may have different rules on taking photographs within the caves, but do note that the caves are quite dark so smartphones may not be enough for a clear picture. Also, the entire ride requires complete silence as to not disturb the glowworms, so you might need to bribe your kids with a sweet treat to keep them from crying.
Price:
Varies according to tour group, but average prices might start around NZ$53 for adults, NZ$24 for a child and NZ$18 for an extra child.  
10. Queenstown
Credit: @dartholit01 on Instagram
Now, we get to
Queenstown
: the small town that can be explored entirely by foot yet accommodates a plethora of adrenaline-pumping activities for the thrill-seeker in you.
The tamest of the list: The Luge
Credit: @ejcoggo on Instagram
Luge
is a simple activity that even children can enjoy. All you need to do is to ride the cart down the designated tracks and feel the wind slapping your face as you do so. Skyline offers two tracks: Blue Track for a more leisure ride, and the Red Track that feels more like Formula One with sharp bends and cuttings.
Price:
Starts from NZ$61 for adults, and NZ$43 for children for the gondola up and 2 luge rides down.
Level UP: White Water Rafting
Credit: @rossboorman on Instagram
Queenstown Rafting
provides a few options for those interested in rafting. For non-swimmers, they have the Flow Fun canoes where the ride is tranquil and not physically challenging. As for the slightly cautious, you can opt for a mix of thrilling and relaxing ride at the
Kawarau River
. Finally, for the serious thrill-seekers, rafting the rapid waters of
Shotover River
is your pick.
Price: 
Shotover River – From NZ$249* for adults only Kawarau River – From NZ$199* for adults only *The prices include a sauna and shower at the end of the rafting session, among other things
The Final Boss: Bungee Jumping
High on my bucket list (and probably some of yours) is to jump from an amazing height, and leaping off a ledge somewhere in Queensland might just fulfil that dream. There are a few bungee spots around Queensland but if we're going to do something so thrilling, might as well go all out. Right? Presenting to you,
Nevis Bungee
aka NZ's highest bungee where you get to experience leaping off at a height of 134m.
Credit: @agenericmarcusnelson on Instagram
An activity not to be missed by adrenaline junkies! ?
#HHWT Tip:
A bungee jump is just that – it's a fall, where you probably spent most of your time down wishing that the cable is strong enough to hold you. If you'd rather enjoy the view at a vantage point, opt for The Swing instead of a Bungee jump.
Price:  
Kawarau – Adult, NZ$205; Child NZ$155 Ledge – Adult, NZ$205; Child, NZ$155 Nevis – Adult, NZ$275; Child, NZ$275 All the prices include a Bungee Jump Certificate and an authentic Bungee Jump t-shirt. That said, don't neglect the city of Queenstown itself! Experience farming life at the Walter Peak High Country Farm, visit the rural town of Paradise, and much more!
[Interested to visit Queenstown?  Check out our first-timer's guide for the best adventure trip ever!]
11. Glenorchy
Credit: @nancylessnick on Instagram
Just a 45-minute ride from Queenstown,
Glenorchy
is a small town where the landscape loses to none as it was featured in The Lord of the Rings trilogy and The Narnia Chronicles.
Credit: @juanmonteros1 on Instagram
A further 20km from Glenorchy, lies
Paradise
(literally!) boasting awe-striking allure that Sir Ian McKellen (Gandlaf) had said that it was the Middle Earth he had always pictured.
12. Kaikoura
Credit: @lianapiggott on Instagram
The town of
Kaikoura
is formed through the natural marriage of mountains and sea. The town is mainly known for its
whale-watching cruise
and encounters with the dolphins.
Whale-watching tour
Credit: @louweaves on Instagram
While cruising on the waters of Kaikoura, keep an eye out for the world's largest toothed predator, the Giant Sperm Whale.
Price:  
Adult: NZ$150, Child: NZ$60 (3-15 years old) What is a more novel experience than watching dolphins in their natural habitat? Swimming with them of course!
Price:  
Dolphin Encounter Watch – Adult, NZ$95; Child NZ$50 Dolphin Encounter Swim – Adult, NZ$175; Child, NZ$160
13. Wai-O-Tapu Geothermal Wonderland
Credit: @sobomj21 on Instagram
Waiotapu literally translates to 'sacred waters' a term befitting this naturally formed hot springs. The
Waiotapu Geothermal Wonderland
is made up of a Geothermal Area that is known for the vibrant colour of the waters, the Lady Knox Geyser that goes off at 10.15 a.m. every day, and the Boiling Mud Pool. Although you cannot take a dip in the waters, you can still be charged by the earthly energy radiating from the active volcanic area.
Price:
Adult, NZ$32.50; Child, NZ$11 (admission is free for under 5)
14. Te Papa Tongarewa Museum, Wellington.
Credit: @__ella.cousins__ on Instagram
You can't visit a country without learning its history and culture, and what better way to do it than learning it firsthand from the national museum? Located at New Zealand's capital, Te Papa Museum is a six-floor interactive place of learning all about the country— from its history, extraordinary natural life, Gallipoli and Maori tribe cultures, and even fine art. You'll need more than just a couple of hours to immerse yourself in the exhibits.
Price:
Free
Opening Hours:
1000 – 1800
15. Pancake Rocks, Punakaiki
Credit: @mylenedlrd on Instagram
Park your cars at the main highway to Punakaiki and walk 20 minutes to witness rock formations that resemble stacks of pancakes. It may surprise you to know that the formation is sourced from fragments of dead sea creatures. The best time to view them is at high tide, where the blowholes are active with the rising water. The entire walk is relatively easy and would only take 20 minutes of your day.
16. Hamilton Gardens, Hamilton
Hamilton Gardens is a well-loved attraction that tells the story of gardens through various times and civilisations. Today, there are 24 themed gardens to explore! With garden styles from across the world, you'll find yourself surprised by the variety of blossoms around every corner - there's even a Japanese Garden!
[Still undecided? Here are 14 more gorgeous spots in New Zealand that should be on your bucket list!]
Tags:inspirationnew-zealandnorth-islandsouth-islandtravel-guide