For many, a dream honeymoon is the beginning of 'happily ever after'. The annual
Luxe List
by DestinAsian recently unveiled 30 of the best new hotels, resorts and villas in the Asia-Pacific region. Skip the Ritz and indulge in these places that represent a slice of heaven on earth ❤️ We do you the honour of carefully selecting the various accommodations that'll cater to you and your other half. Be it bungee-jumping off airplanes, museum-hopping for fine art or recycling bottles and papers to save the planet are your idea of romance, this list covers it all ? Let us begin and let love fill the air!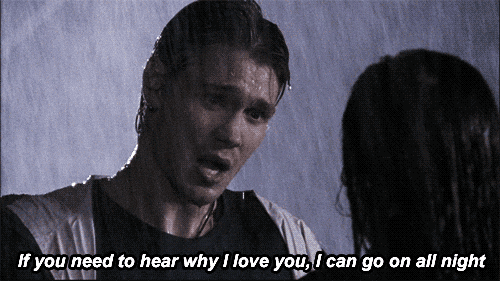 Credit: Giphy
For the couple who seeks the unconventional
The oddball couple loves whimsical getaways and treading the unbeaten path. With a lover to match your unique character, lounging at one of these incredibly stunning places is just what you need.
1. Naked Castle in Moganshan, China
Now, before you get cheeky, its not what you think ? Perched 800 meters above sea level with a view to boot, this castle is Rapunzel's tower come alive! Stretching far beyond its horizons to boast a lush green panorama, you'll have a field day exploring tea plantations and bamboo-shrouded mountains enveloping this place. Stay at one of their cliffside suites to soak in the entire landscape from your own bathroom window.
Credit: Aimir Sejdinaj on Facebook 
Take a bath in your very own tub and immerse yourself in the scenery to behold at the comfort of your room ? If you're getting shy at the thought of it, don't worry, there's a bowling lawn and hiking trails that may be up your lane. Newlyweds, you'll have all the privacy you need at this tucked-away castle, hidden from the rest of the world.
For those looking to have some humour during their stay, choose to sleep in the themed guest suites; from the gangster, diva or dungeon type rooms.
Address:
No.12 Sanjiuwu, Laoling Village, Moganshan Town
, 
Deqing County, 
China
Contact for bookings:
400 9200 518
Website:
 http://www.nakedretreats.cn/naked-castle/en-US/
Price:
From USD276
2. Ayana Fort Kochi in Kerala, India
Kings and queens, say checkmate with this boutique hotel ? Feel a dose of nostalgia as you step into this 200-year old courthouse that has now become a chic sanctuary. The art deco style infuses the old and new under one roof, while the high-ceilinged floors make the place look even more spacious.
Credit: Ayana Fort Kochi on Facebook 
As the breeze tingles your skin, take a moment to fully immerse yourself in the view of the harbour overlooking the hotel. With spices traded on the port for at least 2000 years, you'll get a sense of why India's truly the birthplace of spices. While you may not be swimming in an overwater villa here, you'll have full access to the rooftop pool with a view of the dock to beat.
Credit: Ayana Fort Kochi on Facebook 
Address:
Ayana Fort Kochi, Kalvathy Road, Fort Kochi, Kochi, Kerala – 682001
Contact for bookings: +91 0484 2588900
Website: 
http://www.ayanahospitality.com/ayana-fort-kochi/
Price:
 From USD160 Book on 
Agoda
3. W Shanghai - The Bund in Shanghai, China
Call it a grand party the moment you step in. While you may not be the life of a party, this place is worth a visit simply for its interior. Be transported to the 70s era, with bright yellow window lounges and gold cushion to give the room a pop of colour ?
Credit: W Shanghai - The Bund on Facebook 
As you enter your suite, the furnishings of the room will catch you by surprise. A pair of enormous chopsticks and dumpling-shaped cushion sets the tone for a delicious view overlooking your front windows.
Credit: W Shanghai - The Bund on Facebook 
Bathe in the neon city lights in the nights through your bedroom window or if you're looking for something to do, how about heading down to the the gym and cycle room or lounging at the indoor and outdoor pools? Of course, even the inflatable flamingos are gold in colour ? But with a view like this, would you even want to leave your suite? ?
Credit: W Shanghai - The Bund on Facebook 
Address: 
No.66, Lvshun Road, 
Shanghai, China
Contact for bookings: +86 21 2286 9999
Website:
 http://whotels.com/wshanghaithebund
Price:
 From USD314 Book on
Agoda
For the couple who loves museum dates
Falling in love is an art. Couples who enjoy museum dates and a cup of joe are bound to find a residence that chronicles their love life. If bonding over paintings and books is your definition of romance, these hotels will certainly not disappoint ?
4. QT Museum Wellington
Hunt for a taste of fine art with a twist! The extensive art collection to boast has artists and collectors taking in the avant-garde style splashed across the interiors. Sleep in the artsy rooms with stylish lamps and an array of carefully selected books from the Museum of New Zealand Te Papa Tongarewa to keep your nights cosy and warm. Expect more than the typical paintings hanging on museum walls here, for the eccentricity of the art pieces are what draw visitors in.
You'll be inspired as you revel in the sculptures and paintings, letting your creative energy flow. Create your own masterpieces as you join the behind-the-scenes tour of the Museum of New Zealand Te Papa Tongarewa made available by the hotel.
Credit: QT Museum Wellington on Facebook
Address:
90 Cable Street, Te Aro, 
Wellington, New Zealand
Contact for bookings: +64 4-802 8900
Website:
 https://www.qthotelsandresorts.com/wellington/
Price:
 From USD157 Book on
Agoda
 5. Bangkok Publishing Residence in Bangkok, Thailand
Reminisce the days where books are written on vintage typewriters. Situated amongst lavish hotels and trendy boutique quarters lie one of the most unique abode to greet visitors. The small-scaled eight-room hotel harmonises the touch of modern-day luxury with a flash from the past. Previously a printing factory, the lobby pay homage to the history of the family-owned publishing business, complete with typewriters and printing blocks ?
Credit: Bangkok Publishing Residence on Facebook 
Although this lodging is not as massive as the rest on this list in terms of size, it doesn't compromise on comfort and luxury. The intimate setting of the room is perfect for couples who are looking for a rustic place to call home the next couple of days.
Credit: Bangkok Publishing Residence on Facebook 
Retreat into the scenic rooftop garden and help yourself to the gorgeous view. Watch your worries turn to foam as you lay in the jacuzzi or simply unwind with a good read in the library.
Credit: Bangkok Publishing Residence on Facebook 
Pick your favourites from travel and lifestyle magazines, or bring along your own as you're being surrounded by the familial smell of books.
Credit: Bangkok Publishing Residence on Facebook 
Address: 
31-33-35-37-37/1, Lan Luang rd., Wat Sommanat, Pom Prap Sattru Phai, 
Bangkok, Thailand
Contact for bookings: +66 2 282 0288
Website:
 http://www.bpresidence.com/
Price:
 From USD145 Book on
Agoda
 For the couple who seeks new adventures
Bungee-jumping off cliffs and airplanes are not for the weak-hearted. The couple that truly slays, the adrenaline-junkie pair go all out to make their honeymoon THE adventure of their lives.
6. Kokomo Private Island, Fiji
From the get-go, hop on a plane into this secluded island you're blessed to call home the next couple of days. Tucked away on the brink of the celestial Great Astrolabe Reef, anticipate both romance and excitement by this oasis. Dive through the underwater world, one of the PADI-certified dive center around to explore its vast terrains. The sea is brimming with adventures that'll intoxicate you. From swimming with manta rays, surfing on the outer reef, snorkelling with aqua creatures to paddle boarding across the pristine waters, it'll be a honeymoon to remember for a lifetime ?
Lounge in the outdoor pool while taking in the sunset during evenings. Or, relax your muscles with yoga, where the calming horizons will instantly invigorate you.
Put on your night gowns and let your tiredness fade away into the nights. With only 27 villas lining the beach, you won't have to worry about restless nights during your stay. The neutral tones of the rooms are set to enhance the natural allure of the surroundings, letting the beauty of the stunning landscape work its magic.
Address: Yaukuve Levu Island, FijiContact for bookings: +679 776 4441 Website: http://www.kokomoislandfiji.com/Price: From USD1995
For the couple with a mission to save Earth
Luxurious doesn't always mean a tear in our ozone layers and these eco-friendly habitats are here to prove it. One recycled bottle at a time, these couples are committed not only to each other, but to a greater cause - saving our planet.
7. Cempedak Private Island in Riau Archipelago, Indonesia
Get cosy with floras and faunas in this natural setting. Marvel at all 17-hectares of sustainable bamboos, recycled teaks, rubber wood and grass-covered roofs that come together to make this jaw-dropping villa. On the outskirts, the island is concealed by jungle trees, letting you have the true experience of a nomadic island escapade. Let the ocean waves sing you to sleep, giving you a Moana moment indeed ?
Credit: cempedakisland on Instagram
The whopping 20 double-story pool villas are constructed with organic linen, bamboo fans and cotton mosquito netting.
Credit: destinasianmagazine on Instagram
Take a nature walking trail as you explore the verdant terrains or go snorkelling in the crystal-clear seas surrounding the island. Enjoy a date for two as you sail across the ocean and wonder if it gets more perfect than this ?
Credit: dsrtd_real on Instagram 
Address: 
Air Gelubi, Bintan Pesisir, Bintan Regency, Riau Islands, Indonesia
Contact for bookings: online: www.brf.com.sg or via email: 

[email protected]

.
Website: 
http://www.cempedak.com/
Price:
 From USD360
For the couple who does yoga together
Love begins as a self-loving quest. The couples' affections are not only reflected in the care they offer each other; for they know that in order to love others, they must first, love themselves.
8. Santani in Kandy, Sri Lanka
Indulge in an eco-luxe haven perched on a sheltered hillside. Strip away from the hassles of modern-day living and retreat into the "Wellness 2.0" experience here. From personalised massages to meditation plans specially designed for you by the Ayurvedic therapist, you and your spouse will leave feeling refreshed and recharged after your honeymoon.
Credit: Santani on Facebook 
Enjoy a hot salt bathe at the soak pool or cool off at the 25-meter long infinity pool for a self-care made for two ☺️
Credit: Santani on Facebook 
The exclusive 16 rooms mirror the inside of a cave, with sliding doors leading you straight into the balcony. As married life symbolises the start of a new chapter, this serene lodging offers couples a fresh beginning, hand in hand.
Credit: Santani on Facebook 
Address: 
Nattuwakale Estate, Werapitiya, 
Kandy
Contact for bookings: +94 11 7 223230
Website: 
http://santani.lk/
Price:
 From USD450 Book on
Agoda
For the couple who are beach lovers
Sun, sand and sea's the ecstasy that sails this couple's boat. Swimming with fishes or suntanning at the beach rings heaven for them. Azure waters and clear skies are what they're searching for in a blissful honeymoon.
9. St. Regis Maldives Vommuli Resort in Maldives
There's no better place for couples who love water than in Maldives. The exterior of the resort depicts characteristics of marine life; spiral shaped library reflecting a seashell, overwater villas symbolising manta rays and spa sanctuary mirroring the shape of a lobster. The luxurious stay protects the foliage of palms and padani, where the lush greenery is so vital to the island that the resort is carefully built without compromising the environment ?
Shown here is the Iridium Spa
Credit: The St. Regis Maldives Vommuli Resort on Facebook 
With your own private pool, you don't have to step out of your estate. With an array of choices from a garden villa with pool to sunset overwater villa with pool, whichever you pick, the breathtaking views each has to offer will spoil you silly.
Credit: The St. Regis Maldives Vommuli Resort on Facebook 
Gaze into the stars with your beau or simply take a breather in the hydro-therapy pool. Maldives is on every couple's bucket list and for a good reason. Every inch of the resort proves to be a scenic backdrop for couples to capture the moments that matter most.
Credit: The St. Regis Maldives Vommuli Resort on Facebook 
Address: 
Vommuli Island, Dhaalu Atoll Vommuli, 
Magoodhoo, Kaafu, Maldives
Contact for bookings: +960 676-6333
Website:
http://www.stregismaldives.com/
Price:
 From USD2470 Book on
Agoda
For the couple who loves minimalism
Sometimes, less is more. The minimalistic couple understands that things don't always have to be complicated to stand out. The simpler things in life are treasured, with the right person by their side.
10. Roseate House in New Delhi, India
Marble, oak and velvet are the common decorative palette in Roseate House. As you first step foot into the lobby, notice how the black walls paint the tone for the rest of the building. As you enter your room, the sleek, polished designs will coolly greet you.
With a massive 71-seater cinema on board, its the ideal movie date you're longing for ? Or, pamper yourself in the rooftop spa retreat before calling it a night.
Credit: Roseate House New Delhi on Facebook 
The Roseate hotel groups are famous for their range of smart hotels, and its evident in the carefully curated interior of this place.
Address: 
Plot No 10, GMR Hospitality District, Near IGI Airport, Aerocity, New Delhi, India
Contact for bookings:
+91 11 7155 8800
Website: 
https://www.facebook.com/roseatehouse/
Price:
 From USD132
For the couple who seeks a story wherever they go
Every couple has a story to tell. But the stories of others, no matter how trivial, fascinate the storytellers. In every detail, these couples find a story within, waiting to be read.
11. MACq 01 in Hobart, Australia
Be transported into a world of Australia's legends; Woretemoeteryenner, the native girl kidnapped by British sealers in the 19th century or Sue Becker, the popular exercise star in the 70s. The facets of these stories are sure to intrigue the storytelling duo, where they'll be putting the puzzle pieces together while overlooking Hobart's classic waterfront ?
Credit: miss_stef on Instagram
Learn the stories behind the characters through the plaques on room doors, suggesting an aura of mystery waiting to be uncovered.
Credit: enelram81 on Instagram
The locals are behind this indigenous craftsmanship, from artist Troy Ruffles creating over-the-top bedheads to Duncan Meerding, a blind man whose impression of light is reflected in the lamps he designed.
Address:
18 Hunter St, Hobart TAS 7000, Australia
Contact for bookings:
+61 3 6210 7600
Website: 
http://macq01.com.au/
Price:
 From USD276 Book on
Agoda
12. JW Marriott Phu Quoc Emerald Bay Resort & Spa in Phu Quoc, Vietnam
While offering magnificent views and complete access to exquisite beaches on the borders, it stands apart from the rest thanks to the visionary stories underlying each theme. Designer Bill Bensley envisions an accommodation that encapsulates an abandoned university, with a microscopic look into evolutionary sciences. It'll make anyone wish to be back in "school" at this residence ?
Credit: JW Marriott Phu Quoc Emerald Bay on Facebook 
Fungus-designed Chantarelle Spa and biological decorative in suites are several exquisite details that storytellers will love to experiment.
Credit: JW Marriott Phu Quoc Emerald Bay on Facebook
Address:
Bai Khem, 
An Thoi, Kiến Giang, Vietnam
Contact for bookings: +84 297 377 9999
Website: 
http://www.marriott.com/hotels/travel/pqcjw-jw-marriott-phu-quoc-emerald-bay-resort-and-spa/
Price:
 From USD400
There you have it. 12 incredibly gorgeous accommodations that are true caliber in their own fields, each worthy to be part of DestinAsian's annual Luxe List. While we're barely scratching the surface, you can find out other accommodations that make the cut 
here
. Sleep on a bed of roses and be pampered to a honeymoon you both deserve. Begin your lives together with a destination that truly resonates! While you can't put a price on love, "forever" can begin with a perfect start ❤️