We know we're not the only ones who remember how hard it was to go shopping for modest wear less than a decade ago. I mean, really, didn't it use to feel like the only way to dress modestly was to either wear an 
abaya 
or buy a long-sleeved top to layer underneath something else?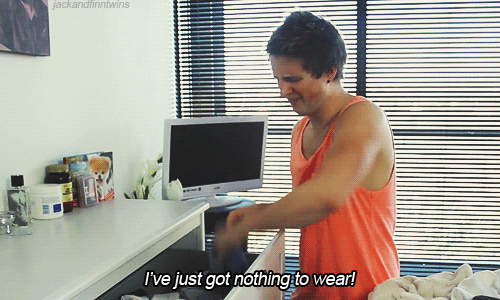 Credit: Giphy
Well, gone are the days when dressing modestly meant wearing two or three layers under a blazing tropical sun or spending huge amounts of money just for clothes. From their modest designs to their ethical business practices, here are 12 Muslim fashion designers who are making bold statements with their work AND proving that modesty and style aren't mutually exclusive ?
Malaysia & Singapore
1. Azrina Tahar - Sufyaa
One of the earliest and most established modest fashion brands in Singapore, Sufyaa offers artisanal modest fashion with an Asian flair for the modern muslimah.
Credit: @sufyaa on Instagram
Founded by Singaporean Azrina Tahar out of her frustration at the difficulty of finding modest-wear to suit her profession, Sufyaa's designs seamlessly incorporate traditional Malay motifs and patterns into elegant dresses and chic pantsuits.
Credit: @sufyaa on Instagram
Azrina also goes out of her way to implement ethical practices, partnering with local social enterprises like Sew Suite to provide employment to socially disadvantaged local women.
Credit: Sufyaa on Facebook
With such a strong commitment to cultural preservation and social enterprise, it's no wonder that Sufyaa counts Madam President Halimah Yacob as one of her regular customers!
2. Hafizah Ghazali
A graduate of Madrasah Al-Ma'arif Al-Islamiah and LaSalle College of the Arts, Hafizah made headlines in 2014 when she was selected to showcase her Sutra collection at the Audi Fashion Festival that year.
Credit: Cakap Pasal Remaja on Facebook
Next to some of the industry's biggest names, from Oscar De La Renta to Ashley Isham, Hafizah held her own with her minimal, all-silk collection inspired by 1930s modest swimwear.
Credit: @hafizah.ghazali on Instagram
She hasn't looked back since then, establishing her own womenswear label and releasing collection after gorgeous collection ?
Credit: @hafizah.ghazali on Instagram
"Hafizah Ghazali" focuses on creating the ultimate contemporary, modest, and effortless look with its slim cuts and pastel colour palettes that exude femininity.
3. Raja Nadia Sabrina - Aere
A lawyer by training, Sabrina first made her mark on the fashion industry as a fashion blogger, but took a leap of faith and established her own clothing label, Aere, in 2014.
Credit: @aere on Instagram
Aere's innovative and versatile pieces are well sought after, having won the Best Womenswear Collection award at Kuala Lumpur Fashion Week 2015.
Credit: @aere on Instagram
It recently also held its first ever solo exclusive show a few months ago, and having expanded into menswear and kids-wear, it's definitely one to watch for the next few years!
4. Lulu Alhadad
From the kaleidoscopic, radiant colours to the intricate crystal embellishments of each of her pieces, each of Lulu Alhadad's pieces is designed to characterize and embody true beauty.
Credit: @lulualhadad on Instagram
Starting out with just 16 pieces in her very first collection, Lulu's business prowess and immaculate fashion sense proved to be one of the sharpest in the local fashion scene - she now has not one, but 2 successful businesses to her name!
Credit: @lulualhadad on Instagram
Indonesia
5.  Dian Pelangi
Probably one of the most well-known names on this list, Dian is one of the region's most successful social influencers, and her recent foray into the fashion world has definitely not gone unnoticed.
Credit: @dianpelangi on Instagram
Dian's pieces are characterized by their vibrant prints and their fusion of Asian and Western styles - her most recent collection was inspired by the diversity of the hugely popular 
Humans of New York 
series online. She's also made back-to-back debuts on the international stage at various fashion weeks all over the world: London, Turin, Jakarta and most recently New York (just to name a few).
Credit: @dianpelangi on Instagram
With 14 stores and 4.8million followers to her name, Dian's brand continues to grow and shows no signs of slowing down.
6. Vivi Zubedi
One of the two modest fashion designers who debuted their collections at New York Fashion Week (the other being Dian Pelangi), Vivi Zubedi's signature is "abaya with an ethnic twist".
Credit: @vivizubedi on Instagram
Staying true to her Iraqi-Yemeni roots, Vivi aims to introduce the abaya to Indonesian women as a stylish, versatile and modest fashion to suit every occasion.
Credit: @vivizubedi on Instagram
Driven by the Islamic principle of moderation, Vivi strives to articulate her faith through her work, ensuring that every piece she designs is Shariah-compliant, stylish, modest, and moderate at the same time.
U.K.
7. Hana Tajima
A household name amongst Muslimahs the world over, this British-Japanese Muslim beauty is most known for her collaboration with Japanese casual clothing brand UNIQLO.
Credit: @hntaj on Instagram
Effortlessly fusing her Japanese heritage, Muslim faith and love of fashion into her work, Hana says that her designs are influenced by her Japanese side in her love of process and simplicity, her faith in her respect for the body itself, and her English side in a slightly rebellious nature.
Credit: @hntaj on Instagram
If you can't get enough of her (like us ?), check out
our exclusive interview with Hana Tajima here!
8. Dina Torkia
A modest fashion icon, Dina gained a massive following on YouTube as a beauty and fashion guru, pioneering the first few "hijab tutorials" sharing her elegant hijab styles online.
Credit: @dinatokio on Instagram
She regularly vlogs and documents her daily life on YouTube and is famously candid about her struggles with bulimia in the past as well as how she uses fashion to expresses herself. Ever so creative and innovative in her own style, Dina started both a clothing and a jewellery line, both of which proved to be massively popular!  
Credit: @dinatorkia on Instagram
"I think of dressing smartly as a way to represent myself and my religion... I don't understand why you can't be interested in fashion and be a Muslim." - Dina Torkia
9. Rima Tadmory
Birmingham-based British designer, Rima Tadmory is an incredible designer who specialises in modest bridal wear! ?
Credit: @
rimatadmory
on Instagram This 28-year old talent acquired the skills and passion for design from her own grandmother who taught her when she was young. As a Lebanese British, she unifies the elements of East and West to her designs - fusing inspiration from traditional Arab clothing like abayas and kaftans with a Western twist.
Credit: @
rimatadmory
on Instagram  
U.S. & Canada
10. Subhi Taha
Based in Texas, Subhi Taha started out making videos on YouTube about his life as a Muslim Arab-American before dropping his first collection late last year under his own brand, SUBHITAHA.
Credit: @subhitaha.col on Instagram
Exuding chic, minimalist vibes, SUBHITAHA's designs are driven by the Sunnah and its simplicity, humility, modesty and practicality.
Credit: @subhi.taha on Instagram
Drawing from his ethnic and cultural heritage (being half-Filipino and half-Palestinian), Subhi hand-makes
all
of his clothing, from cutting and sewing. Now THAT's dedication!
11. Ibtihaj Muhammad - Louella
Definitely one of our favourites on this list - Ibtihaj Muhammad made headlines last year for being the first U.S. Olympian to compete in a hijab (she won the bronze medal in the women's team saber fencing, by the way ?)
Credit: @ibtihajmuhammad on Instagram
When she's not in the arena, though, she's busy making appearances on Ellen and running her own clothing line, Louella, which she founded along with her siblings. Featuring long, flowing pieces in eye-catching prints and vibrant hues, Louella caters to millenial women of all faiths who prefer modest options when it comes to clothing.
Credit: @louellashop on Instagram
All of Louella's items are also produced ethically and locally in the U.S, and nothing is priced above $250 - because who says you need to burn a hole in your wallet to look fashionably modest?
Australia
12. Diana Kotb
With 10 years' of experience in the fashion industry working for the top Australian fashion designers and brands (including Marie Claire!), it's no wonder that Diana's luxury modest fashionwear label burst onto the scene with much fanfare in 2014.
Credit: Diana Kotb on Facebook
Each of her pieces are designed to exude supreme femininity, intelligence, and a fiercely captivating feel.
Credit: Diana Kotb on Facebook
"The Diana Kotb woman loves beautifully crafted pieces – luxurious pieces that are feminine and demure but have masculine notes to project a strong sense of self worth and strength. She is cool without ever being pretentious. Kind, warm and humble – all traits of an exceptional Muslim woman." - Diana Kotb
As one of the cornerstones of the Islamic faith, modesty is an integral part of our everyday lives. In our every effort to dress modestly and beautifully at the same time, we strive to embody what Sayyidina Ali R.A. once said: "Modesty is the means to all beauty."
Tags:inspiration