Without a doubt, Malaysian cuisine is one of, if not
the
main factor that attracts tourists to the country. If that's the case, do bear in mind that your
makan
adventure will not be complete without visiting Malaysia's food heaven, Pantai Timur or the East Coast!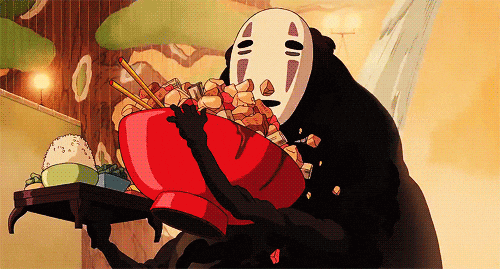 Credit:
giphy
The food in Kelantan and Terengganu is influenced by Thai culture and taste due to the close proximity to Southern Thailand. Aside from that, since this region also relies on the fishing industry, most of the food here are fish based. You will see a lot of dishes that feature fish as well as other seafood in this list? Without further ado, here's 12 must try dishes in Kelantan and Terrenganu!
1. Nasi Dagang
Be it breakfast, lunch or dinner, nasi dagang is available anywhere at any time in the East Coast ?
Credit:
@matkamal79
on Instagram'
There's a slight difference between
nasi dagang
Terengganu and
nasi dagang
Kelantan! 
Nasi dagang
is made up of a mixture of white rice (in Terengganu) or brown rice (in Kelantan) and glutinous rice steamed with coconut milk, shallots and fenugreek. In Terengganu, it's simply served with
gulai ikan tongkol
, which is a spicy red fish curry, while
sambal kelapa
and boiled eggs are also served in Kelantan.
Credit:
@che_kem_
on Instagram
2. Nasi Kerabu
Credit: amrufm on FlickrNasi kerabu
is a Malay-style salad (a combination of local vegetables, herbs and fruits) served with rice that's been dyed blue (naturally using
bunga telang
),
kerisik sambal ikan
(fish floss with grated and sauteed coconut),
budu
(fermented fish sauce) which is a Kelantan specialty, boiled salted egg and fish crackers. At some places, the dish also comes with a choice of grilled beef or fried battered fish. This combination of flavours will all create a uniquely beautiful taste in your mouth that you will never forget!
Credit: amrufm on Facebook
Although nasi kerabu is available in both East Coast states, somehow it's relatively more popular in Kelantan.
3. Satar
Terengganu really do love their fish so much that even their snacks are made of fish?
Credit:
@zahidradzi
on InstagramSatar
is basically deboned and mashed fish mixed with grated coconut, ginger, pepper, chillies, tumeric leaves and bay leaves. It's then wrapped in a cone-shaped banana leaf, skewered and grilled over hot coals ?
Credit:
@afyfathihah
on Instagram
P.S. If you can't stand spicy food, you might want to be careful while eating
satar
!
4. Laksam
Credit:
Sha Salleh
Made from rice flour,
laksam
is unlike any other noodles and more similar to
laksa
, except that it's been spread, rolled and cut into bite size. Laksam is eaten with a gravy made from, you guessed it, fish meat and coconut milk mixed with several other condiments. For spiciness, you can add some
sambal
to the dish. Like made other local dishes,
laksam
is one of the staple breakfast menu in Terengganu and Kelantan.
Credit: I Love Kelantan on Facebook
5. Laksa Terengganu
Credit:
@lyniealias
on Instagram
The most special thing about Laksa Terengganu is that it comes with a choice of two kinds of gravy;
kuah putih
(white gravy) and
kuah merah
(red gravy). While
kuah putih
contains pepper, red chillies are used for
kuah merah
, making it spicier.
Laksa kuah putih
is pretty similar to
laksam
and is a more popular choice, that doesn't make
laksa kuah merah
any less special.
Credit:
@fatimahasilah
on Instagram
If you find yourself in Terengganu, don't forget to try both versions!
6. Nasi Tumpang
Credit:
@upehsingapore
on Instagram
Unlike the other rice dishes,
nasi tumpang
is exclusively a Kelantan dish. It's a unique rice dish packed in a cone shaped banana leaf. Usually, it comes with fish or prawn curry,
serunding ikan
or
daging
(fish or meat floss), a dollop of
sambal
and sometimes a slice of omelette.
Credit: upehsingapore on Instagram
It's a perfect breakfast or lunch (or both!) for those who are travelling or going to work
7. Ketupat Sotong
People in the East Coast do love their seafood for sure. Ketupat sotong is another favourite for tea time, featuring squids stuffed with glutinous rice. They are later cooked in a rich and creamy coconut milk gravy. This dish is both sweet and filling, which makes it a wonderful treat after a long and tiring day?
Credit:
@rlina_
on Instagram
Similar to some other dishes, ketupat sotong varies in Kelantan and Terengganu. While Terengganu maintains the original flavour in white gravy, palm sugar is added in Kelantan for a much sweeter taste.
Credit:
@nasikerabulondon
on Instagram
8. Ikan celup tepung
A trip to Terengganu is not complete without this dish!
Credit:
@zairaaosman
on InstagramIkan celup tepung
, or simply ICT according to the locals, is basically battered fish fried whole. It's such a popular evening snack among the locals and tourists that the queue can get as long as an hour's wait especially during public and school holidays. Stalls serving ICT in Terengganu are often located by the beach, so you can feast on the food while enjoying the stunning view with your loved ones.
Credit: rozaidi_nawawi on Instagram
Also available are
sotong celup tepung,udang celup tepung
as well as
ketam celup tepung
at some places (squid, shrimp and crab).
9. Nasi air
Credit:
@sachinkarunanithi
on Instagram
Consisting of rice in clear chicken broth, several other condiments are added to the soup to add to the flavour of this signature Kelantan dish. They include crispy anchovies, peanuts,
bawang goreng
(fried shallots) and a squash of lime for a zesty flavour?
Credit: qasehidayah on Instagram
If you're a fan of rice porridge and chicken soup, remember to try out
nasi air
, which is pretty much a combination of both!
10. Nasi Lemak Ikan Tongkol
Credit:
@iza_abdrahim
on InstagramNasi lemak
can be found everywhere in Malaysia, but you can only find
nasi lemak ikan
uniquely in the East Coast. Instead of the usual
sambal ikan bilis
, people here use
ikan tongkol
(albacore tuna fish) in their sambal, making this dish a more filling breakfast to start the day and definitely more special.
Credit: Sani 'D Cafe on Facebook
11. Pulut Kelapa
Credit:
@rlina_
on Instagram
Simplicity at its best,
pulut kelapa
(or
pulut nyior
as the locals call it) is another popular breakfast choice in Terengganu. As the name suggests, this dish is simply glutinous rice served with grated coconut and often dried and salted fish as a side dish. Not only that the light flavour is perfect for people who prefer a simple breakfast, pulut kelapa also guarantees that you won't be hungry until lunch!
12. Pulut Lepa
Credit:
@iwstudiobiz
on Instagram
Some people think that
pulut panggang
and
pulut lepa
bear no difference. Unlike the former which contains spicy dried prawns and grated coconut mix,
pulut lepa
contains fish floss. Ikan selayang is shredded and flavoured with shallots, fenugreek and other spices. After filling the glutinous rice (which is first steamed with coconut milk) with this fish floss, it's wrapped with banana leaves and grilled over hot coals just like
satar
.
Credit:
@sharifahsuwaibah_syed_
on Instagram
Pulut lepa is so affordable and easy to eat that the locals, especially people on the way to work or school, usually grab and eat it on the go? Did you know that 2017 is Visit Terengganu Year? While you're there, make sure to visit the neighbouring Kelantan as well and fill your tummies with all the good food that these places has to offer!