It seems, these days, that Muslim women are constantly at the centre of debates about oppression, liberation, and general criticism both within and outside the Muslim community. As tiring as it feels sometimes to be constantly scrutinized, sometimes the only way to break all those invisible barriers of prejudice isn't to just talk about it: it's to get out there and start making things happen!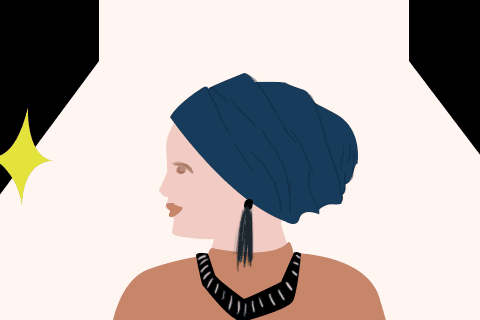 Credit: Giphy
From literary geniuses and super-scientists to groundbreaking modest fashionistas and soulful musicians, here are 14 incredible Muslim women who are changing the world one step at a time through their work.
Arts
1. Elif Shafak: Award-winning novelist
Turkey's most widely read female novelist, Elif Shafak has made quite a name for herself internationally through her bestselling novels that seamlessly weave together Eastern and Western storytelling traditions.
Credit: نوستالجيا الأدب on Facebook
Crafting narratives and stories that touch on diverse issues, from Islamic spirituality to women's issues, Elif was awarded the prestigious Chevalier of the Order of Arts and Letters in 2010 in recognition of her contributions to arts and literature.
Credit: Elif Shafak on Facebook
Not only is she an accomplished novelist, she also actively participates in international relations talks, and is a founding member of the European Council on Foreign Relations (ECFR), aside from being a member of Global Agenda Council on Creative Economy, World Economic Forum.
"The way forward is not by building walls: we have to build bridges." - Elif Shafak
2. Zaha Hadid: Iconic architect
Despite having recently passed on in March 2016, Zaha Hadid remains one of the most highly regarded architects in the world, leaving behind a phenomenal legacy in her iconic, futuristic architecture.
Credit: Zaha Hadid on Facebook
Even if you've never stepped foot into one of her buildings, just looking at the mindblowing curves and bends of the exterior is enough to make you feel like you're looking at some kind of (literally) out of this world construct from the future!
Credit: Amazing Architecture on Facebook
It comes as no surprise that Zaha, who is British-Iraqi, received the world's most prestigious architectural award, the Stirling Prize, for two years in a row in 2010 and 2011.
Credit: Zaha Hadid on Facebook
She's also the first and only woman ever to have received the Royal Gold Medal from the Royal Institute of British Architects!
Fashion
3. Mariah Idrissi: H&M's first hijabi model
Back in 2015, Mariah made headlines all over the world for becoming the world's first hijabi model for Swedish clothing retail giant H&M, posing coolly in a long pastel pink coat, loose black bottoms and a patterned hijab.
Credit: @mariahidrissi on Instagram
The 25-year-old, who is of Moroccan-Pakistani descent, says the H&M campaign changed her life. She hopes to continue representing Muslim women and inspiring them to dress modestly.
Credit: @mariahidrissi on Instagram
"It's not about being a model for me, it's about inclusivity, diversity and representation. It's beyond fashion and beauty." - Mariah Idrissi
4. Vivy Yusof: Entrepreneur & blogger
The reigning queen of Malaysia's fashion scene, Vivy Yusof co-founded fashion e-commerce brand FashionValet in 2010.
Credit: @vivyyusof on Instagram
It has since grown into one of the region's biggest brands, carrying 500 fashion brands and 150 employees.
Credit: @vivyyusof on Instagram
Between shooting her reality TV series, running a business, and taking care of her 2 children, she's certainly killing it at the moment ?
Credit: @vivyyusof on Instagram
Activism
5. Hawa Abdi: Saint of Somalia
Somalia's first female gynecologist, Hawa and her two daughters run a hospital and refugee camp that is now home to 90,000 people and have been hailed "The Saints of Somalia".
Credit: Rahma Guliye on Facebook
What makes her story truly remarkable is her fearless courage and boundless kindness. When militants invaded her camp and took her hostage for a week, she said, "I may be a woman, but I'm a doctor. What have you done for society?" She and her daughters run the camp and hospital from their own savings and donations.  
6. Malala Yousafzai
The youngest Muslim woman on this list, Malala had already been nominated for an International Children's Peace Prize in 2011 in recognition of her bravery in speaking up for girls' rights to education.
Credit: Malala Yousafzai on Facebook
But in 2012, she was shot in the head by the Taliban, and went into critical condition before (thankfully!) recovering. Since then, she became fighting even more strongly for girls' rights to education.
Credit: @malalafund on Instagram
Despite being just 20 years old, Malala has countless awards (including the youngest recipient ever of the Nobel Peace Prize in 2014) and established the Malala Fund, which "champions every girl's right to 12 years of free, safe, quality education."
Credit: @malalafund on Instagram
"I don't mind if I have to sit on the floor at school. All I want is education. And I am afraid of no one." - Malala Yousafzai
Music
7. Yuna: Chart-topping singer-songwriter
After debuting as an indie singer in 2008, Yuna has since became a household name after being the first Malaysian artist to break into Billboard's Top 10 R&B Albums.  
Credit: Yuna on Facebook
A lawyer by training, she eventually decided to pursue a music career upon graduating university, realizing that "she wouldn't have been a good lawyer anyway".
Credit: Yuna on Facebook
She hasn't looked back since, landing collaborations with some of the industry's biggest names (including the likes of Usher, Pharrell and Owl City!)
"I want to avoid staying in the same place... then I can bring out one hundred percent, which makes me satisfied with myself. That is my goal." - Yuna
8. Poetic Pilgrimage: the hijabi Black Muslim rappers
Consisting of Sukina Douglas and Muneera Williams, Poetic Pilgrimage is one hip-hop duo which continuously breaks barriers and stereotypes everywhere with their music.
Credit: @poeticpilgrimage on Instagram
Both Muslim reverts who first became friends in secondary school, the duo weave together their love for their Muslim faith, Jamaican culture and hip-hop in their music.
Credit: @poeticpilgrimage on Instagram
Exploring topics as diverse as gender, faith, heritage and belonging through their work, this dynamic duo is definitely one to watch out for in the coming years ?
Athletics
9. Ibtihaj Muhammad
Ibtihaj made history in 2016 as the first Muslim hijab-wearing American Olympic athlete at the 2016 Rio Olympics, where she won a bronze medal in women's fencing team sabre event.
Credit: @ibtihajmuhammad on Instagram
She started fencing at just 13 years old, after her parents searched for a sport that she could participate in while she could be fully covered and wear the hijab.
Credit: @ibtihajmuhammad on Instagram
When she isn't busy training, though, she runs her own fashion label, Louella, which she co-founded with her siblings after realizing how difficult it was to find fashionable modest clothing.
Find out more about Louella and Ibtihaj's foray into the fashion world in this list of 11 Muslim fashion designers who are proving that modesty is stylish too!
10. Kubra Dagli: Taekwondo world champion
Who would've guessed that the Taekwondo world champion is actually a hijabi athlete from Turkey?! That's right: Kubra Dagli made international headlines when she won the Taekwondo World Championships in Peru in 2016!
Credit: Kübra Dağlı on Facebook
If this Turkish beauty looks somehow familiar to you, it's because she became an internet sensation after videos of her participating at Taekwondo tournaments in her hijab were posted online.
Credit: Kübra Dağlı on Facebook
Undeterred by critics who chastise her decision to wear a hijab while competing in her beloved sport, Kubra has certainly more than proved to the world that she is a force to be reckoned with.
Science
11. Khatijah Mohammad Yousoff: World-famous microbiologist
An internationally renowned microbiologist, Dr Khatijah Mohammed Yousoff is only the second Asian scientist ever to win the UNESCO Carlos Finlay Prize in 2005 for her outstanding work in the field.
Credit: La Trobe University Alumni on Facebook
She is a firm believer in harnessing the power of science for the betterment of humanity: some of her work has even included helping to bring science to African farmers, and research combatting cancer cells!
12. Rim al Turkmani: Astrophysicist extraordinaire
As an astrophysicist working within the space physics group at the U.K.'s extremely prestigious Imperial College, Dr Rim is one of the most highly respected professionals in her field.
Credit: Islam & Science on Facebook
She combines her love for science with faith, regularly giving numerous talks on the tradition of Islamic astronomy and advocating for progress and development through science.
"I adore and respect whatever encourages me to think, and I definitely found that element in the Qur'an... I was always taken by verses in the Qur'an which ask people to ponder the universe." - Rim al Turkmani
There you have it: from arts, to athletics, to activism, these are just 12 of the countless Muslim women who overturning prejudices and stereotypes everywhere through their work. Now it's your turn: how will you contribute back to society? ?
Tags:inspiration