We all dreamed about visiting the happiest place on Earth, aka Disneyland. Time fly by and before you know it, you're a semi-adult and you've yet to fulfil your theme park dreams. Well guess what, with theme parks sprawling all over Southeast Asia, you can now drop by a different theme park every month! Who says you're too old to have fun at theme parks? ?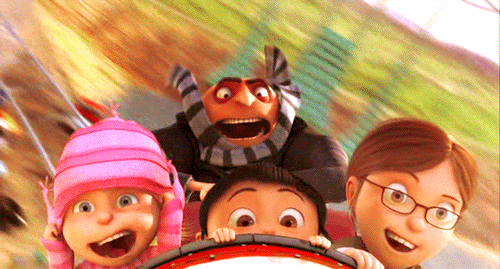 Credit: Giphy
[inlinewidget id=36408]
Singapore
1. Universal Studios Singapore
Let's start with the one that's closest to home, Universal Studios Singapore (USS)! Being the first theme park of its kind in Singapore, USS has been a major attraction, drawing visitors from all around the globe. It has 7 varied zones, from taking you back in time to Ancient Egypt to fast-forwarding to the future in Sci-Fi Zone.
Credit: zippyzipeng on Instagram
With this ride, it's either go big or go home. No visit to USS is complete without getting on the Battlestar Galactica! Visitors will get to choose which ride they want to get on, Human, Cyclone or BOTH!! You'll get to experience the most thrilling 90 seconds of your life ?
#HHWT Tip: Skip endless, long queues by booking your USS one day pass in advance on Klook! Move to the front of the line by presenting your mobile e-voucher to the staff ? The ticket is also inclusive of meal and retail vouchers worth SGD5 each (with a minimum spending of SGD10 and SGD35 respectively!).
Credit: nocameraplease on Instagram
Address: 8 Sentosa Gateway, 098269 Opening Hours: 10AM to 6PM Website
#HHWT Tip: Musollah is available in the theme park at Sci Fi City, right next to the Battlestar Galactica lockers.
2. Wild Wild Wet
A local theme park with elevated standards, Singapore's largest water theme park doesn't disappoint. If you feel like lazing around in the water, grab a buoy and float along the Shiok River ? If you need a kick of adrenaline, head onto the Free Fall. Dropping from Asia's longest free fall water slide, you'll drop at about 50 feet per second ?
Credit: nyeinkayan92 on Instagram
If you're planning to head into Wild Wild Wet with a large group of friends, you may do so and get better rates as compared to buying tickets individually!
Credit: theluxtraveller on Instagram
Address: 1 Pasir Ris Close, 519599 Opening Hours: Weekdays, 1PM-7PM Weekends, 10AM-7PM Website
[inlinewidget id=36270]
Malaysia
3. Legoland
Malaysia's first international theme park, Legoland will give you a hands-on experience, enabling you to assemble everything in sight. The young ones will be encouraged to think out of the box and create anything that comes to mind. Not only does it boosts the child's creativity, it improves their ability to think ?
Credit: LEGOLAND Malaysia on Facebook 
Legoland is divided into 2 main parts; the theme park and water park. Both encourage the entire family to take part and enjoy their time together ? Seems like your plans for the upcoming school holidays are already settled!
Credit: LEGOLAND Malaysia on Facebook 
Address: 7 Jalan Legoland, Medini, 79250 Nusajaya, Johor Malaysia Opening Hours: 10AM-6PM Website
[P.S While in Johor, don't forget to check out these super shiok makan places!]
4. Sunway Lagoon
Sunway Lagoon, where you'll have your best day ever! Sunway Lagoon's made for everyone. 6 various parks can be found in Sunway Lagoon; Nickleodeon Lost Lagoon, Sunway Lagoon Water Park, Sunway Lagoon Amusement Park, Sunway Lagoon Wildlife Park, Sunway Lagoon Extreme Park and Sunway Lagoon Scream Park.
Credit: cloudyslimesz on Instagram
From waddling away in the kiddy pool to braving yourself for a bungee jump, there's something bound to interest you. If you're into wildlife encounters, you may get up close and personal with the huge blue-eyed white tigers and even visit white lions (YES WHITE LIONS!) ?
Credit: Sunway Lagoon, Malaysia on Facebook 
Address: 3 Jalan PJS 11/11, Bandar Sunway, 47500 Petaling Jaya, Selangor, Malaysia Opening Hours: 10AM-6PM Website
5. Escape Theme Park Penang
If you've had enough of roller coasters, along with all the high-tech fun, and you intend to sweat it out in the forests of Penang, you can head into Escape Theme Park Penang! They take pride for being situated in a natural environment. Focusing on low technology and high fun, we can go back in time and enjoy the outdoors like how they used to in the olden days ?
Credit: Penang 槟城 on Facebook 
Imagine going back to your school camp days all over again! Games like Jungle Swing, Flying Lemur, Monkey Business and Tubby Racer will bring you back in time to those cheeky days ? Rope courses, rock climbing and beam balancing will allow you to focus on your strengths and remind you that you're capable of a lot more than you think ?
Credit:Budget Hotel on Facebook 
Address: 828, Jalan Teluk Bahang, Teluk Bahang 11050 Teluk Bahang, Pulau Pinang, Malaysia Opening Hours: 10AM-6PM Website
[P.S You can't leave Penang without trying these iconic dishes!] 
Thailand
6. Black Mountain Waterpark
Black Mountain Waterpark has been opened since 2011 and they're now a very popular tourist destination. With 9 different slides and 7 different pools, your day is a mountain full of fun ?
Credit: Black Mountain Water Park,Hua Hin on Facebook 
With slides like the Wide Wave, it's great for everyone of all ages. Definitely just a starter for the thrill seekers ? Once you're ready, head to The Black Wave. This slide is not for the faint-hearted, not with its double drop! Enjoy the roller coaster slide, as you will.
Credit: Black Mountain Water Park,Hua Hin on Facebook 
Address: 1, Khao Hin Lek Fai 2, Hua Hin District, Prachuap Khiri Khan 77110, Thailand Opening Hours: 10AM-6PM Website
[P.S What's a visit to Thailand without exploring all the beautiful beaches? Check out our guide here for the hidden gems of Thailand!]
7. Siam Park City
A huge theme park with fun activities oozing out from every corner! This park has 5 major zones; Water Park, X-Zone, Family Zone, Fantasy Zone and Small World. Drop by X-Zone and take a seat on the Vortex, 1 of the 2 largest suspended Looping Coasters in the world. With speeds going up to 80km/h, guests will have a hard time forgetting this experience ?
Credit: Global Theme Parks on Facebook 
In the Small World, children under 130cm will enjoy their time here with rides such as Mini Carousel, Mini Motorcycle, Mini Boat and Mini Astrofighter. Aimed just for kids, they will enjoy their time here.
Credit: kimparty on Instagram
Address: 203 Suan Sayam Rd, Khwaeng Khan Na Yao, Khet Khan Na Yao, Krung Thep Maha Nakhton 10230 Thailand. Opening Hours: 10AM-6PM Website
8. Cartoon Network Amazone Waterpark
Hang out with Finn and Jake from Adventure Time, Ben 10 and Dexter from Dexter's Laboratory! Watch your childhood idols up close and personal or dash straight for the jaw-dropping water rides. Go bananas as you go rounds on the Banana Spin or challenge yourself to an 18m drop on the XLR8-TOR, one of the coolest and steepest water rides ever in Asia ? Take on the bends, loops and curves on The Omnitrix, one of the largest in the park. From free falls, lightning speeds and dizzying turns, it'll be the most exhilarating water theme park you'll ever visit ?
Credit: oneeyed_milkman on Instagram
Credit: Cempedak Cheese on Facebook
Credit: cnamazone on Instagram
Aside from the 10 themed zones, look out for special live performances by your favourites! Using the latest in interactive technology, be carried away by the dances and variety of shows from the Powerpuff Girls to Chowder and Johnny Bravo ?
Credit: cnamazone on Instagram
#HHWT Tip:
If you're coming from Pattaya City, it'll take you a 20 minute drive to arrive here. Alternatively, if you're coming from Bangkok's Suvarnabhumi Airport, the journey can take you up to 2 hours.
Address:
888 Moo 8, Sukhunvit Rd., Na Jomtien, Sattahip, 
Chonburi
Opening Hours: 10AM-7PM Website
Indonesia
9. Dunia Fantasi Ancol
Dunia Fantasi Ancol is Jakarta's equivalent to Disneyland. Theme park goers, this park has 5 different zones; Dunia Fantasi, Ocean Dream Samudra, Atlantis Water Adventure, Allianz Ecopark and Sea World Ancol. Head to the Sea World to find various unique sea creatures that you've yet to set your eyes on. They have about 7 300 various fresh water species and 48 different kinds of fish ?
Credit: diayuluchyanti on Instagram 
Then, buckle up on the Tornado ride for a whirlwind of an adventure ?
Credit: rezabrahman on Instagram
Address: Jalan Lodan Timur No 7, RW10, Ancol, Pademangan, Kota Jakarta Utara, Daerah Khusus Ibukota Jakarta 14430, Indonesia. Opening Hours: 10AM-6PM Website
10. Trans Studio Bandung
Trans Studio Bandung is one of the few biggest indoor theme parks in the world! It has been divided into 3 different zones, and visitors will have the chance to feel what it's like to be on set of local TV shows like "Dunia Lain," "Jelajah" and "Si Bolang".
Credit: hendricardistry on Instagram
Park goers can also walk through Hollywood and visit the infamous Walk of Fame. Surrounded by Hollywood's 60's architectural design style, it'll feel like you've been brought straight into the streets of Los Angeles ?
Credit: Trans Studio Bandung on Facebook 
Address: Jalan Jendral Gatot Subroto No 289, Cibangkong, Batununggal, Kota Bandung, Jawa Barat 40273, Indonesia. Opening Hours: 10AM-7PM Website
[P.S If you're not familiar with this city, don't worry! Our 4D3N Bandung itinerary will have you covered!] 
[inlinewidget id=36408]
With all these exhilarating theme parks within reach, it's a wonder why we have yet to visit them. It's time to break out from your comfort zone and head to the jungles of Penang and jump from tree to tree ? If that's not your fancy, then head over to Thailand. Get your swim gear ready, and jump into their wave pools and start surfing ? 
Tags:travel-guide