Updated 11 Dec 2019
Wherever you travel to somehow ends up becoming a part of you. You'll want that epic holiday you so carefully plan for, to be the most unforgettable adventure of a lifetime and freeze that moment in your heart forever. That's why you're so fixated on making sure all loose ends are tied.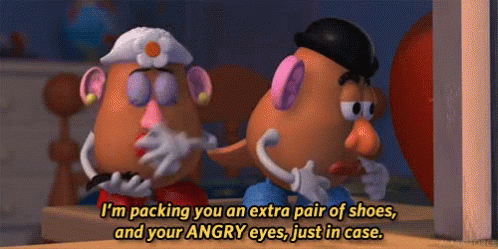 Credit: Giphy
As a Muslim globetrotter, there are so many things to take note of and it can get pretty overwhelming. Go out, explore, and soak in as many novel sights as you can. But before all that, make sure your luggage's ready with these handy tips ?
1. Choose the right clothes to avoid bringing many layers
Instead of packing every jacket and dresses you own, plan your outfit in advance to maximise your luggage space. That way, you won't find yourself packing the things you don't need for your trip.
Style your outfit and take pictures of it, so you'll remember the exact outfit to wear. At the very least, it'll save you from thinking about what to wear every morning. 
Planning ahead will also help you to choose the right clothes to wear, so you don't have to bring so many layers. If you're packing for a winter vacation, here's how to stay warm and toasty without looking bulky for your winter vacation!
#HHWT Tip: Check the weather forecast a few days before your trip! Since the weather changes all the time, you never know when you'll need a waterproof jacket to shield you from the rain or a pair of sunglasses on a hot afternoon. 
2. Bring pocket-sized prayer essentials
Leave your floral-printed prayer garment or gorgeous royal purple prayer mat behind for a pocket-sized alternative. While you may have a favourite
telekung
that's dear to your heart, leaving it at home for a couple of days won't hurt right? ? It'll save you the luggage space you need and chances of losing it is minimal since you didn't bring it along. You can also choose the travel-friendly 
sejadah
that looks like a small pouch but actually opens up in full when used! It comes with a compass, which is great news if you're stuck on a desert with no way of checking the Qibla's direction. It's also a practical solution if you're going on frequent road trips and carrying only a cabin-sized bag. Your prayer garment will be wrinkle-free and safely stowed away in the small bag ?
Our personal recommendation is to bring hand sarongs and long traditional dresses (called an abaya) if you don't wish to bring any prayer garment with you. Or, why not bring along a prayer dress - one-piece suits that you can wear over in an instant? That way, you only need your handy prayer mat during the trip.
[P.S. Although we're pretty much the same as any other traveller, here are 12 signs you're definitely a Muslim traveller!]
3. Roll your hijabs and place them in between clothing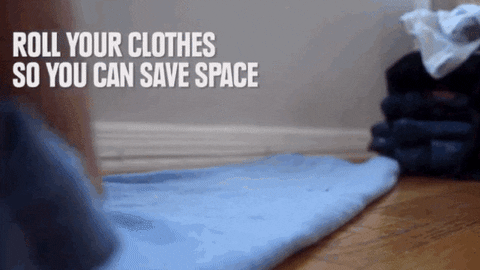 Credit:
Giphy
You may wish to bring your monochrome, printed and rainbow hijabs with you to match every outfit combination you can think of. Roll all your favourite pieces and place them in between your other tops and bottoms so they won't take up too much space. While you're at it, why not plan your outfit of the day (top-bottom-scarve) and roll them together? That way, you won't be fumbling around your bag and frantically searching for that perfect combination you envisioned. It'll totally save you the headache of figuring out what to wear every single day during your trip too ?
And let's face it. You may need to pack your light, airy scarves for cool beach days and thicker headscarves for special nights out. You certainly need to make space for all of them! Have as many versatile scarves as possible and ones that are easy to wash. Or, choose a monochrome wardrobe so you can go all out with kaleidoscopic colours ?
#HHWT Tip:
 Decide on a colour scheme. If your clothes are mostly of greys, blues and blacks, then your scarves can either complement or add a pop of colour to your look.
4. Place the heaviest apparel at the bottom of your suitcase
Besides rolling your hijab and clothes to make room for more clothes, it's important to know how to arrange the clothes in your suitcase as well. A great trick is to place the heaviest apparel at the bottom of your suitcase or where the luggage wheels are located. This applies to clothes such as thick jackets, coats and jeans. 
When you arrange from the heaviest apparel to lightest, it'll provide a better distribution of weight and you'll be able to wheel your luggage to your next train or bus stop with ease.
[P.S. Whether you're flying off to a business trip or taking the train, these are the must-have bags for you to travel in comfort and style] 
5. Bring small, foldable or flat water bottles
Credit: Cindy Carpenter on Flickr
For Muslim travellers, water is an essential part of travelling. Bathrooms may not be accessible everywhere and it may be too cold to be taking your ablution in the freezing water ? A small, flat or foldable bottle that you can easily place in your luggage will serve you a long way. They don't take up too much luggage space and can come in handy anytime, from washing your hands to taking your
wudhu
.
Credit: Ministry of Culture, Community and Youth - MCCY on Facebook 
As airlines don't allow water on flight, carry around an empty bottle and fill it up at the sink or during transit. Now, all you've got to do is find a quiet corner to prostrate to your Lord ?
[P.S These 9 life-changing lessons learnt as a Muslim traveller will inspire you!] 
6. Pack only the snacks you need
Visiting a non-Islamic city can be daunting. You're not sure if you have to resort to cup noodles and biscuits throughout your entire trip ? If you wish to pack some food from home, then bring only what you need instead of the entire large packet. While you may be so worried that you'll starve, rest assured that many destinations around the globe now offers Halal or Muslim-friendly menus. Still, if that doesn't ease your worries, we suggest getting individually-packed biscuits that you can throw after eating, instead of having to finish the entire bottle before disposing of it ?
#HHWT Tip:
Those staying in a foreign place for a couple of weeks may choose to cook instead of eating out all the time. Don't go packing huge bottles of tomato sauce, but instead pack those tomato or chilli sauces from fast-food chains!
[P.S. Here's how to explain halal to non-Muslims for the next time you go travelling!]
7. Pack your pins, hair ties and small items in an organizer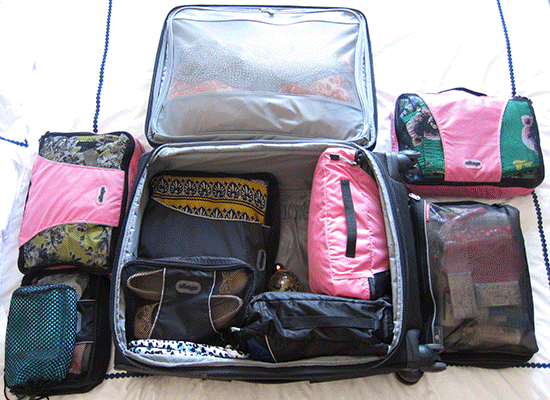 Credit: Giphy
You don't wish to be losing your pins and hair ties, especially when you need it most! Place them in separate compartments in a handy organizer so you won't lose them. That way, it's also easier to look for them when you need an extra pin and won't be searching through your entire luggage and wondering where you place it.
8. Use a reusable bag to store your clothes for day trips
If you're going to be on the road a lot, pack a few basics into a reusable plastic bag or canvas bag. It can be folded so small, it'll be like a tissue packet. It's also great for keeping your dirty clothes! As the reusable plastic bag isn't as flimsy as the normal supermarket bag, you can store many clothes without it actually falling apart.
[P.S. Pack smart with these 11 essential tips that will help you avoid overpacking for a trip!] 
9. Leave out items you need for 'backups'
Let's be honest. You don't need fifty tops and jeans for your one week vacation ? You need less than you think you do, though you may not realise it at the moment of packing. Always take a step back. If you really need an extra top, you can always go on a shopping spree ? The place you're staying at is likely to have a local laundromat, or you can wash your clothes and leave them to dry during your stay.
Girls, resist the temptation of packing your entire wardrobe into a small bag! While Muslim travellers may have more to pack (prayer stuff, cardigans and headscarves), do you really need your entire collection of Duck scarves to go wherever you go?
10.  Use travel-sized containers
You may have a favourite moisturizer for your tired skin. But truth be told, you won't be needing the entire bottle for a holiday that lasts between 1 to 2 weeks. Take what you need and put night creams in contact lens casing, and your sunblock, toner and essential oils in travel-sized containers . Your shampoos, conditioners and soaps are bulky and most likely available in the country you're heading to.
If you're super worried that the drugstores in the city you're visiting don't carry the brands you're used to and deterring from your routines is a huge no-no, then pack them in small tubes and containers. Roughly estimate how much you'll be using each day. Same for your daily dose of spritz - opt for a small perfume bottle. Smelling good on your trip is of course still a must ?
[P.S. Load up on these beauty essentials every Muslimah shouldn't travel without!]
11. Bring micro-fibre towels over thick ones
These micro-fibre towels are great as your travel companion. They dry easily and kind on the weight. While it's sunnah to keep yourself clean even during your travels, it's not a great idea to carry around thick towels. They don't dry fast and you can use the hotel's towels if yours isn't big enough. Still, a small-sized towel is best for your on-the-go journey ?
12. Coordinate with your travel buddies on packing
Travelling while alone brings enlightenment, but more meaning when shared with a loved one. If you're thinking to explore the world with your girlfriends, sisters or family, coordinate and save space. You won't need to bring your own set of toiletries like shampoos and soaps respectively, but if you're a clean freak like me, then sharing jackets isn't so bad right? ? That'll also give you an excuse to spice up your outfit with a whole new look! Travelling with your fellow Muslimahs is also great for another reason -  There's always that one person in your squad who seems to fit one week's worth of clothing in a tiny suitcase, so why not make use of the additional space to put in a few of yours? ?
[P.S. In spite of the odds that you might face on your journey, here are inspiring reasons why Muslims should keep travelling!]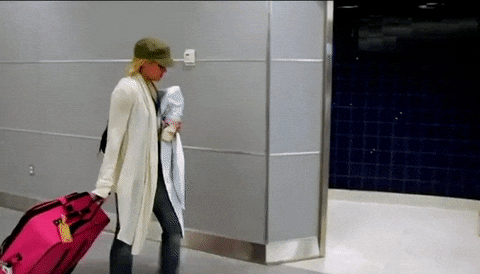 Credit: Giphy
With these awesome tips in your arsenal, your odyssey's only just starting out. As they say, it's better to see something once than to hear about it a thousand times. So set sail and live your adventures today ?