When we talk about modest wear in the past, we would be reminded of the traditional clothing that our mothers would don, which is suitable for Muslimahs but not necessarily fashionable enough for casual wear in this day and age. Well, fret not because modest wear has since evolved, following super chic and fashionable trends, all thanks to the rise of various modest apparel labels!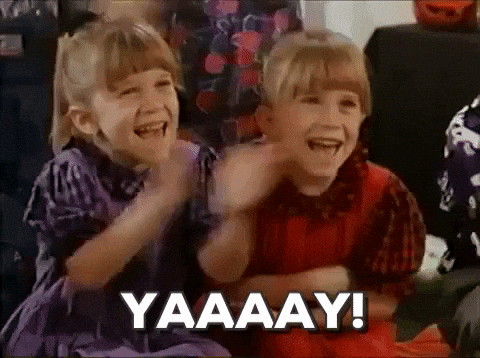 Credit:
Giphy
So, if you're looking to revamp your wardrobe to dress like your favourite Instagram
hijabster
, here's 10 Singaporean modest fashion labels every Muslimah should know!
1. Adlina Anis
If you have heard of
Ninja Echo
, the first earphone-friendly hijab, then Adlina Anis would be of no stranger to you! Adlina Anis is the beauty with brains behind this handy invention and her e-commerce store is home to a vast collection of hijabs, as well as her first clothing line!
Credit: @adlinaanisofficial on Instagram
Convenience plays a huge factor in the functionality of Adlina Anis' products as most of her hijabs are instants or slip-ons. Shout out to those who are always rushing for time or hate having to iron their hijabs beforehand! Investing in an Adlina Anis piece would definitely be worthwhile ?
Credit: @adlinaanisofficial on Instagram
Aside from stunning shawls, her clothing line also features minimalistic tops, bottoms and effortlessly stylish blazers; perfect for a casual day out or for strutting your stuff like the lady boss that you are ?
#HHWT Tip:
Not sure how to style her hijabs? Adlina Anis has got you covered with her
YouTube channel
, where you can view her easy tutorials!
Shop for the apparel here!Address:
Showroom - 80 Changi Road, Level A (Attic), Centropod, Singapore 419715
2. Maqayla
Maqayla is a boutique catered to those who prefer to more dainty and elegant wear. Maqayla is managed hand-in-hand by a mother and daughter pair, creating beautiful clothes for other mothers and daughters ?
Credit: 
@maqayla
 on Instagram
Fans of flowery prints will fall in love with the eye-catching collection that this home-grown label has to offer!
Credit:
@maqayla
on Instagram
From dainty hijabs, blouses to dresses, it's in this "garden" that you'll see busy bees getting spoilt for choice, trying to pick their favourite flowery print!
Credit: @maqayla on Instagram
Oh, and do yourself a favour and stop taking pins from your mom's sewing kit ? Buy yourself a couple of cute pins and brooches to pair with your new shopping loots. If you're in need of inners and socks or other miscellaneous items to cater to your
hijabi
needs, Maqayla is the one-stop modest fashion label for you!
#HHWT Tip:
Do note that their clothing apparel is not available online; only in stores. So, make sure to head on down to the outlet and pick out the right fit for yourself.
Shop for the apparel here!
Address: 
430 Upper Changi Rd, #107/108, Singapore 486936
Operating Hours:
 Daily; 12pm-9pm (Weekdays), 11am-9pm (Weekends/public holidays)
[ P.S. Here's 12 hijab labels every Muslimah should have in their closet! ]
3. Sufyaa
From just a pushcart within a shopping mall to hitting a turnover of $1 million in 2014, Sufyaa is probably the only Singapore modest fashion label that has ever been showcased at Muslimah fashion shows.
Credit: 
@sufyaa_sg
 on Instagram
It's definitely a label for those who love an artisanal touch to their outfit. The combination of bold prints on simple cuts are truly eye-catching and will be sure to give you a boost of confidence when you're out and about while donning a piece from this label. Perhaps even confident enough to strut down a runway ?
Credit:
@sufyaa_sg
on Instagram
Apart from hijabs, tops and bottoms, Sufyaa also caters to those who are looking for a statement piece to wear to events. With an array of ethnic wear and abayas accented with traditional
batik
or
songket
motifs, you'll end up being the most fashionable person at the event!
Credit: 
@sufyaa_sg
 on Instagram
Shop for the apparel here! Address:
 #03-K2 Tanjong Katong Complex, 845 Geylang Rd, Singapore 400845
4. Hafizah Ghazali
Ever heard of the saying "less is more"? That's something the label and founder, Hafizah Ghazali, believes in! Her mission is to create casual and ethnic wear that caters to Muslimahs effortlessly.
Credit: 
@hafizah.ghazali
 on Instagram
Her relaxed and loose basic collections are definitely staples for everyday look, available in both comfortable and contemporary styles! Perfect for those who adore fuss-free fashion.
Credit:
@hafizah.ghazali
on Instagram
Shop for the apparel here!
5. Afrilia's Closet
For those who yearn to have the wardrobe of an Instagram
hijabster
, this is one of the best modest fashion labels to experiment with! From its humble beginnings as an Instagram shop, the label has since continue to grow as we speak, with its wide array of stunning pastel pieces.
Credit:
@afriliacloset
on Instagram
From jumpsuits, floral shawls, high waisted bottoms to full length dresses, these pieces are not only trendy, but they're also super versatile! You can wear them on a daily basis or even to grand function; no such thing as being too overdressed or underdressed.
Credit:
@afriliacloset
on Instagram
  Who knew one can look so fashionable, casually donning an Abaya?
Credit: 
@afriliacloset
 on Instagram
Shop for the apparel here! | 
Instagram
[ P.S. Check out these 11 halal make-up brands every Muslimah's been wishing for! ]
6. Happy Vibes Official
Happy Vibes Official provides us with daily essentials that should be in every girls' wardrobe. Choose from their array of casual blouses and dresses to complete your everyday look that is relaxed yet stylish! The best part is that this local label keeps it affordable (who doesn't love cheap things?) ?
Credit: 
@happyvibesofficial
 on Instagram
It's especially great for those on a budget. You'll be happy with your new shopping loots and your wallet will be happy too! It's a win-win situation ?
Credit: 
@happyvibesofficial
 on Instagram
#HHWT Tip: 
If you're a patient soul, check out their items under the pre-order section. You'll find more beautiful pieces inspired by Korean fashion there!
Credit:
@happyvibesofficial
on Instagram
Shop for the apparel here! | 
Instagram
7. Adrianna Yariqa
Adrianna Yariqa is all the rage when it comes to their refreshing take on traditional ethnic wear but they're also quite a stunner when it comes to their casual wear too!
Credit: @fatihafaulzion Instagram
The label also dabbles in minimalist fashion, showcasing pieces that are both edgy and feminine plus offering a timeless look with their often muted colours.
Credit: 
@adriannayariqa
 on Instagram
Shop for the apparel here!
8. Lully Selb
Uniqueness in design is what makes the label Lully Selb stand out from all the rest. If you feel that modest wear in the market is too limited to being dainty, feminine and does not fit your personal style, you might share the same taste as the founders of this distinctive label!
Credit: 
@sarahbagharib
 on Instagram
Lully Selb reflects fashion that encourages individuality and originality through their contemporary art that is painstakingly hand-illustrated. We'd definitely brand this label as avant garde and a must-have statement piece in your wardrobe!
Credit: 
@huda.lully
 on Instagram
Shop for the apparel here!
9. Meem Clothings
If you're all about the scarves that looks, feels and sounds luxurious, Meem Clothings is the best option for you! Made of luxe material like satin silk, their products will be sure to make you feel priceless!
Credit: 
@meemclothings
 on Instagram
Their scarves are super smooth and silky, it will have you running your fingers through it all day! The label has several collections, with one of them being the Wanderlust Collection, a series that is travel-inspired. The countries, which the owners of Meem Clothings have travelled to, such as Dubai, Turkey and Japan had influenced the creation of these unique and story-telling shawls.
Credit: 
@meemclothings
 on Instagram
Just how beautiful are the scarves from the Japan and Dubai Wanderlust Collection? To us, it's a perfect combination of feminine and chic. Truly a meaningful piece to have for wanderlusts! Do keep your eyes peeled for their next adventure ✈️
Shop for the apparel here!
[ P.S. Be inspired by these 10 influential Muslim millennials who are changing the world! ]
10. Ayu Apparels
Being Singapore's largest Muslimah online store, Ayu Apparels carries a range of styles that can complete your edgy street-style or classy feminine style while still adhering to the principles of modesty!
Credit: 
@ayuapparels
 on Instagram
From flowy kimonos to embroidered blouses, these pieces offer such sophistication that will make you constantly pose for the 'gram ?
Credit: 
@ayuapparels
 on Instagram
Shop for the apparel here!
Dressing modestly doesn't have to mean chunky, layered outfits or thick long-sleeve sweaters anymore. You can still look stylish and keep up with the latest fashion fads without compromising modesty! We've done our part in sharing, so now go ahead and shop till you drop, ladies ?
Tags:inspiration