Athens… this majestic capital of Greece is truly a seamless blend of modernity and ancient history. From incredibly well-preserved towering ancient ruins to the bustling night life scene, Athens holds a nostalgic yet refreshing charm that's pulling tourists in left and right.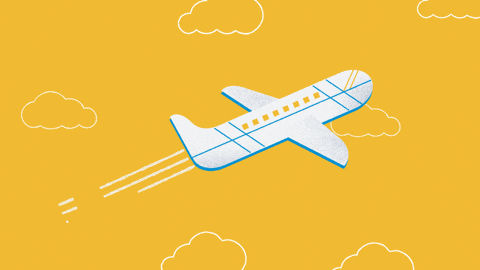 Credit: giphy
Here's 10 reasons why Athens should definitely be your next getaway✈️  
[inlinewidget id=24088]
1. Ancient archaeological spots that'll leave you breathless
Ancient ruins are pretty much synonymous with Greece and Athens is home to several iconic archaeological spots and UNESCO-registered sites. Step back in time and be in awe of Parthenon's towering columns that date all the way back to 447BC? [caption id="attachment_23537" align="alignnone" width="895"]
Parthenon - dedicated to the patron of Athens, the goddess Athena[/caption] Dedicated to the goddess of wisdom, Athena, the former temple was even used as a mosque during the Ottomon era!
Other iconic sights include the Acropolis, Temple of Hephaestus, Theatre of Dionysus and more. It goes without saying that you can't leave Athens without visiting the ancient Greek architecture that has withstood the test of time?
2. Trace Athen's Islamic history
Contrary to popular belief, the city of Athens has pretty deep roots in Islamic history! Since the Ottoman Empire, thousands of Muslims have called Greece home. Today, Muslims make up about 1.2% of the Greek population, with the majority being Turkish/Balkan immigrants. Since most of the Muslim immigrants reside in Athens, the local government has made plans to open the city's first official mosque in August 2017?
Credit: @svetamuzika on Instagram
Athens is also home to the Benaki Museum of Islamic art, the largest and oldest museum in Greece! The museum displays thousands of artefacts from the ancient Islamic world, including ceramics, metalwork, jewellery and more.
Credit: @lethaswan on Instagram
#HHWT Tip:
For those who want to fulfill their prayers in Athens,  the biggest non official prayer space is Al Salam Mosque and there is also a prayer hall in Athinais Cultural Centre.
3. Venture into the historic heart of Athens, Plaka
One of the oldest neighbourhoods in the entire world, there's no denying that Plaka is the historic heart of Athens. Fascinated tourists fill the narrow streets of Plaka, alongside eager photographers intent on capturing its neoclassical mansions and quaint, colourful houses.
Credit: @logandoerries on Instagram
Catch a movie at the Cine Paris, the best outdoor movie theatre in Athens, with the most perfect rooftop view of the Acropolis! If you're a museum lover, visit the Children's Museum and Greek Folk Art Museum for your daily dose of the arts. Don't forget to swing by the local shops, which sell an eclectic mixture of antiques, or make your way down to the humble street markets that are reminiscent of ancient times.
Credit: @dimitrio_k on Instagram
#HHWT Tip:
Transportation is pretty much non-existent in Plaka due to its narrow, winding roads so you'll be wandering around on foot. Pack a pair of comfy walking shoes for this trip!
Credit: @theodorakarap on Instagram
4. Wander around the hidden island village of Anafiotika
The hidden village of Anafiotika is a sharp contrast to the other Greek monuments in the city, given its Cycladic island architecture. Built by the Anafi locals, under the order of Ottoman King Othon in the 19th century, the village is made up of a small cluster of houses built on the slopes of the Acropolis above the Plaka.
Credit: Dimitris Kamaras on Flickr
The narrow alleys of the tiny village lead up to beautiful terraces and stark, white-washed cubic stone houses with brightly coloured shutters and doors.  Keep a lookout for beautiful bougainvillea flowers covering the white walls and fragrant flowerpots of varying species!
Credit: @ahmetnca on Instagram
5. All year round festivals celebrating the rich Greek culture
The lively locals are always up for a celebration so all year round festivals are a norm in Greece! The Athens & Epidaurus festival (also known as Hellenic Festival), in particular, is the highlight of the Greek summer calender. Usually taking place in June-August, this annual arts festival features a full programme of music, theatre, dance performances and visual art exhibitions by both emerging and established Greek artists.
Credit: @stratosdiamantopoulos on Instagram
Quite a few of these performances are held at ancient amphitheaters like Odeon Herodes Atticus and the Theatre of Epidaurus, both renowned for their amazing acoustics. Though the settings resemble that of ancient times, the diverse programming is described as youthful, alternative and political.
Credit: synestheticstrings on Flickr
Other highly anticipated festivals include the Athens Carnival, held in January-February, where locals dress up in colourful costumes and participate in vibrant floats in celebration of 
Apokreas
 (carnival season). [inlinewidget id=24379] P.S. Did you know that
Qatar Airways
was the first airline to fly the A350 in 2015? It's been 2 years since and they now fly from Singapore 3x daily!
6. Delectable Mediterranean cuisine and top-notch seafood
When in Athens, enjoy the most delectable Mediterranean cuisine this side of Greece! The heavy Turkish influence in Greek cuisine is apparent, especially in popular dishes like s
ouvlaki
 (skewered meat), doner kebabs (spit-roasted meat) and baklava (a honey-based dessert).
There are several Muslim-owned eateries in Athens, most of which are in Attica:
Raja Jee Fast Food - Halal, Greek fast food that's also super affordable!
Spicy Fast Food & Restaurant - Serving plate after plate of delicious biryani, naan bread, Greek salad and more, this restaurant is right in front of the Marina-Athens Hotel.
Milan Sweets & Bakers - This humble bakery sells mouth-watering Pakistani sweets, cakes and biscuits.
Aside from that, you can also sink your teeth into seafood which has been freshly caught off the glistening Mediterranean coast! Topped with aromatic herbs, spices and drenched with the famous Greek olive oil, Athens is seafood heaven?
7. Monastiraki Flea Market, every vintage shopper's paradise
Tucked away in the charming neighborhood of Monastiraki, the Avissynias Square is packed full of hopeful collectors every Sunday, hoping to spot a good steal. The Monastiraki Flea Market is paradise for vintage collectors; from your traditional Greek souvenirs to antiques, furniture, second hand books, jewellery and more!
Credit: @luptilu on Instagram
You'll want to have an empty luggage on hand just for keeping your spoils from this shopping adventure? Haggle for that gorgeous vintage shirt you've had your eye on or snatch up a great bargain item at dirt cheap prices!
Credit: @christzsch on Instagram
Who knows, you might even come across something you never knew you needed (a gramophone or typewriter anyone??)!
8. Affordable, unique accommodations for every traveller
Accommodations in Athens can be pretty pricey, especially during peak season. However, there are a couple of affordable alternatives that'll give a wonderful stay rivalling that of the Hilton Athens! For magnificent views of the Acropolis, Parthenon and other iconic landmarks, book yourself a stay at the Herodion Hotel. [caption id="attachment_23632" align="alignnone" width="900"]
Penthouse suite at the New Hotel[/caption]
Credit: @yeshotelsgroup on Instagram
Athens also offers various boutique hotels like the Acropolis Museum Boutique Hotel, Hera Hotel and New Hotel. These lovely themed accommodations are a refreshing change from your standard hotel room.
Credit: @yeshotelsgroup on Instagram
For those who value privacy, opt for private one bedroom apartments, such as the ones offered by Live in Athens. If you're on a tight budget, the Athens Backpackers and City Circus Athens are great hostel choices, complete with air conditioning, free WiFi and friendly dorm-mates? [caption id="attachment_23634" align="alignnone" width="900"]
Lounge of the City Circus[/caption]
Credit: @tobikinder on Instagram
9. Easy and accessible metro system
Formerly a steam railway back in the 1800s, the Athens Metro is Greece's rapid-transit system, which covers most of Athens and parts of East Attica. If you're in the city, getting around Athens will be a breeze thanks to its 3 lines serving a combined number of 65 stations.
Credit: Tomek Nacho on Flickr
Fares are also very cheap, with the 90-minute ticket costing only € 1.40 and valid for all modes of transportation. 3-day tourist tickets are also available at € 22!
Credit: Aleksandr Zykov on Flickr
A lot of the stations also feature amazing works of art, exhibitions and displays of the archaeological remains found during the metro's construction.
10. Escape to the Athens Riviera
Located in the southern suburbs of Athens, the Athens Riviera is a costal area with idyllic beaches, rocky coves and surrounded by crystal clear waters. It comprises of 5 main areas; Floisvos Marina, Glyfada, Voula, Vouliagmeni, Lagonisi, Varkiza, Anavyssos and Sounio.
Credit: @demetriospn on Instagram
Also known as the Apolllo Coast, you can soak in the sun at the numerous public and private sandy white beaches that line the Riviera's coastline. Rent a fancy yacht and sail around the area, explore fantastic coves or get your adrenaline pumping with water sports like scuba diving and wind-surfing? [caption id="attachment_23573" align="alignnone" width="900"]
Vouliagmeni Lake[/caption]
Credit: @athensrivieraofficial on Instagram
Athens continues to impress us with its enchanting mix of ancient history, bustling modern life and scrumptious local delights? So what are you waiting for? Pack your luggage, book the next flight out and make Athens your best getaway yet? [inlinewidget id=24382] P.S. Just for our lovely readers (aka YOU!),
Qatar Airways
is giving 2 packs of customized
Qatar Airways
Hari Raya packets if you book a flight on
qatarairways.com/sg
by 25 June 2017.
 This article was brought to you by Qatar Airways. Qatar Airways continues to ensure the best possible customer service and seamless travel for all their passengers.