While Malaysia is effortlessly beautiful for so many reasons, we can't deny that the buzzing food scene always gets our hearts... and tummies ?We've rounded up a list of halal Malaysian eateries that have been hot on the grill as of late. Check them out and start planning your next gastronomic adventure! ?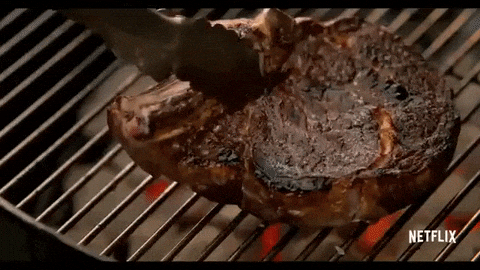 Credit: Giphy[P.S Check out our round up of 14 newly halal-certified SG eateries too!] 
1. Indomie
Maybe it's that time of year where you're eating your packet of instant noodles out of convenience. But it's time your humble bowl of springy noodles get an upgrade. Just when you think noodles with a perfectly made sunny side up is as good as it gets, the gourmet combination of maggie and steak will knock the 
bowl
 out of the park.
Credit: Tryst on Facebook
In Malaysia's first Indomie cafe that opened in July this year, be 
bowled
 over by incredible Indomie recipes you never thought were possible! If you ever dreamt of being your own maggie master chef, this place will surely inspire you ? From beef ribs, shrimp tempura to grilled salmon, these epic toppings will reign supreme over any other maggie noodles you ever tasted.
Credit: IndoBowl on Facebook
Try the wild Mambo Jumbo Indobowl Grilled Platter, where you and your food buddies can try all the amazing combinations; the grilled salmon, lamb chop and steak ?
Credit: Tryst on Facebook
Address:
 72, Lake Fields, Jalan Tasik Utama 7, Sungai Besi, 57000 Kuala Lumpur, Federal Territory of Kuala Lumpur, Malaysia
Operating hours: 
Daily, 10am - 10pm
Facebook
Check out the second outlet in Subang Jaya:
Address: 
66 Jalan SS15/4c, SS15, 47500 Subang Jaya (behind KFC SS15)
Contact:
 019-542 6869 | 
Facebook
2. Nachoslah
Cheese lovers, the new halal Mexican joint Nachoslah is in town to serve plates after plates of cheesy, gooey nachos ? But be warned, this isn't your typical Mexican diner. With locally-infused flavours that include chicken rendang and beef rendang, Nachoslah will surely be a unique dining experience for its patrons.
Credit: @nachoslah on Instagram
Credit: @nachoslah on Instagram
Other than nachos, look forward to their tacos, quesadillas, canapes, and burritos! You definitely have to make way for this Muslim-owned eatery on your next food hunt.
Credit: @nachoslah on Instagram
Address: 
The Port Damansara, Jalan Lebuh Bandar Utama, Bandar Utama, 47800 Petaling Jaya, Selangor
Opening Hours:
 5pm-1am; Monday-Friday: , Saturday-Sunday: 5pm-2am
Contact: 
017-322 8119 | 
Facebook
3. Burger & Lobster
You may have heard of Burger & Lobster from your friends residing in the land of English teas, United Kingdom! The world famous eatery has now opened their first ever Asia outlet in Genting Highland's Resorts World. The eatery focuses on perfecting 1 to 2 main ingredients, in this case being the burgers and lobsters. With solely these on the menu, you may think there's little variety to look forward to but you'll be so wrong ? [caption id="attachment_19653" align="alignnone" width="900"]
Menu of Burger & Lobster[/caption] Burger & Lobster also specialises in premium 650-700g of fresh lobsters flown in from the waters of Nova Scotia, Canada and delivered weekly via KLIA. High quality is definitely not a compromise here ? Take in the 80's diner vibes and cruise along to oldies songs playing in the background. You'll feel as though you're in an old Hollywood diner, with booths covered in red and decorative lighting to set the mood. [caption id="attachment_19654" align="alignnone" width="900"]
Interior of Burger & Lobster[/caption] The lobsters are either steamed or grilled with butter, or cooked in the restaurant's famous lemon and garlic butter. They are available in 3 different signature styles; The Original, The Big Boy and Chilli Lobster, all served with a side of fries and salad. [caption id="attachment_19655" align="alignnone" width="900"]
The Chilli Lobster[/caption] If the lobsters are from Canada, the burgers are made with supreme halal-grade beef from Australia ? The patties are served in a custom-baked sesame seed brioche bun, and topped with beef bacon, cheese, lettuce, onions, tomatoes and Burger & Lobster's special sauce. Try the most popular item on the menu - the lobster rolls, where fresh lobsters are served in a signature toasted brioche roll! [caption id="attachment_19657" align="alignnone" width="900"]
B&L Burger[/caption]
Disclaimer:
 Burger & Lobster isn't halal-certified but they do offer halal meat. Do note that alcohol is served on the premises, so we advise that you dine at your own discretion ?
Address: 
Level 1, SkyAvenue, Resorts World Genting
Opening hours: 
11am-10pm
Website
4. Castella Cafe
Watch clear streams push against the currents while waiting for your meal in the middle of a river. Castella Cafe's in-house river restaurant isn't just dining with a view, you're actually IN IT ?
Credit: Apakes on Facebook 
Tuck in to traditional Malay-Pattani cuisines like the Trapia set or Kelaba + Ayam course and wash down the meal with a glass of fruit juice afterwards. Yum!
Credit: izulanuar on Instagram 
Castella Cafe is located four hours away from Kuala Lumpur. That means scenic nature views instead of city lights ? While they've been around for quite some time, it's certainly a hidden gem waiting for your discovery!
Credit: Jom Cuti-Cuti Bajet on Facebook 
Have a feast on tables made of bamboos and plywoods, and enjoy the breeze from Sungair Air Beruk. Soak your tired feet into the clear waters or jump straight in and swim with the fishes! We recommend bringing a change of clothes or you'll be freezing through your meal ? For those that aren't a fan of getting drenched, sit back with a drink as you admire the stunning sunset. If your time seems too short, book an overnight stay and enjoy an entire day worth of delicious kampung-style food!
Credit: Castella cafe on Facebook 
Don't worry, prayer rooms and toilets are available for you to perform your prayers with ease ?
#HHWT Tip:
 Do give them a call and hold your spots! The last thing you want is to make the journey and be denied entry because there's no tables available.
Address:
 No. 35, Kampung Kerunai, 33320 Gerik, Perak.
Contact details:
 01120503454
Website
5. Kelam Kaboot Cafe
Food hunters, bring your growling tummies on a gastronomic adventure and enjoy a widespread of Korean and Italian meals without your passports ? Start out your meal with the Pane Pumpkin Soup or Spicy Topokki as your choice of appetizer ?
Credit: My Makan TV on Facebook 
Credit: My Makan TV on Facebook 
When you're ready to conquer the main dishes, fusion foods like Kimchi Spaghetti and Asam Pedas Kimchi will excite your tastebuds and treat you to a tantalizing time!
Shown here is the Asam Pedas Kimchi
Credit:My Makan TV on Facebook 
Sit back and enjoy the array of authentic dishes liketheShaking Bibimbap (Nasi Goncang), Kimchi Bulgogi Rice, Creamy Seafood Spaghetti and Grill Chicken Chop for good food with a twist!
Credit: My Makan TV on Facebook 
Address: No. 3-2 Jalan PJS 2/16A, Taman Maju Jaya, Off Taman Dato Harun, 46000 Petaling Jaya, Selangor Opening hours: 12PM - 11PM daily Telephone: +60 12-319 9485 Website
6. Nasi Lemak Volcano Island
The Nasi Lemak Volcano Island at Tiger Tiger Sunway in Selangor is heating up the game with a new variation that's sure to fire up your appetite ? With the must-have chilli sambal, runny half-boiled egg to the more unusual choices of chicken chop, curry, baby lobster and tiger prawns on your platter, the Nasi Lemak Volcano Island is a feast fit for a true nasi lemak hero ?
Credit: tigertigersunway  on Instagram 
They're made fresh upon ordering and patrons can even choose their own toppings from butter chicken, fried octopus, chicken chop and more!
Credit: charissachee on Instagram
Those not in the mood for nasi lemak can also opt for the nasi goreng (fried rice) or maggi goreng (fried maggi)! Then, it's up to you how you wish to spice up your meal and the kind of toppings you wish to pile on your plate ?
Credit: o.c.detective on Instagram
Address:
 32, Jalan PJS 11/3, Bandar Sunway, 46150 Petaling Jaya, Selangor
Opening hours:
 8Am - 12AM (except for Sundays)
Telephone:
 +60 16-609 1212
7. K'Fry!
We love anything with cheese. Put that together with our craze for Korean food and K'Fry's the go-to place for those who are exactly like us ? It's pretty new to the Malaysian dining scene, and the uniquely cheesy take on the mother of all comfort food, fried chicken, means it's fast becoming a crowd's favourite.
Credit: thelancescape
The phenomenal star on the menu is definitely the Cheesy Fried Chicken Bumbuk, which comes in three flavours: Original, Krazy Spicy and Honey Mustard. Piled high with crispy boneless chicken thighs, French fries and mozzarella cheese, this is any fried chicken lover's dream come true.
Credit: @sitinoorafizie on Instagram
Have your Korean chicken fix without the fondue if you're not up for a cheese buffet. Other must-try flavours include the Soya Garlic, Spicy Yangngeom and Honey Butter ?
Credit: K FRY Urban Korean Holiday Villa on Facebook
The local fares true to the Korean spread includes the budae jigae (traditional Korean army stew), japchae (stir-fried Korean glass noodles) and bokkuembap (korean fried rice with a runny egg).
Credit: @zyqarazak on Instagram
Address
: No. 260, Jalan Dato Sulaiman, Taman Abad 80250 Johor Bahru
Website
 | 
Facebook
 | 
Instagram
8. Harry Potter Cafe
You no longer need to cast a magic spell to
apparate
yourself into the Wizarding World of Harry Potter. The new Harry Potter themed cafe, Hedwig Books & Cafe, has opened its doors in Kota Bharu, Kelantan for all wizards residing in this side of the globe. Every wizard needs a place to relax from all the magic classes, and these light snacks are the best accompaniment for your teatime break. Remember, no wands on the table! ?
Credit: @hedwigbooks on Instagram
Mingle with other Potter heads around and charm them with your epic spells.
Credit: @hedwigbooks on Instagram
Address:
PT 1667 Tingkat 1, Jalan Raja Perempuan Zainab 2, Kubang Kerian, 
Kota Bharu
Opening hours
: Daily, 10am - 10pm
Contact: 
011515161380
 | Facebook
 | 
Instagram
9. Warung Bunian
This eatery's changing the history of how we like our nasi lemak. The Pattaya-inspired dish, the nasi lemak telur bungkus will have you totally egging for more ?
Credit: Mohd Shahril Bin Rosli on Facebook 
With the choice of savoury meals from the signature nasi lemak telur bungkus to the roti jiwa kacau and gulai ketam, you'll start your day right with a locale platter ?
Credit: Norul Hafiza on Facebook 
A different menu's 
whipped up 
everyday, so visitors can look forward to something new each time. But don't worry, the signature nasi lemak telur bungkus is always on the list! Book your seats by giving the eatery a call or dropping them a text, so you won't be making a wasted trip.
Credit: Bieha Zul on Facebook 
For the spice-hunters, the dishes use A LOT of chilli padi.
Credit: Warung Bunian on Facebook 
Address: 
Warung Bunian Kajang, No 80A, Jalan Jamaluddin, Desa Putra, Sungai Merab, 43000 Kajang, Selangor
Hours:
 Monday-Saturday: 7AM-2PM, Sunday: 7AM-10.30AM
Telephone:
 +60 17-381 2246
Website How to get there:
 It'll take 10 minutes if you're coming from Putrajaya/Bangi and 20 minutes from Kajang.
10.  Isaac Toast & Coffee Malaysia
Things are about to get 
toasty 
thanks to Isaac Toast & Coffee ? Soft slices of bread draped with a secret honeyed condiment, meat patty, cheese and omelette make any hungry tummy pleased ? With dozens of toppings and meat choices, why not create your perfect sandwich? This well-known sandwich shop from Seoul is available in KLIA2 and the newly-opened Paradigm Mall in JB, which means you'll be eating like the Koreans do without actually travelling there.
Credit: Isaac Toast & Coffee Malaysia on Facebook 
The Mint Chocolate Shake is YOUR perfect pick-me-up and the best accompaniment after a long, tiring day.
[P.S You need to try these 3 irresistible hipster snacks in JB's new Paradigm Mall!] 
Credit: Isaac Toast & Coffee Malaysia on Facebook *Disclaimer: We reached out to Isaac Toast at Paradigm Mall for confirmation and they informed us that they're pork-free and are in the process of getting halal certificate, so do dine at your own discretion ?
Address: 
L2-105, 
[email protected]
 2 (Arrival zone) or  Level 3 (3FK-12J), Paradigm Mall
Website
[P.S Find out our round up of 14 newly halal-certified SG eateries too!] 
With so many food options to spoil our Muslim friends silly, it's no wonder why Malaysia is a favourite destination for many. So, ready for your food hunt yet? ?