If you're a traveller, you'd probably agree that the journey is just as important as the destination and this is especially true for road trips! With a blend of history and nature, Malaysia makes a good spot for road trips as it can be both enlightening and rejuvenating ?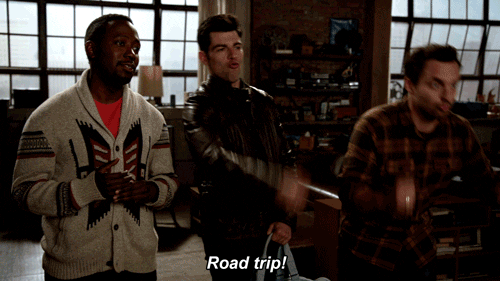 Credit: giphy
Planning a road trip requires a lot of research and lucky for you, we're here to help! Below are some road trips you can take in Malaysia ?
P.S. Time stated for each journey may differ according to traffic.
1. Kuala Lumpur – Bukit Tinggi (54 minutes)
Bukit Tinggi is perfect when you want to go on a road trip but time is unforgiving. Only an hour drive from Kuala Lumpur, it's a viable day trip option! Bukit Tinggi (which was recently changed to Berjaya Hills) is famous for Japanese Garden, Botanical Garden and Colmar Tropicale, a quaint version of the original town of Colmar in Alsace, France.
Credit: Elin Chow
Visit the Japanese and Botanical Garden first as these two close in the evening while Colmar Tropicale is open 24/7. The walk to Japanese and Botanical garden is quite hilly so remember to bring plenty of water! Do note that there's an entrance fee of USD$3?
Credit: lleafy on Instagram
Once you've had a fair share of Japanese ambiance, drive to your next destination which is, Colmar Tropicale! This French-themed village is just beautiful. Do prepare your camera because every angle is worth a picture? Unfortunately, there's not that many halal food options here except for La Blason that serves international dishes and La Boulangerie, a French themed bakery (both in Colmar Tropicale) ?
Map to Bukit Tinggi from Kuala Lumpur:
2. Kuala Lumpur – Seremban – Melaka (2 hours 10 minutes)
If you're coming from Kuala Lumpur, a trip to Melaka should only take a little over 2 hours! Instead of rushing straight to Melaka, why not take the Exit 218 (if you're coming from North-South Expressway) for a short stroll and lunch in Seremban?? [caption id="attachment_22610" align="alignnone" width="900"]
Istana Seri Menanti[/caption]
Credit: innadadika on Instagram
There's plenty to do and eat in Seremban but if you're only there for a short while, their D
aging Salai Masak Lemak Cili Api
is a must try! Wadi Ar-Raudah is famous for this dish besides offering other traditional Negeri Sembilan dishes? [caption id="attachment_22611" align="alignnone" width="900"]
Delicious smoked beef in spicy coconut gravy[/caption]
Credit: sangpiji on Instagram
Once you've had your fill in Seremban, start your engine and head for Melaka! Although road trips are all about going around leisurely, try to make it to Melaka by afternoon and get your hands on some
kuih keria
, a Malaysian doughnut made from sweet potato glazed with palm sugar from Kuih Keria Antarabangsa? Don't be discouraged by the long queue because it moves pretty fast!
Credit: noorkim76 on Instagram
Few minutes away is the Klebang Beach! Famous for coconut shakes and sand dunes, you've probably heard of its name thousands of times. The thought of cooling coconut shake down your throat in Malaysia's sunny weather gets you every time!
Credit: ragemon65 on Instagram
And if you're up for a stroll, you can either chill at the beach side or take a walk at the sand dunes for a picturesque sunset. Bring plenty of water (or coconut shakes) as it is quite a walk! [caption id="attachment_22614" align="alignnone" width="900"]
Jonker Street at night[/caption]
Credit: ailoon on Instagram
At night, you can go explore Melaka night life such as the Jonker Street or opt for another eat out at Portuguese Settlement for some authentic Portuguese Cuisines!
3. Ipoh – Taiping (1 hour )
Ipoh, capital of Perak is another northern state that gets a lot of hype because of its food –
Laksa Sarang Burung
, and Ipoh white coffee to name a few. However, one famous restaurant that you may want to look for is
Nasi Vanggey!
Credit: nasivanggey_sgbesi on Instagram
Lying in between Ipoh and Taiping, do drop by Kuala Kangsar, royal town of Perak. True to its name, head up to Istana Kenangan and Galeri Sultan Azlan Shah to learn more about the Perak royalties. [caption id="attachment_22616" align="alignnone" width="900"]
Istana Kenangan[/caption]
Credit: mdnazriey on Instagram
Moving further up north, Taiping boast some beautiful nature preserved attractions. As the wettest town in Malaysia, it has some of the most luscious trees and mangrove forests. When in Taiping, be it strolling or driving around, a visit to Taiping Lake Garden is a must! Green luscious trees lined the roads, providing a cooling shade!
Credit: esyahilmy on Instagram
Map from Ipoh to Taiping:
4. Penang – Kuala Lumpur (4 hours)
A drive from Penang to Kuala Lumpur may be long but why not make the most of it by stopping at a few places along the road?? [caption id="attachment_22618" align="alignnone" width="900"]
Inside the Gua Tempurung[/caption]
Credit: Chillout, Soulout & Freakout
If you're up for a little adventure, why not make a detour to Gua Tempurung in Perak for a little cave expedition? This spot offers an amazing view as opposed to what we expect of a cave. There are 4 different routes offered, opt for route 1 and 2 if you don't plan to get wet as route 3 and 4 would require you to do some extreme caving (but it's all worth it!). However, if you don't plan on taking any of the routes, you can just stop by for some pictures?
Credit:
joeyf84 on Instagram
If history and cool architecture is more of your thing, head to Kellie's Castle in Batu Gajah instead to witness remains of an unfinished castle built in 1915. This blend of Moorish, Scottish and Tamilvanan Indian architecture is both charming and spooky with many mysteries surrounding it! All the more reason you should see it yourself?
5. Alor Setar – Perlis (1 hour)
We rarely hear people choosing Kedah as a holiday destination, and when they do, it's always heading to Langkawi. For your next trip, opt to have a road trip in Alor Setar instead of taking a flight? [caption id="attachment_22621" align="alignnone" width="900"]
Zahir Mosque was inspired by Moors architecture[/caption]
Credit: inesse.mokhtari on Instagram
Only a short drive away, Perlis is the place to witness that blend of culture (especially in its dishes) as it borders between Thailand and Malaysia. For shopaholics out there, head to Padang Besar or Bukit Kayu Hitam for a duty free shopping zone! [caption id="attachment_22622" align="alignnone" width="900"]
'Pekan Rabu' opens every day for a handful selection of snacks, handicrafts and souvenirs.[/caption]
Update:
According to one of our readers, Pekan Rabu is currently under construction and has been moved temporarily to Ukir Mall Building, Jalan Sultan Badlishah ?
Credit: TerajuBintang7
From Alor Setar to Perlis:
6. Kuala Lumpur- Temerloh – Kuantan ( 2 hours 40 minutes)
If you're on your way to Kuantan, make a pit stop at Temerloh for some original
ikan patin masak tempoyak
. Temerloh -dubbed as 'Bandar Ikan Patin' or 'Town of the Silver Catfish' is very proud of their ikan patin and are even putting it up as decorations! [caption id="attachment_22624" align="alignnone" width="900"]
Go'bang Maju[/caption] Now if you'd like to satiate that craving for ikan patin masak tempoyak, here are two very popular spots to get them approved by locals?
Credit:
ReezRemy
In Kuantan, going to
Teluk Chempedak
is a must! The family-friendly beach is always lively but more so on the weekends. There are plenty of things to do here with eateries and night markets set up nearby. If night life is not your thing, you can choose for a morning walk along the cool beach?
Credit:rinoct08 on Instagram
HHWT Tip:
If you're in Temerloh on a Sunday morning, do visit the Pekan Sari along Sungai Pahang for some exotic traditional Malay cuisine and local produce.
7. Kuantan - Terengganu (4 hours 30 minutes)
If you're heading towards Terengganu, instead of using the expressway, opt for Jalan Pantai for a more scenic and enjoyable ride. Sure, it'll add a few hours on the road but the view and experience itself has much to offer! [caption id="attachment_22628" align="alignnone" width="900"]
Lush greens along the road[/caption]
Credit: Fazlinil Irma
Along the road, you'll see a lot of stalls selling something for you to munch on! From grilled corn to traditional
otak-otak
and
sata
, don't be shy to make a short stop for them.
Otak-otak
is minced fish grilled with spices while
sata
 is minced fish mix with coconut and spices? [caption id="attachment_22629" align="alignnone" width="900"]
Otak-otak & Sata[/caption]
Credit: Dygku
While in Terengganu, here are some of the places you can visit! [caption id="attachment_22630" align="alignnone" width="900"]
Masjid Kristal[/caption]
Credit: sy_cikgumat on Instagram
Perform your prayers at Masjid Kristal, a mosque which is made of steel, glass and crystals! Just a 3 minute drive away from Masjid Kristal is the Islamic Heritage Park and here you'll be able to admire the replicas of famous Islamic buildings and monuments? [caption id="attachment_22631" align="alignnone" width="900"]
Islamic Heritage Park[/caption]
Credit: hafizdarmanuri on Instagram
Famous for
Nasi Dagang
and
Keropok Leko
r, these two are a must try in Terengganu! Its basically sold everywhere in Terengganu but also a local favourite is Nasi Dagang Kak Pah in Batu Burok!
Do take note that Nasi Dagang Kak Pah opens at 8.30 AM but usually sells out by 10.30 AM. Credit:
orey_nuriah on Instagram
Map from Kuantan to Terrenganu:
8. Penang – Kota Bharu (5 hours 10 minutes)
Kelantan, which is a few hours drive away from Penang, is another state of gastronomic experience! Many said that staying in Kelantan will undoubtedly make them gain a few pounds (but we wouldn't mind though?.) Most would prefer to take the flight to Kelantan, instead of driving due to the long hours. However, driving to Kelantan need not be just a long and boring drive! Here are some pit stops you should consider if you're driving?
Credit: Ying Ying
If you're coming from Penang (or northern state), Hentian Titiwangsa is the perfect stop to stretch yourself after that long drive and simply bask in the wonderful view it has to offer!
Credit: husnakelantan on Instagram
Once you've had your fill of cool air and scenic views, only an hour and thirty minutes away is a duty free shopping haven - Rantau Panjang! Situated close to borders of Thailand, Rantau Panjang offers football jerseys, dining ware, kitchen utensils among other things – sans tax?
Credit: mieraemirage on Instagram
Before heading to Kota Bharu, head to Sultan Ismail Petra Silver Jubilee Mosque or famously known by the locals as Masjid Beijing! Its unique pagoda-like architecture is a blend of Chinese and Islamic architecture styles resembling a 1000 year old Niujie Mosque in Beijing, China hence its name?
Map from Penang to Kota Bharu:
9. Kuala Lumpur - Johor (3 hours 30 minutes)
Johor lies in the southern part of Malaysia and whether you're seeking for leisure or adventure, Johor has it all!
Credit: myvoicetou.blogspot.my
Driving to Johor from Kuala Lumpur would take you through Negeri Sembilan and Melaka. You can stop at the suggested spots mentioned earlier. Adding to the itinerary, on your way to Johor, stop by Ayer Hitam, a small town between Kluang and Batu Pahat. Ayer Hitam, famous for pottery and ceramics offers a wide range of designs at a reasonable price.
Credit:
nyonyokecil on Instagram
Once you've arrived in Johor, don't miss out on the other attractions that this city has to offer such as Hello Kitty Town in Nusajaya and Angry Bird activity park?
Credit:hendrik_tan63 on Instagram
Johor is also popular among youngsters for its
hipster
cafes and urban hangouts. Head to Jalan Dhoby as it offers several halal cafes option! You can simply park by the road and café hop by foot.
P.S. Check out our article on Halal Hipster Cafes in Johor Bahru!
If you're looking to experience night life in Johor, head to either Kilang Bateri, another urban hangout that offers food and shopping or
Pasar Karat
for a more 'rustic' shopping experience? [caption id="attachment_22639" align="alignnone" width="900"]
Kilang Bateri[/caption]
Credit: The Potato Story
10. Kota Kinabalu – Kundasang (2 hours)
A road trip in Kota Kinabalu would require you to spend more than a day to make the most of your trip. Fret not as it'll all be worth it?
Credit: Catherine Yvonne Ng
A must-visit in Kota Kinabalu is their Handicraft Market (formerly known as Filipino Market) that sells intricate handmade jewellery, bags and crafts.
Credit:
hana_azura on Instagram
In the late afternoon, make sure to head to Tanjung Aru Beach for stalls upon stalls of seafood? Get your fill here while overlooking the beautiful orange sunset the beach has to offer before settling down for the day.
Credit: whitehorsepersona on Instagram
The next day, proceed to Desa Cattle Dairy Farm in Kundasang! Visitors will get to see cattles roaming freely upon vast lush green pastures. There is also a calf pen if you feel like feeding the younglings? [caption id="attachment_22643" align="alignnone" width="900"]
Cool weather in Kundasang[/caption]
Credit: _yyfar on Instagram
Fresh milk and ice-cream are also available for purchase! It indeed IS a dairy farm?
Credit:
mem-umie on Instagram
Map from Kota Kinabalu to Desa Cattle Dairy Farm: Road trips might be a little tougher to plan, but one of the most important things to remember during a road trip is to go through it with an open mind? You might face obstacles along the way… but hey, that's part of the adventure! So, grab your road trip buddies and start having the adventure of a lifetime?
Tags:malaysiatravel-guide