Malaysia is brimming with fashion talents, be it renowned designers who have made their mark amongst the global fashion elites or fresh young blood trying to get their name out in the region. From gorgeous traditional Malaysian ethnic wear to luxurious couture dresses, fairytale-like bridal gowns and quirky Avant-garde pieces, Malaysian designers are pushing the boundaries of fashion with their passion and talent, and making their homeland proud along the way 😊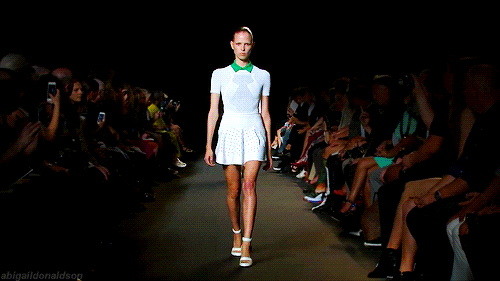 Credit: Giphy
For those who aren't necessarily fashion-inclined, now is a good time as any to learn of these fashion maestros. These homegrown talents and their expansive collections are something to watch out for; you'll be surprised to find there's always something for everyone. Here are 10 Malaysian fashion designers that should be on everyone's radar!
[P.S Check out these 8 modest Malaysian labels every Muslimah needs to know!] 
1. Rizalman Ibrahim
An influential name in fashion, Rizalman Ibrahim has done it all. This famed couturier has a total of five companies under his moniker, dabbling in bridal design, couture design, interior design, as well as bespoke and ready-to-wear designs.

Credit: Rizalman Ibrahim on Facebook
From contemporary elements to classical designs, Rizalman is steadfast in his fondness for the dramatic and his aesthetic is all about making things luxe. Whether its form-fitting garments, flowy kaftans, frills or peplums, the fashion maverick's design is a clear favourite among royalties, socialites and A-list celebrities who favour the opulent minimalism and plush elegance of Rizalman's collections.

Credit: Rizalman Ibrahim on Facebook 
Celebrating his 25th Silver Jubilee this year in Malaysia's fashion industry, Rizalman debuted an 87-look Raya collection for men and women, available exclusively on ZALORA. The collection features dramatic kaftans, lace kebayas, Swarovski-studded looks as well as printed traditional baju kurung 😍

Credit: @rizalman71 on Instagram
2. Melinda Looi
An iconic designer known for her Avant-garde designs, Melinda Looi is a true purveyor of the fine arts and vintage chic. Her clothes are celebrated for their unconventional style and edginess. Her collections are of spectacular opulence with detailed embroidery and delicate embellishments, grabbing the attention of everyone. 

Credit: Melinda Looi on Facebook
Designing for both ready-to-wear and couture, the Melinda Looi brand now has different branches specialising in fashion's many aspects. Couture includes custom bridal gowns while Looi Prêt-à-Porter has ready-to-wear evening dresses and bridal gowns. MELL is for casual wear and Emel is an exclusive annual collection of the traditional Malaysian baju kurung.

Credit: Melinda Looi on Facebook
 From freshly minimalistic to glamorously embellished, every Melinda Looi design is truly, distinctively her.

Credit: Melinda Looi on Facebook 
3. Jovian Mandagie
Behind one of the region's leading modest fashion brands is this well-established designer whose brand has become quite a staple in Malaysia's fashion scene. Jovian Mandagie is known for his ready-to-wear line of diversified pieces where modest fashion is far from boring. Just last month during Singapore Fashion Week 2017, Jovian Mandagie showcased his collection of mixed "athleisure" and modest fashion.

Credit: @jmandagie on Instagram
Their African-inspired collection includes bright colours and symbols to depict Africa's beautiful heritage!

Credit: Jovian Mandagie on Facebook 
Fur capes and sequinned denim all but show the fun elements of urban street style pair with the modest fashion necessities of loose-fitting dresses, pants and tops. The pale denim is a major trend right now in streetwear and Jovian so creatively incorporate such impeccable styling to fit into modest fashion requirements, making this collection a true standout 😍

Credit: @jmandagie on Instagram
4. Nurita Harith
There is nothing quite as breathtaking as a beautifully-made bridal gown and Nurita Harith's dresses are sure to make you swoon! This fine arts major shows her keen eye for unique silhouettes, favouring soft layers and drapes with a touch of masculinity for some glam. 

Credit: @nuritaharith on Instagram
With her sophisticated yet chic designs, the Malaysian designer was nominated in ELLE International Bridal Awards this year under the Best Bridal Collection alongside big bridal names like Vera Wang, Ellie Saab and Viktor & Rolf.

Credit: @nuritaharith on Instagram
[P.S To accompany every stylish outfit, check out these 12 hijab labels!] 
Even when she ventures into staples clothing, her style remains classy and demure. Nurita is a ready-to-wear designer who has now branched into custom-made designs as well. On top of all of these, Nurita also has her line of ready-to-wear Raya clothes called NH by Nurita Harith. Her signature romantic lacework is evident here as drapes and delicate embellishments on the traditional baju kurung garments adds some glamour.

Credit: Nurita Harith on Facebook 
5. Khoon Hooi
Khoon Hooi has earned himself a reputation for creating luxury clothing with an edge. Since the launch of his label in 1999, the Perak-born designer has continuously brought ready-to-wear modern feminine collections like romantic frocks for the chic women seeking stylishly luxe items. Khoon Hooi's penchant for intricate beading and keen eye on details are what make his ultra-feminine designs a standout.

Credit: Emage by Evelyn Chng on Facebook
Khoon Hooi's latest Qi Pao Collection illustrates feminine elegance true to his style. His label's signature of imaginary beading techniques and delicate feathers on clean cut fabrics makes for the finest textures and finishing. This is how every piece of Khoon Hooi is exquisitely made with a strong design on voluminous silhouettes.

Credit: @khoonhooiofficial on Instagram
6. Alia Bastamam
Winner of KLFW 2017 Ready-To-Wear Best Designer Award, Alia Bastamam had her humble beginnings as a bridal designer. Before building her own brand, Alia worked for another renowned designer Jovian Mandagie. Over the last seven years since the start of her eponymous label, the Alia Bastamam collective now includes an array of collections to cater to her wider demographics.

Credit: @aliabastamamkl on Instagram
"Timelessness" is a concept Alia strives for in all her designs and the luscious fabrics, sophisticated appeal and fine tailoring across all her collectives attest to this vision 😄 From the luxury-driven Atelier that are made-to-measure designs, the Bridal line of custom-made bridal designs, to the secondary ALIA B. line that focuses on accessible ready-to-wear lines that includes their Raya collection, every aspect of the Alia Bastamam brand is in sync with each other.

Credit: @aliabastamamkl on Instagram
7. Ezzati Amira
Ezzati Amira's namesake label are chock-full of alluring and feminine apparels suited for the undaunted modern women. Founded in 2013, the ready-to-wear brand of course has a strong focus on wearability and it certainly didn't disappoint with its slouchy meets structured theme for its Autumn/Winter 2017 collection showcased during this year's KLFW RTW. 

Credit: @ezzatiamirakl on Instagram
The tailored shirt dresses and loose palazzo that stole the limelight are amped up with military uniform-inspired touches like androgynous boxy cuts and statement rounded buttons.

Credit: ezzatiamirakl on Instagram
This young designer set out to create a range of essential garments for women who are fearless in their career pursuits. Ezzati aims to empower women through stylish clothes that can offer that boost of confidence, believing that women deserve clothes that can live up to their own personal ambition. She is definitely one designer you wouldn't want to miss out on for fresh and bold ladies wear 😉

Credit: Ezzati Amira on Facebook
8. Raja Nadia Sabrina
Lawyer-turned-fashion-blogger, Raja Nadia Sabrina is the founder and Creative Director of ready-to-wear label Aere. Crafting fashionable pieces to reflect her contemporary style for the modest modern women, Sabrina strives for her designs to be versatile so each garment can be easily mix and match for a variety of looks. The label participated in their first SFW this year as part of the Modest Show line-up. While in Singapore, Aere also partake in a 7-day trunk show, showing its massive popularity among shoppers outside of Malaysia.

Credit: @rnadiasabrina on Instagram
[P.S For 11 Muslim fashion designers who prove that modesty can be stylish, check the list out here!] 
As previewed in both KLFW and SFW, Aere's latest collection is truly something to behold. Named "Change", the idea behind the collection is to take something vintage and nostalgic with all the memories tied to it and create something fresh. On her blog, Sabrina sums it as embracing change while staying true to yourself 😊

Credit: @sharuleskinny on Instagram
9. Rico Rinaldi
A combination of glamorous couture dresses, dreamy bridal gowns and chic ready-to-wear collections, Rico Rinaldi's repertoire is an impressive sight. This talented designer fancies the merger of traditional fabrics into fashion-forward pieces like luxurious songket wedding dresses. He also worked with kimono fabric artisan Tomita Senkogei to create a Raya line this year called "Summeraya 2017" that features the Japanese traditional textile. Think billowy sleeves and trumpet skirts, soft pieces with structured pleats and peplums – styles that can be worn even after the festive season. This fusion of aesthetics has quickly become one of his stunning design signatures!

Credit: Rico Rinaldi Kuala Lumpur on Facebook
For his 10th anniversary, Rico launched his label's Women's Collection 2018 alongside the opening of his newest boutique at Plaza Damas. Known for his meticulous workmanship and love for detailing, this latest collection is all about the texture with jewel embellishments, feathers on garments and pronounced pleats – it's as if the fabrics are brought to life with such gorgeous feminine details.

Credit: Rico Rinaldi Kuala Lumpur on Facebook
10. Tengku Chanela Jamidah
Tengku Chanela Jamidah is the co-founder of fashion labels Ultra and Thavia, as well as beauty brand Dida. This multi-talented fashion entrepreneur may wear many hats but at the core she wants women to have access to fashion-forward pieces that don't compromise on quality. Thavia thus features demure ready-to-wear collections of softly tailored garments with clean lines, neat ruffles and gentle peplum.


Credit: @tcjamidah on Instagram
Tengku Chanela wants Thavia to be an affordable option for self-driven and independent women who are keen to wear easy every day clothes with a flair for high couture. There is no doubt you'll be looking sleek and stylish and probably ready to strut in the office wearing Thavia 😉

Credit: Thavia on Facebook
As fashion forges forward with new trends, we can count on these 10 talented designers to keep surprising us with their latest collections that are sure to be jaw-droppingly gorgeous. Be sure to support such amazing regional talents by shopping their labels (goodbye fast fashion chains!).
[P.S Find out 12 other influential women who'll inspire you to change the world!]
Tags: inspiration,