Imagine the sky changing its hues, from clear blue to orange marmalade streaked with bands of candy floss pink before melting into a deep Prussian blue☺️ Then, the first sparkle appears and soon you're spending the night under a blanket of stars. Whether the sky displays pretty rainbows, unleashes a fury of grey clouds or decorated with sparkling stars, it's impossible to resist the beauty of the vast blue sky!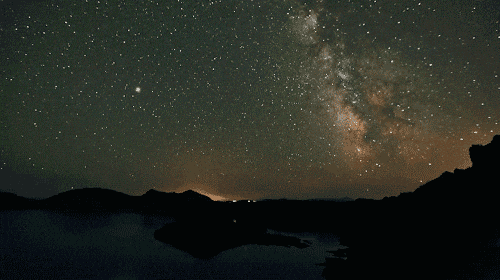 Credit:
Giphy
For those who love the celestial wonders of the night sky, time to trade in views of skyscrapers for one of a million twinkling stars. Here are 10 best stargazing spots in Asia?
1. Mount Bromo, Indonesia
Be awed by nature's combination of beauty and danger with Mount Bromo in East Java, Indonesia! Standing at 2328 meters above sea level, this iconic active volcano offers a majestic view of the night sky at its summit.
Credit: @
cy.yow
on Instagram
Against the rugged landscape backdrop of other nearby mountains, the sea of stars above looks incredibly gorgeous and mystifying. What better way to feel close to the stars than being amongst these low-lying clouds☺️
Credit: @boxheadmike on Instagram
While Indonesia is in the tropics, it can get very chilly on Mount Bromo with temperatures dipping to 8° Celsius. So bring a jacket and gloves to keep warm as you gaze above?
Credit: @
tan_thomas
on Instagram
2. Aogashima, Japan
South of Tokyo, the tiny volcanic island of Aogashima has views that is unparalleled to anywhere else in the world – and it's clear why! Home to under 200 people, this island biggest selling point is its isolation and vastly untouched natural landscape so no matter where you are, the views will always be breathtaking.
Credit: @
strju9
on Instagram
To have the stars shine brightly each night and seeing the Milky Way is nothing out of the ordinary for the locals. While any part of the island will offer these lovely views, the best spot is said to be on the northern coast of the island where there is little inhabitation.
Credit: @
snit.76
on Instagram
With no light pollution and even lesser excess noise, the view from here is so beautiful that the Japanese call it "The Coliseum of the Stars"✨
Credit:
Norio Nakayama
on Flickr
3. Sabah, Malaysia
On the island of Borneo lies the Malaysian state of Sabah, a beautiful land blessed with gorgeous beaches, rainforests and coral reefs. Sabah has low levels of light pollution and less cloudy skies, making it ideal for stargazing from practically anywhere on the state. Even on a hike up the famed Mount Kinabalu, you can be greeted by a view like this:
Credit:
david.c13
on Instagram
If climbing mountains are not your thing, head over to the northern part of Sabah to the Kudat district, a 3.5-hour drive from Kota Kinabalu. Here, you'll find Tanjung Simpang Mengayau – or
Tip of Borneo
- a prime location to see the stars?
Credit:
KKCity
on Facebook
Tanjung Simpang Mengayau shows the meeting point of two big oceans, South China Sea and Sulu Sea. This delightful scenery used to be a watch-point for pirate invasion hundreds of years ago. Now it's one of Sabah's most popular attractions with the cosmic wonders embellishing the evening sky?
Credit: momon_margo on Instagram
4. Phu Tub Berk, Thailand
Phu Tub Berk is the tallest mountain in the undulating province of Phetchabun in Northern Thailand. This sleepy hamlet was where King Rama IV, an enthusiastic amateur astronomer, built an open-sided, glass-domed observatory near his sleeping quarters.
Credit: @
tanaka_moikkai
on Instagram
The observatory remains open to the public and is now part of Phra Nakhon Khiri Historical Park. The palace complex and surrounding temples are open for exploration during the day. When the sun sets, indulge in some serious stargazing just like King Rama IV did. Although, anywhere in this countryside makes for a picture-perfect scene evident by this roadside photo!
Credit:
Yes, you can see the milky way
on Facebook
5. Batanes, Phillipines
Credit:
Beautiful Batanes
on Facebook
The archipelago province of Batanes in northern Philippines is located in the Cagayan Valley region. Batanes provides stunning picturesque views of the Philippine nature? By population and land area, it's the smallest province in the country and is fairly isolated to offer you an undisturbed stargazing experience. Enjoying the night sky here can be as easy as laying down on your back!
Credit:
Geb S. Bunada
on Facebook
If you're looking for a more picture-perfect scene, Basco Lighthouse on Naidi Hills makes for a great foreground for the night sky to stand out! Rolling green hills and a sky shrouded in stars, let Batanes captivate you with a sense of calmness and relaxation as you gaze upwards. There is nothing quite as soothing as the quiet night full of wonder.
6. Nubra Valley, India
India offers dozens of hotspots for stargazing but Nubra Valley, Ladakh is arguably the best place to take in these beautiful sights. Located about 150km north of Ladakh's capital of Leh, Nubra Valley is sandwiched between Tibet and Kashmir as well as surrounded by snow-capped Himalayan ranges?
Credit: @
gokulkarma
on Instagram
Nubra Valley is known for its orchards, scenic vistas, Bactrian camels and monasteries. With nothing to block the skies, the stars seem to roll out on forever✨
Credit: @
madajoshua
on Instagram
7. Gorkhi-Tereli National Park, Mongolia
Of course the Land of Eternal Blue Sky would make an appearance on this list of stargazing spots! It's named as such because Mongolia has 260 blue sky days across the year – an almost guaranteed you'll see copious stars at night. The world's most sparsely populated country is devoid of artificial light so wherever you go in the country, the stars shine like intrepid trailblazers.
Credit:
huusju
on Instagram
The endless blue sky of the daytime eventually gives way to an inky black field of shimmering lights. One of Mongolia's national parks, Gorkhi-Tereli National Park makes for a stellar choice to ponder over the mesmerizing universe?
Credit:
Anita Yusof
on Facebook
8. High Island Reservoir, Hong Kong
From the most sparsely inhabited location to one of the most densely populated, we head to Hong Kong!
Credit:
vincylauwingsze
on Instagram
Hong Kong may be a surprising destination for stargazing but the city houses a few hidden gems where splendid views of the stars can be admired. High Island Reservoir is one of those gems! High Island Reservoir is part of the Hong Kong UNESCO Global Geopark located in the south-eastern region of the Sai Kung Peninsula, a 30-minute drive from Sai Kung.
Credit: lezlebric on Instagram
Daylight sees visitors flock to see hexagonal rock columns caused by past volcanic activities, sea caves and cut away islands. By nightfall, the reservoir provides a prime location to enjoy views of the clear night sky and surrounding mountains without having to ascend the hill?
Credit:
kittychan7128
on Instagram
9. Cape D'Aguilar, Hong Kong
Another noteworthy location for stargazing in the busy city of Hong Kong is Cape D'Aguilar!
Credit:
d.e.n.i.k
on Instagram
This marine reserve is located at the southernmost tip of Hong Kong where its coastal cliff offers a gorgeous view of the sky and sea – ideal for night sky photography. While visitors come to Cape D'Aguilar for its natural treasures like the cliff and sea caves, they definitely stay for the beautiful night sky that sparkles with the stars!
Credit: natx20 on Instagram
These nature reserves of High Island Reservoir and Cape D'Aguilar offer a nice respite from the hustle and bustle that Hong Kong is known for?
10. Maldives
A revered destination known for its ivory beaches, pristine waters and luxury bungalows by the seaside, the Maldives is all about having fun in the sun. But this slice of paradise continues to amaze come nightfall where stars will blanket the dark skies, sprinkled around like shimmering confetti!
Credit:
I Love Maldives
on Facebook
There are some luxury resorts that have their own telescopes and observatory decks for a more detailed view of the stars. However, these night-time jewels are just as spectacular seen with the naked eyes. So choose a spot on the beach and take in the wondrous sight?
Credit:
Mo Shahid
on Facebook
This picturesque tropical island nation is more than just a playground for beachside activities. With scenic views from day to night, the Maldives certainly epitomises nature's beauty.
Credit:
The Grand Vacationist
on Facebook
If you're already mesmerized and ready to bask in the beauty of the skies, here are some tips to best experience stargazing!
Get familiar with the lunar calendar. As the moon can reduce star visibility, new moon is the absolute best time to stargaze?
Do check the weather forecast for clear night skies with no clouds in sight.
Dress warmly – you're likely to be outdoors in the partial rural where it can get cold. Put on a jacket and gloves just in case.
No matter where you land - whether you choose to head to the beaches or valleys or volcanoes - be sure to look up and soak in the splendour of the sky?
Tags:asiastargazing-spots