Turkey is a country that I've always heard much about, ever since I was a little girl but I never really had the chance to explore—until a few years ago. The idea of Turkey is on the minds of many; it's mysterious in a sense that the country is one of the most developed and modern Muslim countries yet it is still rich in history and culture. But what makes a country so interesting to visit is not just the contemporary, commercial aspect that it has to offer to tourists, but more importantly, its past—and how the country came to be.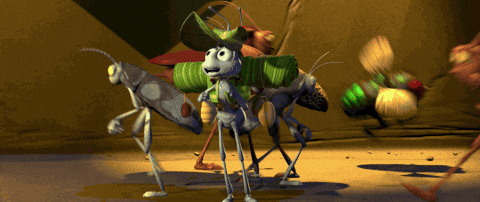 Credit: giphy
1. Hagia Sophia
Hagia Sophia (or more commonly pronounced as Aya Sofya) is one of the most famous places to visit in Istanbul, and for a good reason. Turkey was known for a country that was at first, ruled by the Byzantine Empire but was later conquered by the Ottoman Empire, under the influence of Mehmed the Conqueror. Even though the Ottoman Empire conquered Constantinople (current Istanbul), the leaders preserved many of the religious and cultural buildings, especially churches, making Hagia Sophia one of them. [caption id="attachment_10547" align="alignnone" width="1200"]
The interior of the Hagia Sophia is an architectural and historical wonder, with elements of both Christian and Islamic influences.[/caption]
Credit: Jorge Láscar on Flickr
The Hagia Sophia was first referred to as "The Big Church" as it was the biggest cathedral built by the Byzantines at that time. Later on, it was referred to as "The Holy Wisdom" where emperors were crowned. The cathedral was reconstructed several times through out the Byzantine Empire under different rulers. [caption id="attachment_10549" align="alignnone" width="1200"]
Built in the period of Sultan Murad III, the pulpit in the mosque where the imam delivered his Friday sermons is one of the best examples of marble workmanship from the 16th century Ottoman era.[/caption]
Credit: Ben n Rebecca McIntyre on Flickr
When Mehmed the Conqueror ruled Istanbul in 1453, the cathedral was then transformed into a mosque. Several structures were added such as the minarets, which were designed by the great architect Mimar Sinan. The mosque has been protected ever since.
#HHWT Tip:
Get an English audio guide at the entrance to really immerse yourself in the fascinating history of Hagia Sophia.
Entrance fee:
40 TL
Visiting Hours:
Summer (15 April – 25 October) : 9am – 7pm Winter (25 October – 15 April) : 9am – 5pm
Phone:
+90 (212) 522 1750 / +90 (212) 522 0989
Website
2. Sultan Ahmet Mosque @ Blue Mosque
The Blue Mosque is another main attraction in Istanbul. Situated not far from the Hagia Sofia, this mosque is also known as the Sultan Ahmet Mosque. It was built under the rule of Ahmed 1, which took several years to complete (1609 – 1616). It's referred to as the Blue Mosque because of its interior blue tiles (before visiting Istanbul, I actually got confused between the two names, wondering when my family will be visiting the Blue Mosque, because the exterior is not blue at all!). [caption id="attachment_10552" align="alignnone" width="1024"]
The interior of the Blue Mosque and its blue tiles.[/caption]
Credit: Fred Bigio on Flickr
Once you step into the mosque, you will be mesmerised by the distinctive Ottoman architecture. This grand house of worship has six minarets and still functions as a mosque until today. Therefore, visitors will need to keep in mind the best times to visit as well as be aware of the mosque's visiting etiquette. Muslims can certainly join the daily congregational prayer!
#HHWT Tip:
There will most likely be a line at the entrance of the mosque but don't worry, it will move rather quickly. Don't try to pay anyone any money if they offer you to jump the queue because this is usually a scam.
Address:
At Meydanı No 7, 34122 Fatih, Istanbul.
Opening and closing times:
8.30 am, 11.30 am 1.00 pm, 2.30 pm 3.30 pm, 6.45 pm
Friday Opening:
1.30pm
Phone:
+90 212 458 44 68
Website
3. Topkapi Palace
If you think you're done visiting historic buildings, well think again! ?  Topkapi Palace is one of the oldest and largest palaces that still stands til this very day. It was built in 1453 under the order of Mehmet Fatih but was turned into a museum by Kemal Ataturk in 1924. It was not just a place where the Sultan lived but it was also a center where future statesmen received their education and training. In it, there were schools and madrasahs, making it a center of the capital where the heart of Istanbul was beating. [caption id="attachment_10566" align="alignnone" width="1920"]
The Throne Room[/caption] Currently a museum, it has several collections, ranging from arms and weaponry, porcelains, holy relics and even replicas of clothing of Ottomans rulers. When I visited the museum back in 2013, it did indeed transport me back to the Ottoman era.
It also got me thinking; one of it was how an empire and its rulers managed to expand its territory and influence. From my reading, I learned that not only did the Ottomans have a strong and faithful army but they were also well trained religiously and militarily. Many of the leaders too, were prioritized knowledge and spirituality.
The Topkapi Palace is very big, covering a space of 400,000 square meters. You'll spend several hours here so I suggest that you plan to visit the palace first thing in the morning. That way, you can avoid the large crowds. It's one of the biggest tourist attractions, as many people want to visit the Sultan's harems and see other rare treasures.
#HHWT Tip:
The museum is closed every Tuesday. Also, be sure to plan exactly which part of the palace you would like to visit so that you can purchase the tickets accordingly. For families, please be informed that strollers cannot be brought into certain exhibition halls.
Address:
Sultanahmet, Fatih , Istanbul
Ticket price:
Palace: adult/child under 12years, TL 40/free Harem: adult/child under 6 years, TL 25/free
Opening hours:
Winter (October 30th - April 15
th
): Museum, Harem and Hagia Irene Church: 9:00 AM - 4:45 PM Summer (April 15th - October 30
th
): Museum, Harem and Hagia Irene Church: 9:00 AM - 6:45 PM
Phone:
+90212 512 04 80
Website
4. The Grand Bazaar
Credit: @osman86 on Instagram
The Grand Bazaar is definitely an experience to have while you're in Istanbul. It is one of the oldest covered bazaars in the world with 3000 shops in it. You can find so many things from carpets, scarves, handbags, unique lamps, spices and teas - whatever it is, you name it! But despite the grandeur and hype of it all, if you wish to purchase anything from the bazaar, you have to be prepared to haggle; and I mean really haggle.
If you ask for the price of an item that you are interested in, most of the time, the seller will hike up the price. So don't be afraid to ask for at least 50% less (this is if you really want to buy something. If it's too expensive and you aren't really interested, then don't try to bargain because the sellers will become really pushy which can make you uncomfortable). Also, my mom always advised me not to act interested when I have my eye on something. If the seller doesn't seem to want to negotiate on the price, then try to walk away. Most of the time, they will call you back but don't be afraid to explore other options ?
#HHWT Tip:
The bazaar is very big and it's possible to get lost. It  has many entrances and exit points, which will lead you to an entirely different street, so try always to walk in groups.
Address: 
Beyazit Gate, Istanbul
Opening Hours: 
Monday – Saturday: 8.30am-7pm, Final entry: 6pm
5. Carsamba Pazari
Credit: @habercigokhan
Carsamba Pazari is a local market where the local community go to buy, well, almost anything. Located near the Fatih mosque (Fatih Sultan Camii), you'll find everything from fresh produce to clothes, handbags and household supplies. The best part is that everything here is cheap! I mean, you really don't have to worry whether the sellers are cheating you because this is the place that locals go to.
Credit: @zetturk
I prefer exploring places that are not too touristy because sometimes you'll find better things at a much greater price. If you're not much of an explorer, just walk slightly further away from the Grand Bazaar and observe whether there are locals buying anything from the stalls. If you think you've haggled well enough and you can't live without it, then go get it!
Credit: @batulastl
Turkey has a lot of great leather goods, so if you are dying to own a pair of leather boots or a leather jacket, you don't have to look for a branded one. I also really loved their carpets, kilim rugs, and handbags made of kilim! Also, Istanbul is also known for it's affordable and stylish Muslimah clothes. They also make very beautiful silk satin head scarves.
Credit: Mihaela Vorvoreanu on Flickr
There are also a lot of nice cafes and restaurants around the area which I suggest for you to explore. You'll find the some of the same dishes at a much lesser price. Many of the stalls sell sandwiches of different kinds, which is something I loved trying. In most restaurants, when you order food, they give bread free of charge because it's so cheap and common in Turkey. On the other hand, a small plate of rice is a little expensive.
Note:
The market only operates on Wednesdays
Address: 
Nevsehirli Ibrahim Pasa Caddesi, Fatih, Istanbul
6. Bosphorus Strait
The Bosphorus Strait separates the Eastern and European side of Turkey. It also connects the Black Sea and the Sea of Marmara, which makes it a strategic international waterway. It offers a breath taking view of Istanbul that you definitely have to visit! You can see the beautiful buildings built along the straight, both historic and modern. With the wind gushing against your skin, it's a nice feeling that you can't really describe. It's also a good and different way to explore Istanbul. By taking a ferry, you can understand why it's an important passage that played an important role in the country's development.
Credit: Dan on Flickr
The best time to experience the Bosphorus is by going on a boat or a ferry and witnessing the natural beauty along the strait. The last time I was there, I could not help but notice how there were several Turkish flags that were fixed on many major buildings to mark the Turkish territory and to symbolize their pride and heritage.
#HHWT Tip:
If you are going in the fall, be sure to have proper clothes and gloves. It can be pretty chilly when the wind blows!
7. Basilica Cistern
Basilica Cistern lies beneath the heart of Istanbul. It is a receptacle built to catch and hold large amounts of rain water, particularly in the medieval days.  This building was built in the 6
th
century by slaves during the Byzantine Empire, under the rule of Emperor Justinian 1. However, it was not just built to hold water. Before it was turn into a cistern, the basilica also functioned as a public square in Constantinople, built in the 3
rd
century by the Romans. It was later then reconstructed in 476.
In the olden days, people were able to take rowboats past the columns. Then in the 1980s, there was a lot of reconstruction being made to ease tourists' experiences visiting the cistern. Now, there is still shallow water in the cistern with a number of fishes to keep the water clean.
Credit: Asim Bharwani
The most exciting part about the Great Basilica is the head of the column, which functions as the base of two columns. They are also regarded as an artistic sculpture, as the columns are actually two Medusa heads, sculpted during the Roman Empire. The Basilica is located in the middle of Istanbul, therefore it should not be too far from other major attractions like Hagia Sophia. Many tourists enjoy visiting this amazing place as it feels like a hidden treasure!
Ticket price:
20TL
Address: 
Basilica Cisterns of Istanbul, Istanbul, 34200
Phone:
+90212 512 15 70
Website
8. Miniaturk
Credit: Boris Dzhingarov on Flickr
If you're traveling with kids, then Miniaturk is one of those places that your kids will love. It's a nice recreational park with all the great civilizational miniature archaeological remains in Turkey that were left by the Romans, Greeks and the Ottomans. Apart from these sculptures, adults and kids are also able to spend their time riding on trains, exploring fairy parks and taking rides on the flyride helicopter tour simulation.
Ticket price:
Adult (foreigners) 10TL
Opening Hours:
9.00 am – 11.00 am
Address:
Imrahor Caddesi, Sutluce, Istanbul 34445
Phone:
+9212 222 28 82
Website
9. Galata Tower
The Galata Tower is located in the busy district of Galata. It was built during the Byzantine era by the Emperor Anastasius and functioned as a lighthouse. However, after Constantinople was conquered, it served as a dungeon and then turned into an observation deck. The aviator Hezarfen Ahmet Celebi propelled himself from the tower with wooden wings and flew across the Bosphorus to the Asian side of Turkey. [caption id="attachment_10582" align="alignnone" width="1024"]
Check out the views from the Galata Tower![/caption]
Credit: Tania & Artur on Flickr
Going up the Galata Tower will not take too long—you will only need to wait about 10 minutes in line before going up. Once you're up there, the view of Istanbul will take your breath away. You'll be able to see the major attractions in Istanbul like Hagia Sophia, Sultan Ahmet Mosque and the Golden Horn.
#HHWT Tip:
If you're tired of all the walking and need to be reenergized (don't worry, there's an elevator up to a certain point), the Galata also has a restaurant that serves all sorts of dishes.
Ticket price:
20 TL
Address:
Bereketzade, Galata Kulesi, Beyoglu, Istanbul
Opening hours
: 9.00 am – 7.00 pm
Phone:
+90 212 244 7736
10. Suleymaniye Mosque
Credit: mkline55 on Flickr
The Suleymaniye Mosque is also one of my favourite places in Istanbul because its beauty and size can rival the grandeur of the Blue Mosque. This beautiful mosque is located on top of a hill, overlooking the sea. Similar to the Blue Mosque, its interior was influenced by Ottoman architecture, as this was designed and built by Mimar Sinan, under the rule of Suleyman the Great. It's simple interior somehow still captures the hearts of many tourists. If you have the opportunity, I recommend performing prayer in one of the mosques because it is an experience that you should seize.
Credit: By İhsan Deniz Kılıçoğlu (Own work) [CC BY-SA 3.0], via Wikimedia Commons
Near the entrance, you'll find that there are graves of Suleyman and his wife. Suleyman was a man who prioritized the dissemination of knowledge amongst the public, which is why he ensured there were madrasahs and universities for the people. He also wanted the mosque to be the center of the public life, thus he ordered for hospitals, hammams, cafes to be built.
Address: 
Sinan Aga Mah. Zeyrek Cad. No 4, Zeyrek, Fatih, Istanbul [caption id="attachment_10585" align="alignnone" width="1024"]
A small map for you to roughly estimate where the attractions are[/caption]
Credit: mappery
Istanbul has so many amazing things for you to explore. I stayed there for a week and I felt that there wasn't enough time! My family members and I stayed at an inexpensive hostel which was clean and comfortable. We mostly walked from our hotel to the attractions like the Grand Bazaar, Hagia Sophia and the Blue Mosque. But to the other places that were a little further, we took the tram (we really enjoyed walking even though it was tiring because we felt that it was a great way to explore the place). I hope this article inspires you to travel to Istanbul! It really is an amazing city, and I hope to go there again someday ?
[Check out our first-timers guide to Istanbul for things to do and what to eat!]