Malaysia.
A country bursting with delicious food that perfectly represents its cultural diversity ?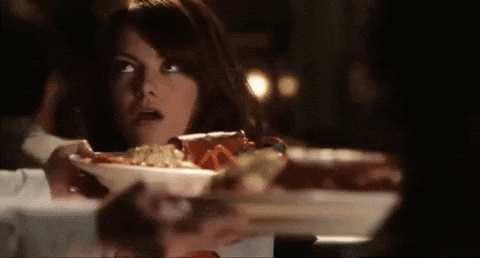 Credit:
giphy
Regardless of the time of day, be it in the morning, afternoon, or even in the middle of the night, there's tons of places to eat in this food heaven! Here's 10 food Malaysians absolutely love to eat for supper ?
1. Nasi Lemak
Considered as Malaysia's national dish, this coconut rice dish is often traditionally wrapped in banana leaves for added fragrance and flavour. It is served with a dollop of sambal and topped with fried anchovies, roasted peanuts, sliced cucumbers, and a hard-boiled egg.
Often thought to be a breakfast dish, this hearty meal is also popular amongst locals out for a late-night supper!
Must Visit Eateries
Medan Selera 223
Located in an industrial area, this food court houses quite a number of food vendors, including  Nasi Lemak Suri and Nasi Lemak Yatie. What makes these two particular nasi lemak eateries stand out is their sambal! Take your pick between Yatie's sweeter sambal or kick things up a notch with Suri's spicier sambal!
Credit:
@my.bt.1006
on Instagram
As any nasi lemak enthusiast will tell you, a good nasi lemak does not rely on its sambal alone - its other components such as the coconut rice and the condiments must be good as well. Fear not, my fellow foodie, for this is true for both of these eateries. You can expect fluffy, fragrant coconut rice with your favourite topping of freshly fried anchovies and ground peanuts ?
Address: 
Jalan 51a/223, Seksyen 51a, 46100 Petaling Jaya, Selangor, Malaysia
Operating hours:
 Daily, 24 hours
Contact:
Yatie - 0122660369, 0123250916 | Suri - 0162381261, 0123854541
Mali's Corner
Another crowd favourite for a steaming plate of nasi lemak in the middle of the night is Mali's Corner!
Credit:
@bibijohn23
on Instagram
Following a self-service concept similar to that of fast food joints where the food is prepared beforehand, it does not have a lot of side dishes other than fried eggs and fried chicken. But, word has it that their sambal is one of the best around!
Address:
No.9-1, Jalan Langkawi, Platinum Walk, Danau Kota, 53300, Kuala Lumpur
Operating hours:
 10am to 4am, Sunday-Thursday
Contact:
+60 12-433 8591 |
Facebook
2. Char Kuey Teow
Hearty and filling yet not too heavy on the stomach, this hawker staple is every Malaysian's go to supper. There are a few variations of it, but here in Malaysia, the most famous ones are dry Char Kuey Teow or wet Char Kuey Teow, referring to the amount of
kuah
or gravy used in the dish.
Credit:
@jack.all.trade
on Instagram
But no matter which one it is, a great serving of Char Kuey Teow is judged based on its combination of deep savoury flavours and smoky, charred aroma from all the stir-frying.
Must Visit Eateries
Sg Dua Char Kuey Teow
To a food lover, Penang needs no further introduction and the city is certainly known for its delicious char kuey teow! One such eatery which dishes cheap, yummy halal char kuey teow is Sg Dua Char Kuey Teow.
Credit:
@que_esq
on Instagram
Their char kuey teow is more on the wet (or
basah
) side and comes in three versions - regular, large, and special. The first two versions are different in terms of portions while the last one is topped with an additional fried egg.
Address:
3640, Jalan Sungai Dua, 13800 Butterworth, Pulau Pinang, Malaysia
Operating hours:
 5pm - 3am (closed on Wednesday)
Adam Char Kuey Teow
Another famous place for halal char kuey teow, this next eatery is always packed full of locals eager for a taste of their delicious, savoury char kuey teow.
Credit:
@fathehahazman
on Instagram
What made Adam Char Kuey Teow in particular a hit with the locals is their use of fresh, succulent prawns that perfectly complements the savoury dish.
Address:  
115, Jalan Permatang Pauh, Permatang Pauh, 13500, Pulau Pinang, Malaysia
Operating hours:
  Daily, 4pm - 4am
Contact:
+60 16-493 4149
3. Satay
Popularly referred to as
sate
in Malaysia,  satay are meat skewers that are grilled over hot charcoal.  Satay is typically made using chicken, beef or mutton and is served with a thick peanut sauce for dipping, together with compressed rice (
nasi impit
), fresh sliced cucumbers and red onions.
Credit:
@riobudi.m
on Instagram
Must Visit Eateries
Restoran Sate Kajang Haji Samuri
Most Malaysians would agree that the best type of satay in Malaysia has got to be Kajang satay. Known for its chunkier meats and aromatic marinade of turmeric, lemongrass, and other local spices, it sets it apart from the average satay.  And a place that dishes out good Kajang satay is none other than the popular Haji Samuri Kajang Satay!
Credit:
@madamsue94
on Instagram
With outlets all over the Klang Valley and one each in Port Dickson and Senawang, this is definitely one satay eating experience you wouldn't want to miss! Click
here
for a full list of outlets.
4. Burger
Malaysian burgers are known for being super juicy, a little messy but still finger-licking good ?  And with countless burger joints all over Malaysia, you'll never run out of options to choose from!
Credit:
@azizigosh
on Instagram
Also known as burger Ramly, what makes this street-styled burger different is how it's a combination of a well-seasoned patty that's smothered in tangy sauces. You can pretty much find it anywhere; by the Malaysian road sides or in housing areas.
Must Visit Eateries
Burger-Mbira Uptown
Tucked away in the dark alleys of Damansara, this burger stall is highly sought-after for its tender patties as well as homemade chili sauce which many have deemed to be extra spicy! You can also opt for the usual Ramly patties if that's more to your liking.
Credit:
@burger_mbira
on Instagram
Local favourites include Mega Big & Taste (two beef/chicken patties with two slices of chicken, lettuce, hash-brown, cheese, and sauces), Chicken Spicy Deluxe (a spicy chicken patty burger with the usual toppings and condiments) and Lamb Burger Special (an omelette-wrapped lamb patty).
Address:  
No. 56-84, Jalan SS 21/39, SS 21, Petaling Jaya, 47400, Selangor, Malaysia (in front of Uptown Damansara's food court)
Operating Hours:
7pm - 4am (closed on Sunday)
Contact:
017-365 6443 |
Facebook
|
Instagram
Brader John Burger
Located not too far from the previous stall, Brader John Burger is another go-to burger joint which offers a
large selection
of burgers to choose from, ranging from your usual chicken burger to the slightly-pricier lamb burger. Having been in operation for the past decade, this joint is famous for its secret special sauce that gives their burgers a slightly sweet yet smoky flavour.
Credit:
@jolybeandiary
on Instagram
Operating on a food truck, this place is always packed full of people, even when it's late at night! So, save yourself the hassling of queuing and order in advance instead.
Address:
Jalan SS 21/58, Damansara Utama, 47400 Petaling Jaya, Selangor
Operating Hours:
8pm - 4am (closed on Sundays)
Contact:
012-694 4154 |
Facebook
5. Roti Canai
Roti canai is an all-time Malaysian favourite regardless of the time of day. Served in most, if not all, mamak eateries in Malaysia, roti canai has become a staple food for Malaysians, given its light, fluffy, slightly crispy texture.
Credit:
@gideontan90
on Instagram
Roti canai comes in many forms; from your traditional roti canai to roti telur, roti tisu,, roti telur bawang, roti planta, roti bom and even roti pisang!
Must Visit Eateries
Murni Discovery
Or just plain 'Murni' as the locals call it, this eatery is a definite crowd supper favourite. Indulge in more unorthodox roti canai flavours like roti Hawaii (plain roti canai with minced meat, sausage, eggs, and pineapple) and roti Fujima (banana-filled roti with 2 scoops of ice cream on top).
Credit:
@culinary.escapade
on Instagram
Click
here
for a full list of their outlets.
Mansion Tea Stall
Want to try something slightly different from your usual roti canai? Then head over to Mansion Tea Stall and order their roti canai banjir special - two roti canai drowned in a thick mixture of dhal, curry and sambal with two half-boiled eggs on top!
Credit:
@eric.lah
on Instagram
Address:
No. 2, Ground Floor, Selangor Mansion, Jalan Masjid India, 50100 Kuala Lumpur, Malaysia.
Operating hours:
24 hours
6. Mee Goreng
This flavourful, and often spicy, fried noodles dish can be found in pretty much every Malay and mamak eatery in Malaysia. Another popular hawker staple, this meal is both a breakfast dish and a late supper meal.
Credit:
@kyspeaks
on Instagram
Traditionally made using yellow noodles, it is stir-fried with soy sauce and other ingredients of choice such as tofu, bean sprouts, and chunks of meat.  As with many noodles dishes here in Malaysia, it comes in two versions - dry, which is just called mee goreng, or wet (also known as mee goreng basah).
Must Visit Eateries
Hussain Mee Goreng & Mee Rebus
Located in George Town's Jelutong Market in Penang, this hawker stall has been in operation for the past two decades. Serving only two dishes, mee goreng and mee rebus, their mee goreng has been praised for its authentic use of a wok-hei, which adds a smoky flavour to the dish.
Credit:
@yangbaiyun
on Instagram
Address:
Jalan Jelutong, Jelutong, 11600 George Town, Pulau Pinang, Malaysia
Operating Hours:
 Daily, 3 pm - 11 pm
7. Soup
It might not be what one would expect when it comes to a supper meal, but a piping hot bowl of soup can be super filling! Versions include beef soup, mutton soup, bone marrow soup, mee soup and kuey teow soup. This dish is great for those who prefer something light and easy on the stomach.
Credit:
@silamakansayur
on Instagram
Must Visit Eateries
Restoran Sup Hameed
Do not let the modest exterior fool you as this is the place to go to for a comforting and flavourful bowl of soup in the middle of the night. Served with a couple slices of bread, their soup comes in many varieties such as chicken soup, mutton soup, oxtail soup, beef tornado soup, and mix soup.
Credit:
@awwenrashdan
on Instagram
Address:
48, Jalan Penang, George Town, 10000 George Town, Pulau Pinang, Malaysia
Operating Hours:
 24 hours
Contact:
+60 4-261 8007
8. Maggi Goreng Mamak
Maggi is a brand that has become so synonymous with instant noodles here in Malaysia. And as with any supper list, this list wouldn't be complete without the ultimate late-night guilty pleasure - instant noodles, or in this case maggi! When you're out at your local mamak, you definitely have to order maggi goreng mamak.
Credit: 
@sambal.lada.hijau
 on Instagram
As most Malaysians will tell you, maggi goreng mamak is different from your usual home-cooked maggi. Order fried eggs or fried chicken together with your dish for a more hearty supper!
Must Visit Eateries
Restoran Devi's Corner
To pick a mamak eatery that serves good maggi goreng mamak amongst the hundreds of mamak eateries here in Malaysia is a daunting task, but Devi's Corner is a strong contender. Famous for their banana leaf rice and nasi kandar, their maggi goreng is also a signature dish. Its savoury aroma and well-balanced flavours will have you coming back for more!
Credit: 
@andrwo
 on Instagram
Address: 
14, Jalan Telawi 4, Bangsar Baru, 59100 Kuala Lumpur, Malaysia
Operating Hours: 
24 hours
Contact:
 +60 12-267 6714
9. Western Food
Chicken chop, lamb chop, steak, spaghetti.. Malaysians sure love Western cuisine! For those craving for a filling meal, these Western dishes would be the first thing they'd order.
Must Visit Eateries
Steak Hut at Suzi's Corner
Suzi's Corner is a food court-style eatery that offers a variety of food from local favourites like nasi lemak and satay, to Western delights like chicken chop and fish steak. A hit with locals and tourists alike, their Western offerings have been praised for being delicious yet affordable.
Credit:
@mistar1217
on Instagram
Address: 
Jalan Ampang, Kampung Berembang, 55000 Kuala Lumpur, Malaysia
Operating Hours:
Wednesday to Monday,6pm - 11 pm (Closed on Tuesday)
Contact:
+603-4256 6720
10. Fast Food
This might sound a tad cliche, but fast food is undeniably a huge part of the supper scene here in Malaysia. 24 hour fast food joints are the every student's safe haven when pulling an all-nighter or to just chill with their friends.
Credit: 
@portalne10
 on Instagram
Must Visit Eateries
McDonalds
Who doesn't love McDonalds? This fast food branch is always coming out with new, interesting menu items and desserts like the recent Cendol ice cream and Banana McFlurry (yum!). Their spicy fried chicken is also a super popular menu item. Get it quickly though, because it often sells out quickly!
Credit:
@siskakurniawan87
 on Instagram
Check out this link for a full list of 
24 hour
 McDonald's outlets in Malaysia.
And that's all, my fellow food lovers! If there are more (which I'm sure there are) supper food that you wish to share as a fellow Malaysian, then please do so by commenting down below! Happy eating everyone ?