There is more to Malaysia than its gorgeous tropical islands and glorious multi-cultural cuisine! If you look closely, you'll find a lot of interesting activities to engage in to really get an authentic feel of the country, its landscape and its people ?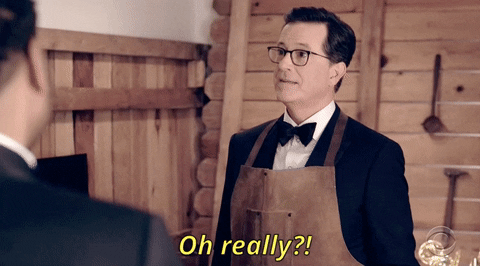 Credit: Giphy
From exploring wildlife in the middle of the city and spotting a mountaintop temple, take a break from your daily routine and try out some of these cool things to do in Malaysia!
1. Spot unique rock face and sea cliff formations along serene beaches
Credit: @jinruu on Instagram
Not many know that Miri's Tusan beach has its own unique cliff rock formations. This local favourite features sandy white beaches that stretch far along the coastline and some seriously stunning sunsets.
Credit: @malaysia.truly.asia on Instagram
The site is a haven for seashells and fossils which will tempt shell collectors and geology-enthusiasts to spend all day long here ?
Credit: @kencb7 on Instagram
If you're staying the night in town, you can also come to the beach when darkness falls to do some stargazing, as light pollution is at a minimum here. You might even witness the magical Tusan Tears, a bioluminescent phenomenon that makes the water glow blue! As you walk along the beach, the most beautiful set of footprints will form behind you ?
Credit: @malaysia.truly.asia on Instagram
 2. Float on bamboo rafts in tranquil turquoise freshwater lakes
Glamping (read: glamour camping) is the best way to get close to nature while still making sure you get clean showers and a good night's sleep! Tadom Hill Resorts provide this option within easy distance from KL. If you dream of experiencing
kampung
life, this is one way to do so ☺️
Credit: @tadomhillresorts on Instagram
This green eco resort has accommodations made entirely out of bamboo, inspired by Orang Asli Temuan culture from nearby Kampung Bukit Tadom. Facilities include all-bamboo dorm rooms, huts, campsites, proper showers, toilets, and
surau
prayer rooms!
Credit: Tadom Hill Resorts on Facebook
For meals, you can enjoy the house specialty, rice cooked in bamboo along with authentic local Malaysian dishes, yum ?
Credit: @willmyra on Instagram
Have a wild time with activities like ATV rides, flying fox, abseiling, volleyball, beach futsal and best of all, you can launch yourself into the Tadom lake from a 5m high diving platform, float on makeshift bamboo rafts or relax on the tree swings and hammocks. This place also has traditional
kampung
games you can try, like
congkak
and Chinese chess.
Credit: @abby.aziz on Instagram
Entrance fee:
RM22/pax for Day Pass, RM50/pax to RM150/pax per night
Website
3. Scale from one treetop to another in a heart-pumping obstacle course
With Skytrex Adventure, you can pretend you're jumping from tree to tree like you're Edward Cullen from the Twilight movies ? This zip line aerial obstacle course will have you right up there within the lush rainforest foliage of Malaysia.
Credit: @bruisedflamingopassport on Instagram
There are currently 3 Skytrex parks around the country located in Shah Alam, Melaka and Langkawi. If you have a phobia of heights, this may not be your thing... or it could just be how you overcome your fear! There are 3 different levels of challenges, the first one is suitable for kids and the other two are for adults.
Credit: @al_rumie on Instagram
The Extreme challenge is for the adrenaline-junkies and brave-hearted only! 17m tall tree towers are the bases you have to reach while walking on tightrope lines, zig-zagging wood planks, monkey bars, flying foxes and more.
Entrance fee:
RM48/pax
Website
4. Get cuddly with lovable furry farm animals in the middle of the city
An alternative to a day at the zoo, Farm in the City in Seri Kembangan is a place that lets you get up close and personal with a variety of animals such as alpacas, sheep, raccoons, mongoose, rabbits, tortoises, and birds in an open area.
Credit:
@jessieliaw on instagram
More like a petting zoo, this is a great option for children and animal lovers. As you enter Farm in the City you'll feel charming village farm vibes with all the roosters and turkeys running around ?
Credit: ladyhahn on Instagram
The animals roam free within large enclosures which mimic their natural habitat. When you come nearer to see what the animals are up to, they're just as curious to check you out! Cuddling with animals and feeding them sounds like the perfect therapy for dealing with some big city blues.
Credit: @edashaja on Instagram
Facebook
Entrance fee:
RM48 for adults and RM38 for kids below 12 years old. Discounts applicable for MyKad holders
5. See many of the famous mosques around the world in miniature form
Observe how different nations of Islam put influences of their culture into mosque architecture at Taman Tamadun Islam, also known as Islamic Civilisation Park, in Kuala Terengganu. The park is a spacious area located on a small island, where you can either walk or rent a bike to go around the attractions. There's also an air-conditioned special documentary screening room where you can learn about Islamic heritage and escape from the heat after walking under the scorching Malaysian sun.
Perhaps seeing the diverse shapes and designs of these mosque replicas will inspire you to travel to the respective countries and visit the real-life versions! Sadly, some of them are currently in war-zone afflicted areas so it will be tough to visit the actual sites, such as the Citadel of Aleppo and Masjid al-Aqsa in Palestine.
Make sure to also stop by the jewel of the town, the stunning Crystal Mosque where you can perform your prayers and make dua for fellow Muslims around the world ❤️
Entrance fee:
RM21.20 for adults and RM15.90 for kids 7 to 12 years old
Website
6. Experience a world without vision through sounds and textures
Something which most of us take for granted,
Dialogue in the Dark
provides a chance for us to experience a normal day in the life of the visually impaired.
Credit: Dialogue In The Dark Malaysia  on Facebook
Firstly, participants are introduced on how to use a cane, before proceeding through a gallery of darkness led by visually-impaired guides. The guides are familiar with this, so you're definitely in safe hands!
Credit: Dialogue In The Dark Malaysia on Facebook
Your other senses will come to play prominently as you go through a range of rooms fashioned after daily environment, such as a city street, a public park, a restaurant, a marketplace and even a boat ride. They have also organised Cuisine in the Dark, where Masterchef US 3 Winner Christine Ha was brought over to KL where she designed a culinary fine dining experience for diners to enjoy, in complete darkness.
Credit: Dialogue In The Dark on Facebook
A variety of sounds, scents, temperatures and textures will allow you to experience common situations from a new perspective. You'll come out with a shifted outlook on life, with gratitude for the senses Allah has blessed us with, and a newfound appreciation for how visually impaired people navigate through their daily lives.
Contact:
Ms. Lynn at 03-5891 6212
Email
 |
Website 
7. Feed and bathe with rescue elephants in the heart of the forest
Pahang's Kuala Gandah Elephant Sanctuary saves elephants from areas where their habitats are being intruded upon by urban development. Theirs is a dedicated team that detects, subdues and translocates the elephants from danger zones for rescue and rehabilitation, before relocating them to safer natural habitats such Taman Negara Pahang.
Visitors can come by to visit these gentle giants, feed them and even bathe with them in the river. Children will not want to miss this thrilling opportunity to get close to these beautiful creatures. To ensure that the elephants do not get stressed, there are only 2 scheduled timings for visitors allowed each day.
Website
Entrance fee:
RM10 for adults and RM5 for kids 7 to 12 years old. The sanctuary welcomes donations for the elephants' welfare.
8. Take a nature walk to seek the mysterious Crown Shyness phenomenon
FRIM stands for Forest Research Institute of Malaysia and it is located in the heart of Kepong, only 30mins from Kuala Lumpur. This place is a preserved area teeming with ancient rainforest trees.
Credit: @jaclyn ian on Instagram
With a hired guide, take the trek into this forest reserve, where you will encounter many species of local flora and fauna. At one point you will be told to stop at a quiet spot and to look upwards. Be prepared to witness the awe-inspiring view of crown shyness ?
Credit: C.K. Koay on Flickr
When borneo camphor trees grow to their maximum heights and don't like their uppermost branches' leaves touching each other, it creates an amazing jigsaw puzzle formation in the forest canopy. The visible sky becomes like a network of rivers and the tree canopies appear like green landmarks. It will feel like looking at Google maps satellite view in reverse!
Entrance fee:
RM5 per person or per car
Website
9. Ride in glass-floor gondolas up the mountains and into the sky
Since the closure of its original theme park, Genting Highlands' highly anticipated 20th Century Fox theme park is yet to be opened but there are still things you can enjoy up here, such as shopping at the Genting Premium Outlet and dining at the famous London franchise restaurant Burger & Lobster.
Credit: @jasonlimzs on Instagram
Enjoy the jaw-dropping view as you make your way up to Resorts World Genting via Awana Skyway's new glass floor gondola!
Credit: @santoso.lee  on Instagram
Whether you're on your way up or down the mountain, you wouldn't want to miss the midway point where you can explore the Chin Swee Caves Temple and its scenic surroundings (at no extra cost!). With views like this, you might even be fooled to feel like you're at the hilltop Kiyomizu-dera temple in Kyoto! Relish the cool weather and crisp mountain air as you take lots of picture-perfect snaps.
Credit: @pergidulu on Instagram
Website
Entrance fee:
RM50/pax
10. Explore deep into the hollows of the world's biggest cave chamber
Being Malaysia's biggest state, Sarawak has many hidden gems in its vast land. One such gem is The Mulu National Park. The biggest national park in the state, it's best known for being home to the world's biggest cave chamber.
Credit: @mentalcabaret on Instagram
The Sarawak Chamber is said to be able to fit forty Boeing 747 aircrafts in its cavity! Meanwhile, its Clearwater Cave is one of the top ten longest caves in the world, boasting a length of over 189km. A river with stunningly crystal clear water that runs through it.
Credit: @natgeo on Instagram
The other famous landmark of Mulu National Park are the amazing Pinnacles, a series of limestone jagged peaks at Mount Api. You can trek up the mountain to view the stunning geological marvel at the summit.
Credit: @bob.oonk on Instagram
If you're up for an unusual cultural activity, try taking the headhunters' trail where you can stroll along narrow paths leading to authentic villages of original decapitators of the Sarawakian traditions. Hard not to feel like Indiana Jones if you go on this trip ? 5 Day Entrance Pass fee: RM30 for adults and RM10 for kids 7 to 18 years old
Website
  There you have it, some suggested alternatives to the usual food-hunting fare and shopping mall bargain-hunting pastimes ? Do you know of any other awesome activities to do or any hideaway spots to visit that one rarely hears about in Malaysia? Share with us in the comments below!
Tags:malaysiatravel-guide