You only live once, but you can certainly renew your bucket list each year ? It's time to give London and New York a miss this year, and add new destinations to the list. In a world of perpetual change, explore and reinvent yourself in lesser-known terrains and experience what it truly means to be a wanderer in an exotic land.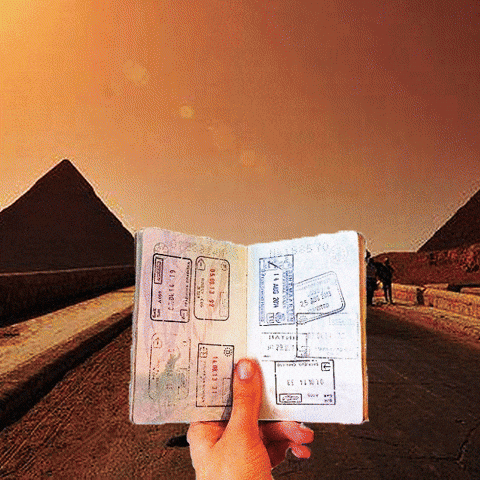 Credit: Giphy[P.S For more incredible destinations to add to your bucket list, check them out here!]
[inlinewidget id=35811]
1. Cape Town, South Africa
Waddle with your favourite penguins at Boulders Beach for an unforgettable 2018. Lay on the soft, white sand amidst the aquatic birds for a totally cool Instagram shot. While you may get stunning views of crystal clear waters and bright blue skies in other beaches around the globe, have a total Madagascar encounter in South Africa, the home to many exquisite animals roaming the lands ?
Credit: anwa2000 on Instagram
Painted in kaleidoscopic colours, houses in Bo Kaap take a life of their own. Vibrant two-storey homes belong to a large number of Muslims, raising no doubts as to why Cape Town is such a beloved travel destination for many. With nine mosques in sight, hear the soothing call to prayer from the minarets as you saunter through the gorgeous town. Feel your spirits lift as the rainbow-like colours draw you in and the residents greet you with a 
salam ☺️
Credit: revista_v on Instagram
Make a trip to the Bo-Kaap Museum to learn about South Africa's Islamic heritage, from handwritten Quran scriptures to historic Turkish scholars. Or stop by Muizenberg Beach for a day of relaxation while taking a stroll by colourful Victorian-era beach huts!
Credit: Sara ManserWild on Facebook
Hike to the top of Table Mountain for a panoramic view of the entire city or board the cable cars for a easy ride to the peak. The lingering fresh air in the mountainous tops will have you marvelling at the beauty of natural creation.
Credit: lostonadventure on Instagram[P.S Need more reasons to visit Cape Town? We'll give you 13 more!]
2. Colombo, Sri Lanka
Set out your mantra for 2018 with an easygoing vibe! Sri Lanka's perfect for those casual walks on beaches, or the striking urban sprawl landscape. An infusion of past times and a present metropolis, explore the verdant fields of tea plantations, wander around The National Museum of Colombo or bring your credit cards for a day of shopping in Majestic City or The Crescat Boulevard.
Credit: theyogalust on Instagram
While the multi-cultural city has people from all walks of religion, the Muslim community's presence makes food-hunting a breeze. You won't have a problem finding halal fast foods or diners owned by fellow Muslims. As many travellers seek peace while on a journey away from home, its the ideal time to head over to Dawatagaha Mosque or Jami-Ul-Alfar Mosque and spend a moment talking to your Lord.
Shown here is the Dawatagaha Mosque
Credit: UCAN Sri Lanka on Facebook 
3. Jordan
Pay homage to tombs belonging to ten of the Holy Prophets and the companions who stood by our Prophet Muhammad, and you'll feel instantly humbled. Home to the archaeological site of Petra, or Rose City, you can't give this place a passover. Tombs are carved into pink sandstone cliffs, giving off a reddish-pink hue. Called one of the new seven wonders of the world, its time to skip the Eiffel Tower for a shot of love in this Rose City ?
Credit: Jose Luis Canales on Flickr
Perhaps, the country's unparalleled beauty is most recognisable by the Dead Sea; certainly on most traveller's little black book. With mountains on one end and hills of Jerusalem on the other, its difficult to compete with a scenery like this. Waters that enter the Dead Sea evaporate and leave behind a cluster of salts and minerals that tourists can now revel in. Submerge yourself in the salty, mineral-rich waters that Cleopatra herself bathed in and watch it work its magic on you ? Let your tired skin rejuvenate, and shower your heart with appreciation for the universe.
Credit: tsaiproject on Flickr
4. Nagano, Japan
Make pretty snow angels as you lie on a blanket of white, fluffy snow or push yourself to go skiing in the wilderness ⛷ Don't worry, the soft, powdery snow will catch you ? Choose your stay in the multiple ski resorts that have pork-free and alcohol-free menus and dine with leisure.
Credit: hakuba_sunvalleyhotel on Instagram
The Hakuba Sun Valley Hotel for one, is situated directly in front of the Hakuba Goryu ski slopes and the beef, chicken and seasonings are prepared according to Halal certification for Muslim travellers to enjoy.
Credit: Muslim Friendly Project in Japan on Facebook 
Or, warm yourself in the selection of hot springs, from a full soak to foot baths! There's private open-air indoor baths specially for you or a chartered open-air bath that allows you to lock the door so other guests know someone's using it. That way, you'll get the privacy you need as you take a dip in the warmly heated natural spring water.
Credit: Selected Onsen Ryokan (Japanese-style inns and hot springs) on Facebook
It's the perfect alternative for those who shy away from public baths! Or, the foot hot springs may be where you put your feet down. Warm your entire body with the sensation seeping from your toes and what's even 
cooler
 - they're free of charge! Try the foot baths at Kamisuwa Hot Springs overlooking the Lake Suwa or Hakuba Station's Hot Spring, a well-liked place for tourists to rest their feet ☺️
[P.S If you're planning a solo trip to Japan, this list will help you out!]
5. Malta
You may not think much of a country with a Muslim community making up only 2% of its entire population. But this jewel city is fast becoming one of the most Muslim-friendly destinations in the European continent! With aplenty of Halal food options (more than 10 in the city of Valetta alone!), a local mosque and gorgeous private villas built within confined walls, it's the dreamland for any Muslim wanderer. With stunning coastlines and constant sunny days, this haven for beach bums will leave your heart to melt instantly ?
Shown here is the Golden Bay beachCredit: ourson_patisson on Instagram 
Take a walk to the Middle Ages as you saunter through the Medieval Mdina. Cobbled streets and towering walls cater to only 300 residents living here, which makes the entire town an even more intimate setting.
Credit: Fontanella Tea Garden on Facebook 
 A place like no other, be transported back to the days of dungeons and dragons as you put on your Victorian robes ?
Credit: nelly_f_coutinho on Instagram 
6. Muscat, Oman
An air of mystery borders this beautiful Middle Eastern country. While not as infamous as the pyramids in Egypt or the mosques in Turkey, wanderers with a thirst for new voyages must include Oman in their bucket list. Consider the hidden gem of the Arabian soil as a diamond in the making, where the oldest fort in Bahla lies and a 2000 year old water system, Falaj Darris continues to exist. Falaj Darris, located in Nizwa is also where you'll see lines of tourists prying for a stunning shot against the Nizwa Fort backdrop. The Omani architecture was originally built by imam Al Sult bin Malik Al Kharusi as early as the ninth century before being renovated by another imam in the 17th era. With Islamic culture deep-rooted in Oman, you'll be intrigued by the way religion influences form.
Shown here is the Nizwa FortCredit: zehrace on Instagram
Stroll down the Mattrah, the main port for passing ships, and head over to the souk for an array of rugs, silver, spices and even gold. Head to the town of Misfat Al Abriyeen for a peek into the olden day tribes and how the Arabs used to live. With date fruit trees and scenic views of lush greeneries, you'll see a sight of Oman like never before ?
Shown here is the Misfat Al Abriyeen Credit: antho6891 on Instagram
Home to the third biggest mosque in the world, the Sultan Qaboos Grand Mosque was a beloved king's gift to his nation during his 30th year as a monarch. The Persian carpet adorning the majestic interior took 600 women and four years to weave by hand. With over 20,000 Muslims being allowed in the mosque, imagine performing your prayers with the rest of your brothers and sisters. It'll sure to ignite a sense of brotherhood as you bow down in prayers to one Lord ?
Credit: mike-mojopin on Flickr[P.S Find out why Oman's truly the gem of Middle East!]
7. Taipei, Taiwan
Off the coast of China, Taiwan is brimming with new opportunities for Muslims to visit its shores. With two halal boards, expect a selection of sumptuous meals from Moroccan cuisines, Indonesian delights and authentic Chinese noodles. Whatever your tastebuds' craving for, rest assured you won't go hungry here ? Stop by the Taipei Grand Mosque, the largest and widely known worship ground for Muslims. The iconic landmark is impossible to miss; the massive domed roof gives it away. What's more astonishing is that the 15-metre high dome stands tall without any beams ? Before you start having shivers down your spine, the mosque has been around since the 1960s and has withstood the test of time. Embellished with handmade Persian rugs and chandeliers gifted by kings from other countries, its a unique testament to the importance of Islam in this region.
Credit: noyamuimui on Instagram
You can't leave Taiwan without a stop at the Taipei 101 Tower. While it may have lost its crowning glory as the tallest building to Burj Khalifa, it's the tallest, most environmentally-friendly building in the world ? An icon of Taiwan's modern landscape, the piercing skyscraper is worth a ride to the very top ?
Credit: scottharris0412 on Instagram[P.S First time in Taipei? Follow our itinerary for a holiday to remember!]
8. Seville and Granada, Spain
Rich in history, the Giralda Tower was built based on Islamic architecture, inspired by the famous Koutoubia Mosque in Marrakesh. A former minaret from the Almohad era, the muezzin would have to ride his horse to the top to make the call to prayer! Now, while the tower no longer stands for that purpose, remnants of Almohad art can still be appreciated for its history.
Credit: Ana Rey on Flickr
Don't leave Spain without a stopover in Granada. Spend the day like royalty at Alhambra Palace (or the Red Castle), perched atop the al-Sabika hill. The stroll amongst the gardens will wash away your worries and leave you with a content heart.
Credit: Komail Naqvi on Flickr[P.S On a hunt for authentic Spanish cuisines? We got you covered!]
Credit: polabur on Instagram
9. Zurich, Geneva and Bern, Switzerland
Snowcapped, alpine mountains and crystal clear blue skies are the very reasons why Switzerland is a painting you wish to keep forever ❤️ The alluring city of Zurich is home to the breathtaking Zurich Lake, where the eastern end of the vast lake lies a "rose town" of over 15 thousand blooming roses of 600 variants. You'll feel as though time has frozen while you bask in the scenic floral setting that seems too pretty to touch ?
Credit: Zoi Koraki on Facebook 
Find an array of shops and galleries throughout the streets and beam with awe as the glimmer from the crimson Sun creates the perfect picture to seal in your hearts.
Credit: MY 7th Wonders on Facebook
The waterfront's boulevard paves the way for the quaint Old Town (Altstadt) where a medieval castle stands majestically, and 19th century architecture is proudly visible.
Credit: Tambako The Jaguar on Flickr 
From one castle to another, head to Taj Palace to satisfy your fix of Indian spices or dig in to Mediterranean and Turkish fares at SILA's modern fast food diner.
[P.S For more info on food and other tips in Switzerland, check out our guide here!]
The land of Swiss Cheese is also home to one of the tallest fountains in the world, Jet d'Eau in Geneva! Situated in the heart of Lake Geneva, its grand splendour is a sign of power to behold, where the strong engines will pump 500 litres of water every second! Like a water jet, it'll shoot up to a whopping 140 meters ?
Credit: deniz.korkmazer on Instagram
While many may assume Zurich or Geneva as the capital states of this homeland, it's actually Bern! The Old Town is a UNESCO World Heritage Site, and Bern also houses one of the more prominent mosques -Masjid-Ul-Qghair. Well, if Cape Town has penguins, Bern has bears. Visit the new bear park, home to adorable furry, brown creatures in caves, hilly terrains and rivers! The Bern bears are a major sight attraction for visitors hunting for an eye-catching holiday ?
Credit: Kotomi_ on Flickr[P.S For your first-timer's guide to conquering Switzerland, this guide will help you out!]
10. Zanzibar, East Africa
Make 2018 the year of new odysseys. Zanzibar, an archipelago off East Africa has a large number of Muslims inhabiting the cluster of islands. Truly, the home to irresistible beaches will have you bringing your passports along and checking in to paradise, right here in Zanzibar. With THE Indian Ocean as your waterfront, forget beach holidays and let the turquoise-blue waters of the ocean be your only view for the next couple of days. Picturesque fishing villages paves the way for a simpler life, and as you wind down from metropolitan landscapes, take a moment to recharge your soul and set your goals for the rest of the year.
Credit: The World on Facebook 
Stone Town, the cultural force of Zanzibar, is where you can expect lively bazaars, lavish Arab housings and meandering alleys. Crowned the UNESCO's World Heritage Site, Stone Town is a spectacular voyage to the 19th century where Zanzibar played a vital role in trades. Here, you'll also have the chance to see the town in its original and restored form, giving visitors a different perspective to the otherwise coastal paradise.
Credit: zanzibarguide on Instagram
10 otherworldly destinations for your wanderlust travel catalogue. Chalk-coloured houses in Cape Town, steaming-hot natural springs in Nagano, lavish mosques in Oman and breathtaking islands in Zanzibar are among many others on the list. Its a pity to give these places a miss, especially when they're so Muslim-friendly! Take off and let 2018 be the year you get lost in bliss, only to find yourself once again in these nirvanas ? [inlinewidget id=35811]
Tags:travel-guide