Let's be real. As a Muslim in today's political climate, I'm sure we've all had times where we avoided traveling too far from home in fear of racist confrontation. I know I have! I avoided the outside world for a while after feeling like it was too dangerous for me. When I realized what I was doing, I refused to let fear keep me from living. And that was how my year long, soul-searching adventure began. The world IS mostly a safe place and you CAN travel. And there are so many wonderful places that are striving to cater to you and make you feel welcomed.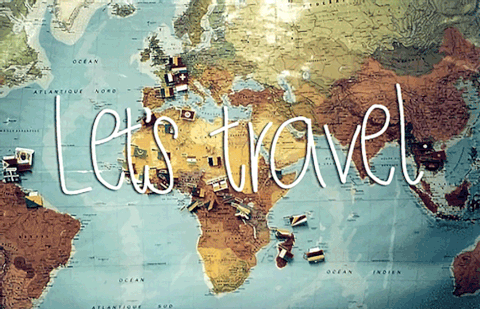 Credit: giphy
We've put together a list of emerging Muslim-friendly destinations that are all about making you, our awesome readers, feel right at home. Give it a look and go out into the world, fearlessly. Live and let live!
1. Baku, Azerbaijan
Baku is the capital and largest city of Azerbaijan, and also, the largest city on the Caspian Sea! Located in the Caucasus region, you'll get so much history and culture in one-go! It should be noted that the cosmopolitan vibes are comparable to the likes of Paris and Dubai. From cobblestone squares to seaside promenades, there's just so much to experience.
And let's not forget the mosques! The Muslim vibes are everywhere. From awesome halal eats to ease in finding prayer spaces like the Blue Mosque, this place is at the top of our list of Muslim-friendly destinations!
Credit: oia9 on Instagram
2. Almaty, Kazakhstan
Kazakhstan has been among the world's top 20 Muslim-friendly destinations this past year, with Islam being the largest religion practiced in the country. So, you definitely won't have much trouble finding delicious halal eats and prayer spaces within Kazakhstan.
Credit:  alimbek_ulan on Instagram
Let's focus on Almaty. It's the biggest city in Kazakhstan and reminiscent of Europe with its leafy green avenues, shiny shopping centers, and scenic views. Check out the Kok-Tobe Hill for dope views and stop by Medeu for some skiing enjoyment. There's lots to see, do and eat! The food is amazing here! Check out 
Tyubeteika
 for a nice family style meal.
[ P.S. Here's 10 other epic Muslim-friendly destinations you can add to your 2018 travel bucket list! ]
3. Tehran, Iran
It seems like there's always some sort of sanction involved with travel to Iran and that freaks most people out. Thus, we take Iran off our bucket lists and watch the dream die as each day passes.
Credit: daniyal62 on Flickr
Tehran has become a favorite destination for the fellow-globe trotter mostly because of it's incredible offerings of architecture and design. There's so much to see and do like making a visit to the 19
th
century Golestan Palace, skiing at the igloo-inspired Barin Ski Resort in the mountains, or taking a much needed re-centering break at the Sepahsalar Mosque.
Credit: Diego Delso on Flickr
#HHWT Tip:
Since Iran is a majority-Muslim country, make sure to try out all the halal foods possible! Some famous Persian delicacies are Fesenjan and Sabzi Palou. You'll thank me later!
[ P.S. Still not convinced? Here's 10 reasons why Iran will win your heart! ] 
4.  Malta
This island nation is found in the Mediterranean Sea, a few miles south of Sicily. Malta has some of the most beautiful waters in Europe and amazing, warm weather year-round. Just throw on your burkini or your knee-length shorts and take a swim in the Golden Bay. Doesn't that sound wonderful?
Credit: visitmalta on Instagram
Make a stop at The Islamic Centre of Malta, which is in Paola. Do your wudhu (ablution), say your prayers and re-energize before heading out to all the wonderful sights in store! You and your Muslim travel pals will have lots of places to choose from for halal eats.
Credit: msadiguzel on Instagram
There's Mamounia in Sliema which is owned by Muslims – YES to supporting Muslim businesses – and then there's the Intercontinental Hotel in St. Julian's where they offer halal options. We do recommend you checking before ordering at the hotel because, you know, things can change. But last we checked, it's totally Muslim-friendly.
5. Pula, Croatia
Croatia is definitely a country that should be on everyone's radar! Known as one of the most popular beach destinations in all of Europe, this up-and-coming hotspot is full of rich history and idyllic islands that will keep you in a constant state of awe. Historically speaking, this country has seen its fair share of conflict – especially involving Muslims! We all know about tensions between the Serbs, Croats and Muslims from a few decades ago, but a lot has changed. Croatia has seen an incredible rise in stability. And with that comes tourism - it's projected to increase significantly in 2018 and in the years to come!
Check out Pula, which is the largest city-town in the county of Istria. It's incredibly calm and slow-paced. Though there isn't a plethora of advertised halal spots or Muslims – you'll find that the natives are incredibly welcoming and accommodating. I traveled to Pula with family and everywhere we went, we met Croats with open arms. Restaurants would even offer us halal meat if that was something we wanted, seeing that we were wearing hijabs and adhering to the Islamic dietary restrictions. So much thoughtfulness!
There's a mosque you'll find in Medzlis Islamske Zajednice Pula at L. Da Vinci 11. This center serves the small Muslim community living in the city and holds the five daily prayers. Connecting with the people here can help direct you to awesome halal food spots and scenes while traveling Pula. Click 
here
for more info!
[ P.S. Check out these 12 delightful destinations  you can visit for every month in 2018! ] 
6. Dakar, Senegal
Where shiny SUVs fit their way through narrow sand roads and horse-carts can be found rolling on major highways, Dakar is a city of fascinating extremes. A visit to the Village des Arts and IFAN Museum will have you appreciating the creativity and culture produced by the Senegalese people.
Credit: Evgeni Zotov on Flickr
Go out to the Island of Ngor for a dip in the water and then on your way to your home-away-from-home, stop by the Grand Mosque of Dakar for a conversation with God.
Credit: ManuB. on Flickr
And the food! Because Senegal is a majority-Muslim country, finding great halal food options is as easy as finding air to breathe.
7. Manila, Philippines
The Philippines has won spot number 7 on this list because of all the awesome sights this country has to offer as well as being super welcoming to Muslims. But even more so, Philippines has won our hearts because it has become a foodie heaven!
Credit: Alexander Synaptic on Flickr
The food scene has strong influences from the long history of Japanese, Spanish and American colonialism as well as influences from other migrants! There's all kinds of delicious eats you can find here from Peruvian to Persian and Chinese to Japanese! Make sure to swing by Gilak By Hossein and the Halal Guys during your visit to Manila.
Credit: @maxieissuper on Instagram[ P.S. Check out these other halal eateries in Manila! ]
8. Lisbon, Portugal
Ah we love Lisbon! A vibrant and charismatic city of Western Europe, Lisbon has a good mix of traditional heritage and modernism. Also, this great city offers exceptional value on food, drink and travel.
Credit: paabloestevez on Instagram
Grab a halal bite from one of the many Turkish or Arab restaurants that fill this city. 
Restaurant Marrakesh
 is a traveler favorite! After your stomach is full, make sure to stop by the Palácio da Pena for some awesome sightseeing and walk through the Rua Augusta!
Credit: geldofsimon on Instagram
9. Panama City, Panama
In recent years, Panama has emerged as the next
it
destination spot. Panama City is comparable to Miami in that the financial hub shines with a skyline of glass and steel towers and gleams with modernity. But even with all that's new in this city, there are preserved areas that will give you old school New Orleans vibes with its cobblestone colonial quarters!
Credit: Guillaume Baviere on Flickr
There are very distinct groups of Muslims here that have contributed to the diversity in this region: Indian and Bengali Muslims as well as Arab Muslim immigrants from Lebanon, Palestine and Jordan. And because of the presence of these groups, Panama City has become a Muslim-friendly place to visit.
Credit: Musulmanes Al Haqq Panama on Facebook
There are halal eats and Islamic centers for you and your Muslim buddies to check out. Make a stop at Musulmanes Al Haqq Panama to meet some local Muslims who can tell you more about the Muslim vibes in their city.
10. Tbilisi, Georgia
This destination is on our 2018 wish list! And now, I know you may be thinking, why would you go here when there has been a long history of conflict with neighboring Russia and some shoddy infrastructure, but let me tell you that this country is building itself up to be the next hotspot tourist location!
With much time, money and energy being invested in its tourism industry, Georgia has much to offer its visitors. From incredible hiking trails to old school churches like the 14
th
 century Gergeti Trinity Church, there's so much nature and beauty to take in.
Credit: Levan Gokadze on Flickr
Historically, Tbilisi has had periods of Persian and Russian rule which has provided the city with diverse architecture. This city has lovely churches as well as mosques for our fellow Muslim travelers. On the way to Narikala Fortress, make a stop at the historical Jumah Mosque. It's a highlight of the Old Town!
[ P.S. Every budget traveller should explore these 8 dreamy destinations in 2018! ] 
With so many Muslim-friendly destinations that are emerging all over the world, we hope you're inspired to make your way out of your hometown and perhaps, find yourself at one of the 10 vacation spots we just shared with you. Put on a massive smile and go into the world with confidence!
Tags:travel-guide