[Updated 22 July 2019]
So, Seoul has been awesome and all. From the bright lights of vibrant city life to the amazing food and unbelievable shopping, you'd think that you've seen and done all that South Korea has to offer.
Credit: Giphy
But perhaps, there might be more? Squeeze in a day trip outside of Seoul to soak in more of South Korea before heading home! Here's 10 Seoul day trip ideas for your next Korean adventure ?
1. Paju Book City
You know how they say that reading is a form of traveling? Well, get a double dose of traveling as you read through the books when you visit Paju Book City. Similar to the other book towns all over the world, Paju Book City is a hub of all things literary – from publishing houses to bookstores to book cafes.
Credit: 
@amandachong
 on Instagram
Do check out the Forest of Wisdom, a spectacular library open to the public and be awed by the floor-to-ceiling shelves of books.
Credit: 
@christiany.schmidt
 on Instagram
Explore the minimalist architecture and quirky sculptures as you walk along the streets. Be inspired by the literary surroundings to pen down your travel thoughts ?
Credit: @lylastudio on Instagram
How to get there
: Take Seoul Subway Line 3 to Hapjeong Station and take exit 2. Board bus no. 200 and alight at Paju Book City Bus Stop
Address:
 145, Hoedong-gil, Paju-si, Gyeonggi-do
Hours away from Seoul:
2 hours
2. Demilitarized Zone (DMZ)
Marion Kelly, daughter of Professor Kelly from that now infamous BBC interview, basically became a political influencer by getting people to actually read up on the political situation between North Korea and South Korea. Travelling isn't just about having fun but also a chance to learn more about the world. Grab the opportunity to step into North Korean territory in the DMZ!
Credit: 
@krispehkreme
 on Instagram
You can only way to enter the DMZ by joining a tour. Different tour packages will have different combinations of sights to see such as the infamous Joint Security Area, which is basically where you can physically step foot "in" North Korea, and the Infiltration tunnels to name a few.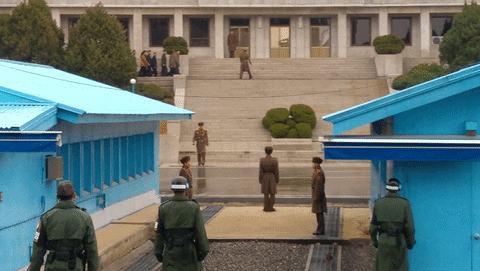 Credit: Giphy
Credit: @jasskiz on Instragram
Panmujom (JSA) tour
 by Panmujeom Travel Center offers a rare chance to interact with a North Korean refugee and reflect on the lives of others during your travels. Do take note that tours need to be booked at least 3 days in advance.
3. Jeonju
Tired of modern Seoul? Step back in time in the traditional hanoks of Jeonju Hanok Maeul (village). In fact, why not go all out and don a hanbok for the rest of your day trip?
Credit: 
@puluvseoul
 on Instagram
Credit: 
@pinksalbarina
 on Instagram
Take a walk in Jaman Mural Village and admire the whimsical drawings all around you! Desiring a unique souvenir to bring home to family and friends? Jeonju's Hanji paper, which is handmade from the fibrous bark of mulberry trees, makes a perfect gift.
Credit: 
@yeoju.yoon
 on Instagram
Still not sure if Jeonju's worth the trip? Here are 
more reasons why it is
!
4. Nami Island
Personally, I am not a K-drama fan but I must be blind if I can't see how beautiful Nami Island is! It feels like being in a picturesque oil painting of nature as you wander through the island.
Credit: @ronzstagram on Instagram
Sign up for a 20-minute tour by hopping on an electric tour bus. If you prefer to explore on your own, there are bicycles for rent too!
BONUS! Take a side trip to Petite France
Fans of the popular classic book "The Little Prince" can visit the French-themed Petite France village to enjoy the cafes nestled in the many colourful buildings. Regain a sense of serenity on this quaint island!
Credit: @cammsation on Instagram
You can board a Gapyeong City Tour shuttle bus that brings you for the 5-minute journey from Nami Island to Petite Island. Tickets are bought from the driver.
Credit: @rinahanika on InstagramP.S. Want to visit Nami Island but don't know where to start? Let us hook you up with our pro-guide!
How to get there:
 Take the metro to Yongsan Station. From Yongsan Station, take the ITX-Cheongchun train to Gapyeong Train. To save time, it's recommended to book your ITX train ticket online first. At Gapyeong Station, board the Gapyeong Tour bus to Nami Island Station and then walk to Gapyeong Wharf. From there, you can zipline or ferry to Nami Island.
Address:
 1 Namisum-gil, Namsan-myeon, Chuncheon, Gangwon-do, South Korea
Hours away from Seoul:
2 hours
5. Bukhansan National Park
Bukhansan is known as big mountain in the north for a reason. It's basically situated right outside the north of Seoul. Having tasted the trappings of sleek Seoul, escape back to the nature in Bukhansan National Park.
Credit: @laugonlem on Instagram
Credit: 
@wheremileswander
 on Instagram
There are several hiking trails to choose from though the most popular one is undoubtedly Bukhansanseong Course. Hiking on this course brings you to the pinnacle of Bukhansan National Park, that is, Baegundae Peak. Rated a 
Grade C
 from a possible range of Grade A to Grade D, the trail is relatively easy and doable. Nevertheless, do go prepared with proper gear!
Credit: 
@jft99
 on Instagram
Break a sweat and end your Seoul trip at the top!
How to get there:
 Take Seoul Subway Line 3 to Gupabal Station and take Exit 1. Board bus 704 in the direction of Bukhansanseong Fortress and alight at Bukhansan Mountain entrance bus stop, which is 6 stops away.
Address:
 262 Bogukmun-ro, Jeongneung 4(sa)-dong, Seongbuk-gu, Seoul, South Korea
Hours away from Seoul:
1 hour
6. Suwon
If you still would like to hike but in a less outdoorsy place, why not circle the 8 km long wall route of Hwaseong Fortress?
Credit: 
@dconvertini
 on Instagram
Marvel over this historically significant UNESCO World Heritage Site as you retrace the steps of the people that lived during the Joseon dynasty. Continue your historical tour over at the Korean Folk Village and discover the traditional lifestyles of Koreans in the past. If you've had your fill of dynasties, head on over to the quirky Haewoojae Museum, otherwise known as Mr Toilet House. It was built when Mr Sim Jae-duck founded the World Toilet Association.
Credit: 
@beatrizvp
 on Instagram
Credit: 
@lily.svg
 on Instagram
Explore the world of toilets and appreciate the beauty of an easy flush hehe! Take tongue-in-cheek pictures with the hilarious statues.
How to get there:
 Take the KORAIL from Seoul Station to Suwon Station or Subway Metro Line 1 for a cheaper option.
Address
: Suwon-si, Gyeonggi-do, South Korea
Hours away from Seoul:
35 minutes by train
7. Seonyudo Park
Did you know...Seonyudo Park is South Korea's first ecological water park? Formerly a water purification plant, this park now boasts many attractions to fill an entire day. Lovers of knowledge will appreciate the numerous educational exhibitions on the local ecosystem and how the former water purification plant was transformed into the park. The best time to visit Seonyudo Park would be in autumn!
Credit: @newnoiizz on Instagram
Stretches of pristine grassland overlooking the Han River make for an ideal picnic place! Or take in the fresh air on a bicycle ride. Seonyudo Park is a wonderful place to kick back, relax and enjoy the tranquil moments of everyday life.
Credit: 
@onlyonehansol
 on Instagram
How to get there:
 Take Subway Line 2 and alight at Hongdae Station. Exit from Exit 2 and go the nearby bus station (bus stop ID 14-016) to board bus 603, 760, 5714 or 7612 and drop off at Seoyundo Park (bus stop ID 19-277)
Address:
 343, Seonyu-ro, Yeongdeungpo-gu, Seoul, South Korea
Hours away from Seoul:
40 minutes by train and bus
8. Ansan Multicultural Food Street
In such a globalized world, it's hard to believe that an entire country can remain completely homogenized. To see another side of South Korea, one that's more diverse, head on down to Ansan Food Street which is located in the self-proclaimed multicultural city of Ansan.
Credit: 
@yunhur
 on Instagram
Credit: 
@qquyet94
 on Instagram
Take in the sights and smell of this authentic and un-touristy part of South Korea. After all that street exploring, fuel up at muslim-friendly eateries such as Batavia Indonesian Restaurant or Warung Kartini for some Indonesia fare. Or, try some Central Asian cuisine at Samarkand which serves Uzbekistani food.
Credit: 
@mantoskareshukiii
 on Instagram
Pay a visit to Masjid Sirothol Mustaqim Ansan afterwards for your prayers! Yes guys, stay on the Straight Path even when you're travelling all around the world ;)
How to get there:
 From Seoul, take Subway Line 4 and alight at Ansan Station. Take Exit 1 and head towards Ansan Multicultural Village Special Zone.
Address:
 Damunhwa 1-gil and 2-gil, Wongok-dong, Danwon-gu, Ansan-si
Hours away from Seoul:
1 hour train ride from Seoul Station
9. Provence Village & Heyri Art Village
Two out of three cultural villages in Paju City, Provence & Heyri Art Village are the perfect combination to fill your day! Make your way to Provence Village first, where colourful buildings greet you. Here is where you can kick-start your modelling career and go picture-crazy!
Credit: 
@joiseu
 on Instagram
Still haven't done your souvenir shopping? Fret not! Peruse the beautifully crafted gifts in the Living Gallery shops. Bring home a cool interior deco item to mark your time spent in South Korea!
Credit: 
@yurip_gram
 on Instagram
Nearby is Heyri Art Village. It's easier and much faster to take a short cab ride from Provence Village to Heyri Art Village. Wouldn't want to waste time getting lost, now would we ;) Soak up the artistic vibe given off by the cool structures on the streets  and uniquely designed buildings.
Credit: 
@steffi26
 on Instagram
There are several museums and galleries to check out,  such as the Museum of Musical Instruments of the World and the striking Keumsan Gallery, where the trees grow out of its walls.
How to get there:
 Take Seoul Subway Line 3 to Hapjeong Station. Take bus #2200 and alight at Seongdong Intersection. It is about 15 minutes walk to Provence Village.
Address:
 82-1 Seongdong-ri, Tanhyeon-myeon, Paju-si, Gyeonggi-do, South Korea
Hours away from Seoul:
2 hours
10. Edelweiss Swiss Village
Finding time to travel is a luxury these days especially with our hectic lives. So why not take a chance to visit another "country" in South Korea? Edelweiss Swiss Village is reminiscent of Switzerland, with the picturesque mountain views and Swiss-style buildings.
Credit: @shimhanloonon Instagram
Learn all about Switzerland in a fun & interactive way at the Switzerland Story building. Check out the uniquely Swiss icons such as the Swiss chocolate at the chocolate museum or indulge in a bear hug at the Santa Village!
Credit: @hye_wa_dal97 on Instagram
End your day at Edelweiss Square to take one last sweeping view of the mountains and village!
How to get there:
 A free shuttle bus is only available on weekends & public holidays. Take the subway to Cheongpyeong station. The shuttle bus will at Gate 2. Do note that the last shuttle leaves the village at 5.30 pm so plan accordingly! Getting a taxi from Edelweiss Village might be a tricky.
Address:
 226-57 Darakjae-ro, Seorak-myeon, Gapyeong-gun, Gyeonggi-do, South Korea
Hours away from Seoul:
3 hours
11. The Garden Of Morning Calm
Picture yourself wandering amid the vibrant flowers and lush trees of the Garden of Morning Calm. A beautiful sightseeing spot that evokes a sense of serenity, the garden is detailed with pathways that will lead you to 27 themed gardens. Their famous gardens include the Road to Heaven, Moonlight Garden and Korean Theme Garden.
Credit: @elenatravelbox on Instagram
It's challenging to resist taking snapshots with these beautiful florals, so take this opportunity to prettify your Instagram feed with it.
Credit: __1ina on Instagram
How to get there
: Start your journey from Seoul and take the subway train to Cheongpyeong Station (Gyeongchun Line, Exit 1). Walk to the bus stop that is situated outside of the train station. Then, take the Gapyeong City Tour Bus to the Garden of Morning Calm
Address
: 432 Sumogwon-ro, Sang-myeon, Gapyeong-gun, Gyeonggi-do, South Korea
Hours away from Seoul
: 2 hours
12. Gangchon Rail Park
Why take a walk when you explore the beauty of Gangwon-do on a railbike? Gangchon Rail Park is a must-visit for anyone who enjoys leisure cycles with their loved ones. Coupled with the vast skies, scenic river and mountainous landscape, the curves of the railway tracks will take you to undiscovered corners of the park.
Credit: @jowiepeace on Instagram
If you love making a new friend or two, you can share a four-wheel rail bike with other visitors. Otherwise, you can pay an additional fee to have the rail bike to you and your friend.
Credit: @lazafie on Instagram
How to get there
: Begin your train journey from Yongsan or Cheongyangi in Seoul. Then, take the ITX Cheongchun Line to Namchuncheon. Once arrived, take another subway back to Gimyuheong where the Gangchon Rail Bike Park is only a 5-minute walk.
Address
: 1383 Gimyujeong-ro, Sindong-myeon, Chuncheon, Gangwon-do, South Korea
Hours away from Seoul
: 2 hours If Seoul was an ice cream sundae, then these day trips are like the chocolate (or rainbow) sprinkles on top of it! Don't miss out and get your day-trippin' on ;)