There is no better place to break the ice, catch up with your friends or make new acquaintances than around the dinner table! Whether it be over sharing a bucket of seafood or indulging in a luxurious buffet spread, a great meal is always appropriate for any occasion!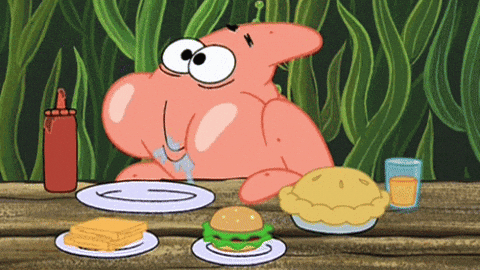 Credit: Giphy
As great of an idea as it however, it can be quite a hassle to find a good place that can accommodate large groups! That's why we've compiled 10 eateries that don't only serve some great food but are also large enough to fit an army of hungry patrons ?
1. Carousel (Halal-certified)
Situated within Royal Plaza on Scotts, Carousel is a restaurant that exudes luxury. It's famous for its buffets which boasts one of the most extensive spreads you'll find in any restaurant, incorporating fresh seafood and an ever-changing array of delectable dishes from a mind boggling variety of cuisines that will surely keep you coming back for more!
Credit: Royal Plaza on Scotts on Facebook
This is one of those restaurants that's just suitable for any occasion be it birthdays or even business meetings. There's plenty of space in the main dining area to incorporate large groups but if privacy is what you're going for then you have the option of reserving their private dining table.
Credit: @xpigletnpiggy on Instagram
Price:
(for breakfast, high tea, lunch and dinner respectively) Adult: $37.66, $65.91, $49.43, $89.45 Child: $23.54, $42.37, $31.78, $54.14 
Opening hours:
6:30-10AM, 12-2PM, 3:30-5:30PM, 6:30-9:30PM daily.
Address
: 25 Scotts Rd, Lobby Level, Royal Plaza on Scotts, 228220
2) 21 on Rajah (Halal-certified)
Yet another buffet restaurant because we just can't get enough! 21 on ayer rajah is a part of Days hotel located in Balestier. Their buffets include elements of many different cuisines though they specialise in Mediterranean as well as local Singaporean dishes! From fresh seafood, to a carving station, to even a noodle bar, you can expect to find a bit of everything in this restaurant!
Credit: @azureen.a on Instagram
Transparent glass walls mean that you get to enjoy the view of Zhongshan park while you dine which, when combined with the rather homely furnishing, gives the restaurant a really cool laid-back atmosphere especially in the evening! They also have a private dining area outside that's just perfect for smaller scale events and gatherings!
Credit: 21 on Rajah on Facebook
Credit: @huszairymz on Instagram
Price:
(for breakfast, lunch, brunch and dinner respectively) Adult: $18, $30, $40 Child: $9, $15, $20 
Opening hours:
6AM - 10:30PM Daily
Address
: 1 Jalan Rajah, Days Hotel Singapore at Zhongshan Park, 329133
3) Cajun on Wheels (Halal-certified)
Cajun on wheels is the halal shell out option we've all been looking for! What better way to celebrate a gathering then to share a massive bucket of assorted shellfish soaked in salted egg yolk, chilli egg or even belacan gravy. Cajun on wheels' casual and communal style of dining makes it a great option for a get together of the very adventurous and the very hungry!
Credit: @cajunonwheels_sg on Instagram
Their signature seafood bucket comes in a range of different sizes and flavours. These include their Cajun cheese herb and butter sauce, Singapore chilli crab sauce, salted egg-yolk sauce and much more. You can also choose your preferred type of seafood for your bucket from just shellfish, to crayfish and to even the more luxurious lobster.
Credit: @cajunonwheels_sg on Instagram
Credit: @cajunonwheels_sg on Instagram
Price:
 Buckets range from $68- $158
Opening hours:
11AM - 10PM Daily
Address:
#01-455 Pasarbella Suntec City Mall North Wing, 3 Temasek Blvd, 455-456 / 459-461, 038983
4) Satay by the bay (Halal-certified)
What's better than digging into some freshy grilled satay by the sea with the gentle sea breeze to keep you cool. Satay is of course a dish that tastes better when shared and there aren't many outlets who can do it better than satay by the bay!
Credit: @traveltosing on Instagram
There are two halal satay stalls at Satay by the bay that each have their own unique way of preparing the famous skewered meat. Asides from just satay, you can also find honey chicken and bbq prawns which make for a welcomed addition to any meal! Just be sure to wash it all down with a big glass of fresh sugarcane after you're done!
Credit: 
@matareas
 on Instagram
Opening Hours:
11:30AM - 1AM daily
Address
: 18 Marina Gardens Dr #01-19, 018953
5) Newton Food Centre
Newton food centre is one of the largest and best hawker centres in Singapore. Being just a stop away from orchard, this hawker centre provides a nice break from all the restaurants and cafes in town. Spacious and affordable, this is one of the best places to go if youre in a group and looking to feast!
Credit: @fabulousthirty on Instagram
Newton food centres main attraction is without a doubt their seafood! Their grilled sambal stingray comes at different prices ranging from 12 to 20 dollars depending on the portion size and is absolutely to die for. Pair that with some grilled squid or Kangkong belacan and you've got yourself a meal fit for a king. Best part is the more people you bring along the more worth it the meal becomes!
Credit: @c.harmian on Instagram
Opening hours:
 12PM - 2AM daily
Address
: Newton Food Centre
6) Simpang Bedok
This is the go to place for all your late-night hang outs and spontaneous supper sessions! Simpang Bedok is a great option for a casual get together if you're not looking to break the bank. Its rather unique in that it's actually home a whole range of different restaurants which means theres a wide variety of food to choose from with something for everyone!
Credit: @mymoonus on Instagram
Some of the more popular options at simpang Bedok include Spize, which has a great selection of Mediterranean dishes and Mahmoodiya restaurant, famous for its crisp coin prata and fish curry. Beyond that you can even find some good dim sum at Tang Tea House and really good ribs at Badoque. Theres so much going on there that it probably merits a list of its own.
Credit: @badoquecafe on Instagram
Opening hours
: 8AM to 2AM Daily
Address
: 288A Bedok Rd, 469445
7) 99 Bistro and Kitchen (Halal-certified)
Despite still being relatively new 99 bistro and kitchen has already made quite an impact with its innovative cooking methods.  Their flagship dish is without a doubt their bamboo briyani. That's right, their briyani is cooked in real indian bamboo which helps to seal the flavours into the dish producing one of the most fragrant and flavourful variety of briyani you will ever have the chance of tasting!
Credit: @99bistro on Instagram
The bamboo briyani is served tableside along with an assortment of different condiments which makes for an alluring visual treat that will definitely help to stimulate your appetite before you dig in! Needless to say, the portions here are huge giving you the perfect excuse to drag your friends and family along to try this unique dish.
Price
: $24 for the bamboo briyani (serves 2)
Opening hours
: 12:00PM to 3:30PM (Lunch) 5:30PM to 8:00PM (Dinner) (group bookings are more flexible)
Address
: 11 Eunos Road 8, #01-02 Lifelong Learning Institute, 408601
8) Pondok Gurame (Halal-certified)
Pondok gurame has been around for a while but having recently relocated to a new outlet they've revamped their entire image to take on a more modern appearance giving the restaurant a really chic feel. The only things that they haven't changed are their quality of service and food with the latter being centred around traditional Indonesian cuisine!
Credit: Pondok Gurame Indonesian Restaurant Pte Ltd on Facebook
Pondok gurame's menu is built around set meals which include favourites like Ayam penyet, Satay ayam set and rendang set. Each of these sets come paired with a salad, a refreshing glass of lime juice and even desert. The great thing is, their new location has been designed with the thought of catering to large events in mind. This means it is a a lot more spacious now and is perfect for both casual and formal gatherings!
Credit: Pondok Gurame Restaurant Pte Ltd on Facebook
Price
: Platters: $100 (serves 5), Ala carte $9.90+
Opening hours:
 11:30AM - 2:30PM, 6PM - 10PM (Tuesdays to sundays)
Address
: No. 2 Netheveron Road, #04-03, Changi Civil Service Club, 508503
9) Straits Kitchen (Halal-certified)
Straits kitchen at the grand hyatt hotel serves up one of singapores best halal buffet spreads. Their buffet draws its inspiration from local cuisine and aims to bring you the best of Singaporean food all in one place. Where else can you find chili crab at an all you can eat buffet!?
Credit: @straitskitchen.sg on Instagram
Their contemporary furnishing give the restaurant a really posh atmosphere that makes it suitable for those special occasions! Its beautiful décor is appropriately matched by the quality of its food which include a whole variety of delectable dishes from indian breads to Chinese roast duck! It might be a little pricey but its good to splurge on yourself and your friends once in a while (even if I do say so myself!)
Credit: @larryyeo on Instagram
Price:
Adult: $55, $66 Child: $29 and $36 (lunch and dinner respectively)
Opening hours:
6:30 - 11AM, 12:30 - 3PM, 6:30 - 10:30PM
Address
: 10 Scotts Road, Lobby Level, Grand Hyatt Singapore, 228211
10) Kaw Kaw (Halal-certified)
Last but definitely not least on our list! Kaw Kaw is one of the latest restaurants to emerge on the scene. Immediately noticeable is the restaurants artistic philosophy which is brilliantly displayed through the ornaments that decorate its interior. Its desire to bring people together through food and art has played a big part in shaping the restaurant which is why unlike most other café's its spacious and friendly to large groups!
Credit: @kawkawsg on Instagram
Kaw Kaw does not hold back on its menu either. They're famous for their burgers such as their Smokey beef bacon burger and their lamb baconizer but they also serve up pasta's and a range of tantalizing starters. Of course they've got it covered on the desert department too with their waffles and assortment of ice creams that include flavours like thai milk tea and Belgian chocolate brown!
Credit: @kawkawsg on Instagram
Price range:
$25+
Opening hours:
12PM - 9:30PM
Address
: 28 Aliwal St, 199918 It goes without saying that there are still plenty of other great halal places out there that you can try out for your next gathering be it with friends or family. It's probably more fun if you happen upon them on your own anyway! Just remember to share them with us when you find them!